News
Two World Titles Isn't Bad For WWE
When WWE splits its shows tonight at the WWE Draft, going back to two World Titles is necessary and can work if implemented correctly ...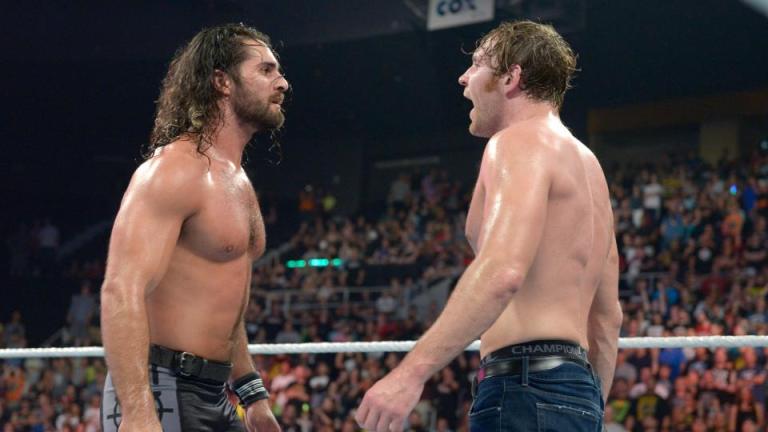 Back when WWE ran with its previous brand split, it also instituted two World Titles. When the company decided to merge those titles about three years ago, most people cheered.
I was one of them.
While my preference is to have one WWE World Hvt. Champion, with the new brand split happening tonight when WWE runs its draft on SmackDown, it only makes sense to split those World Titles back into separate entities again.
However, that's something that isn't easy to pull off.
Unifying titles is simple. You have a match, and the winner receives both belts.
Easy.
Splitting titles can be a headache. But if WWE is not going to budge on using two World Titles for house show and television purposes, then it's a necessary evil of a brand split that, if they stick to, should be good for the company as a whole.
Last night's show-closing angle saw Dean Ambrose and Seth Rollins wrestle to a draw in a WWE Title match, when both wrestlers had their shoulders pinned to the mat for a simultaneous 1-2-3.
After some arguing back and forth between Stephanie and Shane, Raw went off the air and it was ruled, after a replay on the WWE Network, that the match finished in a draw and Ambrose is still the WWE Champion.
That was a good indicator that WWE is trying to plant the seed that both Rollins and Ambrose have a claim to the WWE Title.
Tonight on SmackDown, they'll have a rematch, and of course on Sunday there is a Triple Threat where Roman Reigns, coming off a drug suspension, will get thrown into the mix.
What they do tonight will be similar to what they did on Raw, is my guess. Some sort of draw where both men seemingly have a claim at the title. Maybe not a double pin, but I wonder if they can figure out something really different. What about a double submission? Is there a maneuver that can be applied while still being locked in to another submission hold?
A double submission and a double pin could then lead into Battleground, where my guess is that Rollins and Ambrose will both pin Reigns at the exact same time. That will allow the authority figures to split the World Titles, awarding one to Rollins on Raw and one to Ambrose on SmackDown.
Problem solved. There you have your two World Titles and Rollins and Ambrose separate for a bit, until they are one day reunited on the same brand.
Two World Titles isn't the end of the world, as long as WWE books and treats them correctly. Look at the UFC. They currently have 10 "World" Titles, specified by weight class from Heavyweight down to Straweight for the women.
In fact, you could argue that the Featherweight Championship, currently held by Conor McGregor and held on an interim basis by Jose Aldo, is actually the most important title in the company right now, as far as the fans view it.
The Heavyweight Title is probably below, in prestige, the Light Heavyweight, Middleweight and Featherweight … at least.
So there are ways to run the company with two World Titles, especially when they are on two different shows that theoretically NEVER interact with each other.
That's the thing WWE needs to stick to in order to make the brand split and the two World Titles work. There needs to be no interaction between the shows and the rosters.
Period.
No excuses.
No "just this once."
NEVER!
If the brands are exclusive, keep them exclusive.
It won't happen overnight, but down the road, maybe two or three years from now, we'll begin to see those brands have a unique feel.
I'd also do away with the yearly drafts. You have the one draft tonight, and then yearly you can have a draft where each brand comes together and drafts, let's say 2-3 wrestlers each from NXT. That's your draft.
The veterans that are drafted tonight don't get drafted again. They can become free agents, just like in pro sports.
If you want to change someone from Raw to SmackDown, they can do so via their "contract running out" and signing with the next show.
If someone is leaving the company — it's been rumored Mark Henry is close to retirement — then his "contract runs out" and no one signs him.
It's the same thing in pro sports. It's the same thing in MMA. We've seen fighters choose Bellator over UFC in some free-agent dealings due to better contracts. That's a new element that WWE could easily play up within its narrative.
It's the same way things happened for WWF and WCW 15 years ago. When a contract was up, someone could jump to the other company.
That's one way to re-create that structure. But WWF and WCW never interacted with each other. Of course they didn't, they were real competitors with different ownership and it was a war.
You'll never create those elements exactly again, but WWE shouldn't shoot itself in the foot either. There's ways to walk up close to that line, despite never being able to completely touch it.
1. Sami Zayn & Cesaro beat Chris Jericho & Kevin Owens
Solid tag match to open the show, although it didn't seem to have much significance to it. Like much of what we see on Raw nowadays, this was a match that was just there. There was some backstory to it, especially between Zayn and Owens, but the match happened, it ended, and that was it.
2. Darren Young beat Alberto Del Rio
What WWE is doing with Young is very interesting. While elevating him is something you would expect coming out of those "Make Darren Young Great Again" vignettes, and WWE is timing this well with Trump's nomination and the RNC happening this week, I'm not sure that putting Young over guys we've seen beaten over and over is really going to get him over.
There's something to be said for Darren Young beating Alberto Del Rio … five years ago.
Since Del Rio's return to the company, aside from his match with John Cena in the fall, he hasn't been a part of much that was memorable. He's lost in the mid-card and Young, by beating him, simply joins that already crowded field.
That said, it's not like they are going to rocket him to a World Title shot, and the IC Title is what makes the most sense, logically. I'm just not sure this wasn't doomed before it began.
3. The Club & The Wyatts beat John Cena, New Day & Enzo & Cass
This match had the potential to be a giant cluster, but it was given plenty of time — about 20 minutes — and I thought did a nice job setting up the two six-man tags for Sunday at Battleground.
If one match benefitted more, I think it's the Cena/Enzo/Cass vs. The Club match. I was a fan of the Final Deletion in TNA, as you know if you read my stuff here at Den of Geek, but the Compound Match I thought was just not well done at all.
The Final Deletion had an ending. The Compound Match cut away with New Day and The Wyatts in a staredown, along with lights coming in from the background. They just stopped fighting. There was no ending. That took away from the story for me.
And also, why was there an extra car there?
4. Baron Corbin beat Sin Cara
Filler match!
5. Sasha Banks & Becky Lynch beat Charlotte & Dana Brooke
The idea of putting Dana Brooke with Charlotte probably seemed like a good idea at the time, and it was an avenue for them to get Ric Flair off TV.
But in reality, Charlotte is good enough to be by herself. I guess it does make sense to keep Dana there as long as Charlotte is a heel, though.
6. Rusev & Sheamus beat Dolph Ziggler & Zack Ryder
Meaningless tag-match filler!
7. Dean Ambrose (c) vs. Seth Rollins ended in a draw when both men had shoulders pinned to the mat in a WWE Championship match
Aside from your feelings on the booking, this was an excellent, excellent, excellent match. At one point I actually stood up and found myself watching while standing in my living room. The near-falls were well timed and perfectly executed and while the finish was probably somewhat predictable, they pulled it off really crisply with that move off the top.