News
Two Breaking Bad Marathons on AMC Will Celebrate Return of Better Call Saul and Gus Fring
In honor of Better Call Saul Season 3 & the return of Breaking Bad villain Gus Fring, AMC will air two marathons highlighting Saul & Gus.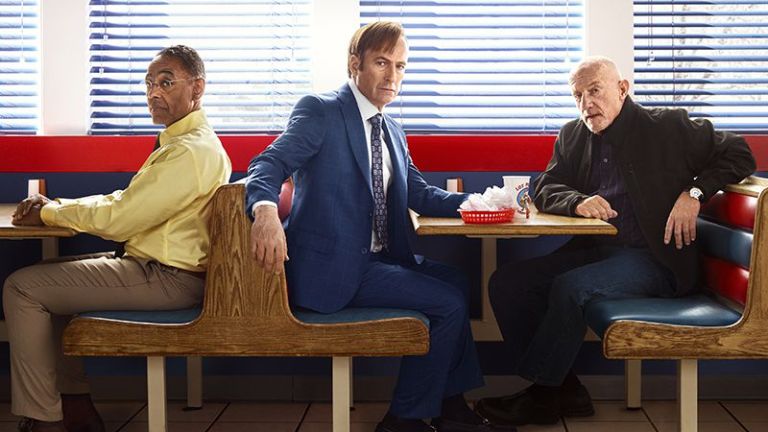 Better Call Saul Season 3 is coming April 10. The worst kept secret in the world regarding the upcoming season is the involvement of Giancarlo Esposito, the actor who portrayed Breaking Bad villain and fan favorite Gustavo Fring. Chicken shop owner by day, drug kingpin by night, Gus will be rearing his head on the upcoming season of Better Call Saul and will likely be instrumental in Jimmy's transformation into Saul Goodman, as well as Mike Ehrmantraut's escalation into a killer.
To celebrate the return of Saul, the resurrection of Gus, and the significance of the events in Breaking Bad on this upcoming season, AMC is airing two special Breaking Bad marathons, "Best of Saul Goodman," and "Best of Gus Fring."
The first marathon will air Monday,  March  27th and will include select  episodes that highlight Saul Goodman (Bob Odenkirk) and all of his sleazy tricks. That marathon will be followed by a second on Monday, April 3rd featuring episodes with Fring.  
Below is the schedule of the Breaking Bad episodes set to air:
"Best of Saul Goodman," Monday, March 27th from 9:00am-3:30am ET:
"Better Call Saul"
"4 Days Out"
"Mandala"
"Phoenix"
"ABQ"
"Caballo sin Nombre"
"One Minute"
"Kafkaesque"
"Abiquiu"
"Open House"
"Live Free or Die"
"Hazard Pay"
"Confessions"
"Rabid Dog"
"To'hajiilee"
"Granite State"
"Best of Gus Fring," Monday, April 3rd from 9:00am-2:10am ET:
"Mandala"
"ABQ"
"No Más"
"I.F.T."
"Más"
"Sunset"
"I See You"
"Half Measures"
"Full Measure"
"Box Cutter"
"Shotgun"
"Cornered"
"Salud"
"Crawl"
"Space"
"End Times"
"Face Off"