News
The Twilight Zone Reboot Series Episodes, Trailer, Release Date, Cast and More
A Twilight Zone reboot series is coming to CBS All Access! Get the latest news and watch the trailers right here...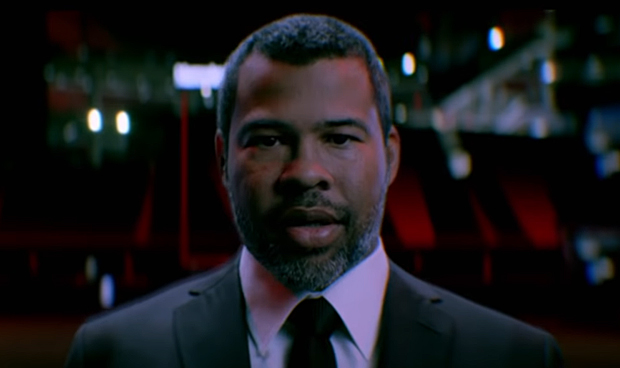 Get Out director Jordan Peele has entered a dimension as vast as space and as timeless as infinity, with a reboot series of The Twilight Zone, which streams on CBS All Access. The first season will consist of 10 episodes.
You can scroll down to access our Twlight Zone episode reviews, and catch the official episode trailers.
The Twilight Zone Reboot Episodes 
The Twilight Zone Episode 1: Nightmare at 30,000 Feet
A journalist finds an MP3 player with a true crime podcast that details how the airplane he is currently on will disappear.
air date: 4/1/19
Read our review of "Nightmare at 30,000 Feet" here.
The Twilight Zone Episoe 2: The Comedian
A stand-up comic incorporates details about people he knows into his routines, unaware that every joke results in someone being erased from existence.
air date: 4/1/19
Read our review of "The Comedian" here.
The Twilight Zone Episode 3: Replay 
A woman sets out to prevent a racist state trooper from killing her son by using a camcorder with the power to turn back time.
A down-on-his-luck campaign manager is determined to get a kid elected as the President of the United States.
A meteor shower spreads infection across an entire town affecting some of the inhabitants more than others.
The emergence of an elusive gun leads an anthropology professor to his most personal project yet.
Here are the episode trailers for The Twilight Zone, going in reverse order, starting with the newest preview:
You can check out the trailers for the overall series below.
Here's Super Bowl TV spot, which uses the empty stadium of the Big Game to show us host Jordan Peele as a man both nowhere and everywhere at the same time and a lot of other teased paradoxes.
CBS All Access confirmed Peele for the gig back in September 2018 with the teaser trailer below, whcih mixes the classic narration of the show opening by Rod Serling with audio of him delivering the iconic words.
The Twilight Zone Reboot Release Date
The Twilight Zone premiered on the appropriate date of Monday, April 1 on CBS All Access.
The Twilight Zone Reboot Details
In a press release announcing the project back in December 2017, Peele stated, "Too many times this year it's felt we were living in a twilight zone, and I can't think of a better moment to reintroduce it to modern audiences." Indeed, Peele seems like the perfect match for The Twilight Zone. His excellent horror film, Get Out, tackled racism and cultural appropriation head on. Indeed, the series brandishes Peele's satirical style of horror.
The original series ran from 1959 to 1964, and told spooky stories about dystopia, alien invaders, adventures in space, killer dolls, nuclear holocausts, ruthless science experiments, the perils of racism, and much more. With these fantastic tales, creator Rod Serling commented on Cold War society and the horrors of World War II.
This isn't the first time the show has been revived either. The Twilight Zone returned in 1983 as an anthology film directed by Steven Spielberg, John Landis, Joe Dante, and George Miller. Subsequently, a revival series would run from 1985 to 1989, episodes by George R. R. Martin, as well as adaptations of stories by Stephen King, Harlan Ellison, and Arthur C. Clarke. Wes Craven and William Friedkin also directed episodes of the series. The second revival came in 2002, airing on UPN, hosted by Forest Whitaker. That version lasted only one season.
The Twilight Zone Reboot Cast
Here's the insanely-stacked (and ever-growing) list of cast members for this season of The Twilight Zone:
Seth Rogen will star in an upcoming episode of the anthology series, giving the series arguably its biggest name yet. It is currently unknown which character he will play or what episode he'll appear in. 
Steven Yeun (The Walking Dead) and Greg Kinnear (As Good as It Gets) will star in an episode titled "The Traveler." The story will follow two cops and Yeun's character, the mysterious titular traveler. 
John Cho (Star Trek) and Allison Tolman (Castle Rock) will star in an episode titled "The Wunderkind." Also to appear in the episode are Jacob Tremblay (Room) and his sister, Erica.
Sanaa Lathan (The Affair) has been cast in an episode titled "Rewind."
Adam Scott (Parks and Recreation) will star in the episode, "Nightmare at 30,000 Feet." This, of course, is a remake of the original series classic episode, "Nightmare at 20,000 Feet," in which a pre-Star Trek William Shatner played a disgruntled plane passenger who's the only one to see a furry gremlin saboteur on the wing. You can read more about the news in this article.
Kumail Nanjiani (The Big Sick) will star in an episode. There is no word yet on what episode Nanjiani will appear in or what character he will be playing.
Ginnifer Goodwin, star of ABC's Once Upon a Time and HBO's Big Love, will be leading her own episode,  titled "Point of Origin," which has already cast James Frain and Zabryna Guevara. No details about the plot of the episode or Goodwin's character, but we imagine things are going to get… weird. 
Chris O'Dowd (Get Shorty, The Coverfield Paradox) and Amy Landecker (Doctor Strange, Transparent) will star in an episode titled "The Blue Scorpion." The news yielded no details on their characters or the episode's plot.
Zazie Beetz (Atlanta) will star in an upcoming episode of The Twilight Zone, according to CBS, though details about her character and the episode were not revealed.
Betty Gabriel (Get Out) is also set to appear in the Beetz-headlined episode. 
Rounding out the cast are DeWanda Wise (She's Gotta Have It), Jessica Williams (Fantastic Beasts), Lucinda Dryzek (Holby City), Jefferson White (Yellowstone), and Jonathan Whitesell (The 100).
John Saavedra is an associate editor at Den of Geek. Read more of his work here. Follow him on Twitter @johnsjr9. 
Joseph Baxter is a contributor for Den of Geek and Syfy Wire. You can find his work here. Follow him on Twitter @josbaxter.