Features
TV vs Baby: binge-watching, burping and bottles
The struggle of a new parent to keep up with an endlessly updating TV culture...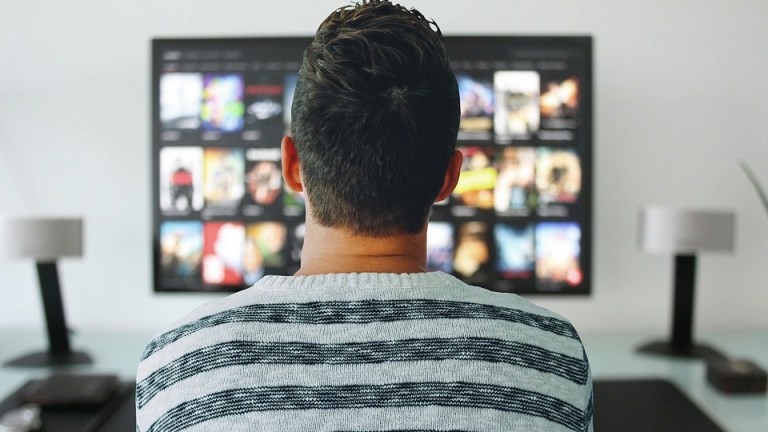 There's a lot of telly happening at the moment, and it's coming at me from all directions. 
So many platforms, so much content, all battling to grab my attention and make me subscribe. Must-See TV, exclusively on the increasingly long list of streaming services all available for a modest fee. 
Ah, it's amazing nowadays, you can choose what you watch at a time that suits you, but if you choose what you watch at a time that suits you who knows if the rest of the world will follow suit? If you do not watch the telly as soon as it gets released then you will receive eye rolls, tuts and scorn. 
Sometimes it feels like everyone I know simply watches TV or goes to the cinema or reads or listens to that podcast or the radio or an audiobook as soon as I'm not talking to them. They must surely spend the entirety of the rest of their time consuming media. They're joining in the conversations about Killing Eve or Chernobyl that I have to duck out of, lest I be spoiled for something I may never get round to watching.
 And they keep making more telly. And writing more books and music and poetry and publishing them. Whoever they are, they're relentless. Can't they just let me rest? No, they cannot. More content is forthcoming. They made tiny contents so we'd know. Everyone misses out on something really. How can you not? You try to get through as much as you can of what interests you, and tune into Gogglebox occasionally to get the gist of what you've missed. As long as you haven't got anything else to distract you or drain more of your spare time, this is just about manageable. So, anyway, we have a baby now.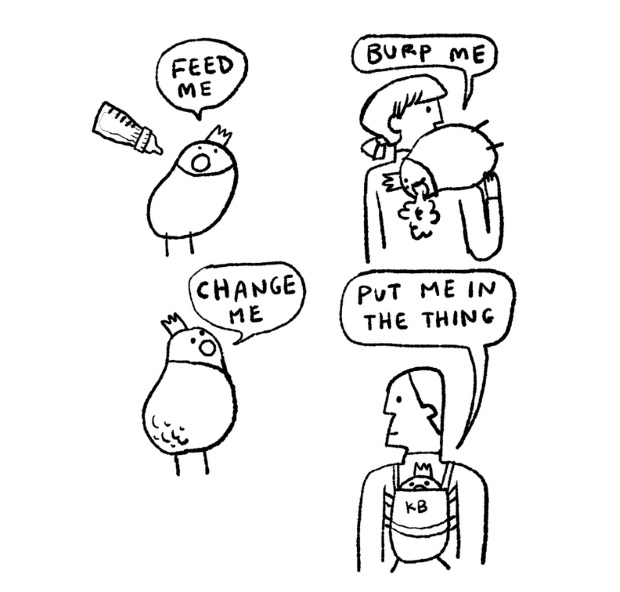 Image: Kate Beaton
The world continues on its way with wild abandon.  Of the many things that new parents get told about babies, one that will get repeated about twenty to thirty times, is 'every baby is different'. This is because this is true and, like so much baby-related advice, simultaneously helpful and unhelpful. Even if you get your baby to sleep through the night in their own bed quickly you're most likely going to go through a period of sleeplessness and constant vigilance, meaning that your TV viewing habits will require adjustment.
As discussed with a complete absence of melodrama and/or hyperbole, it's difficult enough as it is to watch all the things as it is. When you combine this with creating-a-tiny-you-to-throw-all-of-your-faults-into-focus, why then you find yourself in a sitcom B-plot with no signs of resolving itself. Since the birth, we have missed some or all of Killing Eve, Star Trek: Discovery, Game Of Thrones, Stranger Things, Crazy Ex-Girlfriend, Travel Man, Russian Doll, Preacher, The Boys, Good Omens, Doom Patrol, Atlanta, Taskmaster, Gentleman Jack, The Bodyguard, Years And Years, Black Mirror… you get the idea. We've also missed every film in cinemas except Endgame (Disney own a part of all of us).
 Because we spent some time on the internet, we were spoiled to some extent for most of these. You can't use the internet and hope to avoid spoilers. You can mute certain words and hashtags, but the memes will get you. Spoilers crop up in unexpected places, and frankly constant vigilance is tricky even when you're not sleep-deprived. 
Ultimately, missing out on TV is fine, but there's a They Live-style pressure to be up to date. Partly it's the social aspect, trying not to force everyone else to talk around the TV you haven't managed to watch (and, as new parents, you're very aware that all you're talking about is the baby), but also it's this knowledge that you're not going to get to see it as intended – that the surprises, twists and turns will be revealed in advance because you thought a poetry blog would be safe.
This will vary depending on a baby's sleeping pattern, but a lot of telly becomes incredibly tense when the prospect of a waking baby is involved. Gradually you move away from arc-heavy telly with longer episodes as a result. You can't guarantee you'll get through these and remember what's going on. 
Where you find salvation is in sitcoms. They're rarely longer than 30 minutes, and they're designed so that everything is resolved at the end of the episode. The sit of the com rarely changes. Plus, sometimes you need to watch something fun, something untethered from the concerns of reality.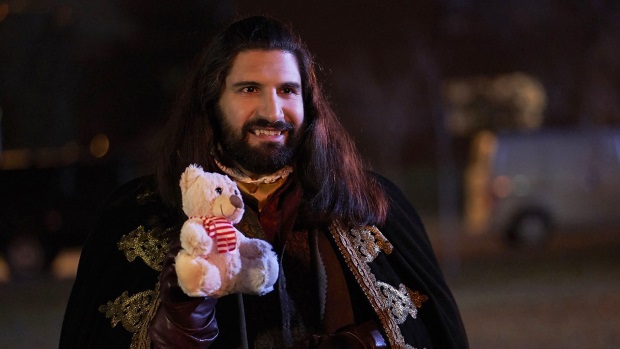 If you've ever met up with friends you haven't seen in a while and fallen back into your old patter and dynamics effortlessly, you know the joys of a good sitcom. In the midst of any involving life event, they're an oasis in the desert. Plus they're generally harder to spoil and often easy to dip into. 
The same explosion of platforms and streaming services that means there are so many shows around does at least mean that aren't missing out on shows broadcast in the midst of bath and bedtime. Luckily, this year has seen a new series of Brooklyn 99 and What We Do In The Shadows – two shows offering an outlet which involves adult conversation (technically) and a distraction from the many tensions of keeping a small human alive. Both have fantastic ensemble casts who pass the Marie Kondo test with flying colours. 
I would like to thank everyone involved in their production for keeping us sane.
Meanwhile, it feels like we might soon be transferring the baby to his own room and starting to get our nights back. 
Gosh, I hope Game Of Thrones ends well.