News
TV IV Podcast Episode 10: Johnny Pemberton, Matt Servitto, Desmin Borges
This month's podcast features discussion and interviews for Son of Zorn, Your Pretty Face is Going to Hell, and You're the Worst.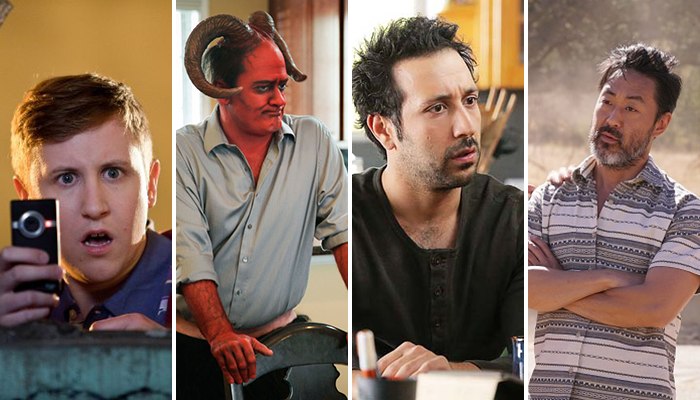 In the latest episode of TV IV, host Daniel Kurland explores new comedic playgrounds and the sorts of stories that become possible due to more recent advancements in the medium, as well as what this will continue to mean. Guests include Johnny Pemberton (Son of Zorn, Peanut and Pickle), Matt Servitto (Your Pretty Face is Going to Hell, Banshee), and Desmin Borges (You're the Worst, Preacher).
Matt Servitto, for example shared his theories about where his character might be headed in future episodes of Your Pretty Face is Going to Hell. "My favorite episodes are always the ones where Satan is vulnerable, where Satan is not the all-powerful, Antichrist, Underlord," he says. "The best stories have always got people that are fallible and that can fail and rise up from that failure. So this season with Satan you are going to see a wide range of emotions and situations."
Kenneth Choi of Last Man on Earth receives the Spotlight of the Month this time around. His turn on the latest season of the FOX show has made him an "audience surrogate" of sorts.
Check the timecodes below to skip directly to the portion of the podcast you'd like to listen to first, and don't forget to subscribe on iTunes, Stitcher, or Soundcloud. Or simply listen here!
Son of Zorn Discussion – 5:04
Johnny Pemberton Interview – 6:27
Your Pretty Face is Going to Hell Discussion – 20:34
Matt Servitto Interview –  21:44
Topic of the Month: New Comedic Playgrounds – 48:30
You're the Worst Discussion – 49:29
Desmin Borges Interview – 50:33
Spotlight of the Month: Kenneth Choi of Last Man on Earth – 1:08:10
Next Month Preview – 1:09:10