News
True Detective Season 3: Creator Talks Similarities to Season 1
True Detective creator and writer Nic Pizzolatto spoke with EW about Season 3, the appeal of Mahershala Ali, and more.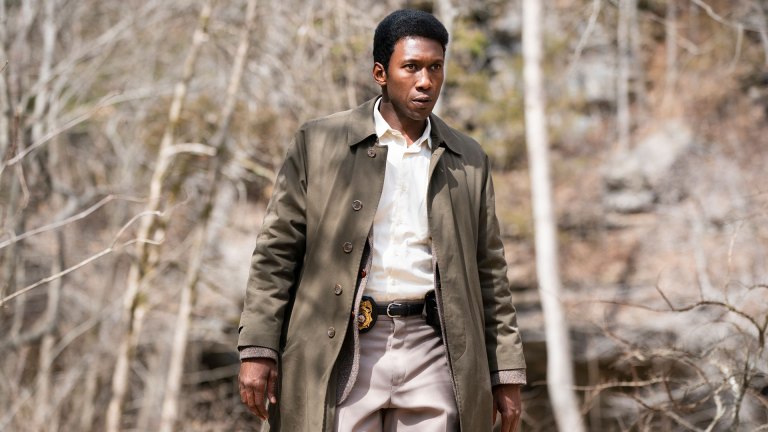 Poor Nic Pizzolatto. All the True Detective creator and writer wanted to do back in 2014 was to create a fun little hard-boiled detective story. In the process he created something of a minor cultural phenomenon.
True Detective Season 1 starring Woody Harrelson and Matthew McConaughey game out of the gate fully formed and wildly intriguing. Pizzolatto, in his first time out as a TV writer infamously wrote each of the season's eight episodes while future Bond director Cary Fukunaga directed.
Regardless of whatever Pizzolatto worked on next, it would be compared (and likely unfavorably) to True Detective Season 1. Then came the soggy, haunted California highway-tinged True Detective Season 2 and lo' and behold it was bad. 
Now some five years later after True Detective Season 1 and three and a half after Season 2, Pizzolatto is shepherding True Detective Season 3 into existence, once again writing the lion's share of the episodes and even directing one for good measure. True Detective Season 3 is very, very much like True Detective Season 1. It features two detectives (played by Mahershala Ali and Stephen Dorff) investigating a crime involving children and the occult in a Southern American region (the Ozarks instead of the Bayou this time). 
Pizzolatto sat down with Entertainment Weekly and in the process revealed that those similarities to True Detective Season 1 weren't necessarily by design. 
"It was somewhat deliberate without being forced," Pizzolatto says. "I felt like there were ways I could harken back to structural devices from season 1 while letting them evolve — not repeating things but using what had been set down before to do something new. It all kind of fit together… [The season 1 similarities] felt organic, they didn't feel calculated. And I was pleased to see them because I thought the audience would be pleased by them."
Well, he's not wrong. The audience will almost certainly be pleased to see the similarities. Another thing that True Detective Season 3 has in common with the show's first season is a titanically appealing lead performance. Matthew McConaughey's portrayal of atheistic detective Rust Cohle is an integral part of the TV canon now. In True Detective Season 3, Ali's performance as Wayne Hays is just as intriguing. 
Pizzolatto discussed the particulars of casting Ali as what was originally conceived as a white character with EW as well.
"I had felt that maybe, in the modern landscape, that I would need to make race the forefront of the story. And I asked Mahershala, I said, "The story is about time and love and memory. I don't want to ignore race, but I would hate for those larger themes to be subsumed because we're suddenly telling a story that's mostly about race." And he said he didn't want that. He said a lot of the roles that he's offered — and that a lot of actors of color are offered — are centered around race. What he liked about this was this is a fully formed character who wasn't defined by that. And I knew I'd be lucky to have an actor of his caliber… And I found that (changing Wanye Hays' race) worked, and it opened up new dimensions in the character. Once I made those changes and saw Mahershala's performance I couldn't imagine it being any other way." 
There are many other fascinating gems to glean from EW's interview, including Pizzolatto's stance on future seasons (pretty positive!) so be sure to give it a read. 
True Detective Season 3 debuts on this Sunday, January 13 on HBO at 9 p.m. ET.