News
True Detective Season 2: Everything We Know and More
With True Detective season two in the books, we have have an updated news hub with the latest info, podcasts, trailers, and more...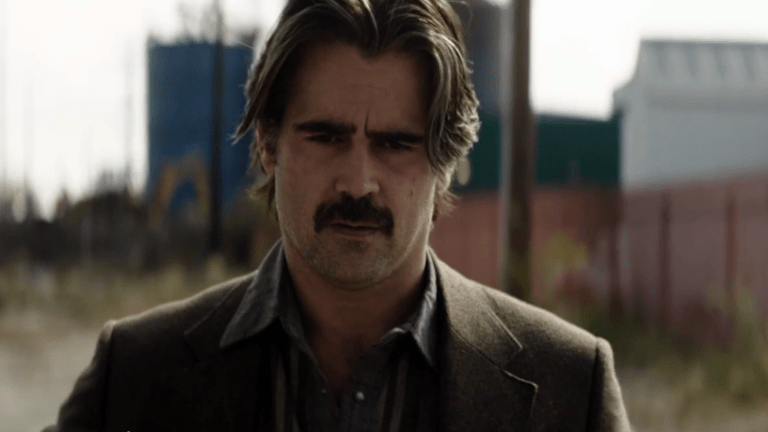 During True Detective season one, Rust Cohle and Marty Hart sifted through the devil traps, spirals and dark stars dotting Louisiana to catch a very literate lawnmower man. Matthew McConaughey and Woody Harrelson both won Emmy nominations for their work. They plumbed deep into the dank recesses of the psyche and came out with nihilistic validation. This year Ray Velcoro (Colin Farrell), Ani Bezzireds (Rachel McAdams) and Paul Woodrough (Taylor Kitsch) are investigating the murder of City Planner Ben Caspere, who was found at the side of a highway with his eyes burned out and his balls blown off. 
The cops may or may not be tasked with solving the case, but Caspere's former partner, Frank Semyon (Vince Vaughn), a gangster going legit, is all over it.
further reading: True Detective Season 3 Review
The fictional city of Vinci, Calif., is as much a character as a setting. Riddled with vice, it is in the grips of a probe by the state investigators.  Colin Farrell plays the sad, bad cop who is tired of being both; Rachel McAdams has chip on her shoulder and Taylor Kitsch is a CHIP motorcycle cop himself. Vince Vaughn is playing the gangster on the verge of starting a legit legacy. Last year's bad guy was the masterful Yellow King Errol Childress played by Glenn Fleshler. Vaughn's mobster villain will probably be a little closer to George Remus, who Fleshler played on Boardwalk Empire.
Nic Pizzolatto, who wrote all the episodes last season, will be writing all the episodes this season. Cary Fukunaga, who helmed Sin Nombre and the 2011 film Jane Eyre  and who directed all the episodes in the first season, will be an executive producer. The second season will have multiple directors. Justin Lin, who directed the Fast and Furious movies, directed the first two episodes of the eight-episode season.
Here's our comprehensive look at all the True Detective season 2 information out there, as well as some speculation on what it all means.
Recent News: 
Now that the finale is over, it's time to speculate about True Detective Season 3. Here's everything we know so far. 
We spoke with Rachel McAdams about the hype surrounding True Detective, the brutal shootout scene and what it's like stepping into the mind of Ani Bezzireds. Read the full interview right here.
Den of Geek True Detective Season 2 Podcast
You can listen to Den of Geek Presents: The World We Deserve, our True Detective season two podcast, right here. 
Subcribe to our Soundcloud page for the latest podcasts.
Or just listen right here!
Episode two…
Episode three…
Episode four…
Episode five…
Episode six…
Episode 7…
In episode 8, we chat with Chris Kerson, aka Nails, about the role and the finale…
Now, back to the rest of the article…
True Detective Season 2 Episodes
True Detective season 2, episode 1: "The Western Book of the Dead"
Written by Nic Pizzolatto and directed by Justin Lin (aired Sunday, June 21)
"The disappearance of a city manager disrupts a lucrative land scheme and ignites an investigation involving three police officers and a career criminal who is moving into legitimate business." 
You can read our full review here.
True Detective Season 2 Episode 2: "Night Finds You"
Written by Nic Pizzolatto and directed by Justin Lin (aired Sunday, June 28)
"A bizarre murder brings together three law-enforcement officers and a career criminal, each of whom must navigate a web of conspiracy and betrayal in the scorched landscapes of California."
Read our review of "Night Finds You" here.
True Detective Season 2 Episode 3: "Maybe Tomorrow"
Written by Nic Pizzolatto and directed by Janus Metz (airs Sunday, July 5th)
Paul (Taylor Kitsch) works the prostitute angle, while Frank (Vince Vaughn) receives the first casualty in a secret war, and steps back into a world he'd left behind.
Read our review of "Night Finds You" right here.
True Detective Season 2 Episode 4: "Down Will Come" 
Written by Nic Pizzolatto, directed by Jeremy Podeswa (airs Sunday, July 12th)
The detail works a pawn shop lead to close in on a suspect in the Caspere case. Frank (Vince Vaughn) revisits his past to pay for his present.
Read our review of episode 4 right here.
True Detective Season 2 Episode 5: "Other Lives" 
Written by Nic Pizzolatto, directed by John Crowley (airs Sunday, July 19th)
Ray (Colin Farrell) and Frank (Vince Vaughn) contemplate new life choices; Ani (Rachel McAdams) and Paul (Taylor Kitsch) follow a lead up the coast.
Read our review of episode 5 right here.
True Detective Season 2 Episode 6: "Church in Ruins" 
Written by Nic Pizzolatto, directed by Miguel Sapochnik (airs Sunday, July 26th)
Desperate to locate a missing woman with intel on Caspere, Frank (Vince Vaughn) meets with Mexican drug dealers. Ani (Rachel McAdams) infiltrates an exclusive inner circle, with Ray (Colin Farrell) and Paul (Taylor Kitsch) keeping close tabs.
True Detective Season 2 Episode 7: "Black Maps and Motel Rooms"
Written by Nic Pizzolatto (airs Sunday, August 2nd)
Ray (Colin Farrell), Ani (Rachel McAdams) and Paul (Taylor Kitsch) take precautionary measures to elude detection and untangle a dark mystery. Frank (Vince Vaughn) deals with the fallout of his betrayal. Written by Nic Pizzolatto; directed by Daniel Attias.
True Detective Season 2 Episode 8: "Omega Station"
Written by Nic Pizzolatto (airs Sunday, August 9th)
Frank, Ray and Ani weigh their options as Caspere's killer and the scope of corruption is revealed.
True Detective Season 2 Trailers
There's a second trailer, that reveals a little more, too…
And now there are two more promos…
True Detective Season 2 Soundtrack
Produced by the legendary T-Bone Burnett, True Detective's music got almost as much notice as the story and the cast. Well from us anyway. The opening theme is "Nevermind" performed by Leonard Cohen.
During Semyon and Vercoro's first meet, you hear "My Least Favorite Life" by Lera Lynn coming from the stage.
And as evening descends on Southern California bathing it in an amber glow, "All The Gold" Nick Cave and Warren Ellis plays.
In episode two, Detective Velcoro is tipped off to a possible crime scene. Whoever rented the house had a digital camera running and left their radio on. The song that was playing was "I Pity the Fool" by Bobby "Blue" Bland.
Velcoro comes around to the morning drive time country radio sounds of Conway Twitty doing "The Rose."
In episode 4, "Down Will Come," when Velcoro is in the restaurant, Blind Faith's "Can't Find My Way Back Home" is playing.
Lera Lynn is back on the lonely stage when Velcoro meets Semyon at their usual haunt. She's playing "It Only Takes One."
True Detective Season 2 Cast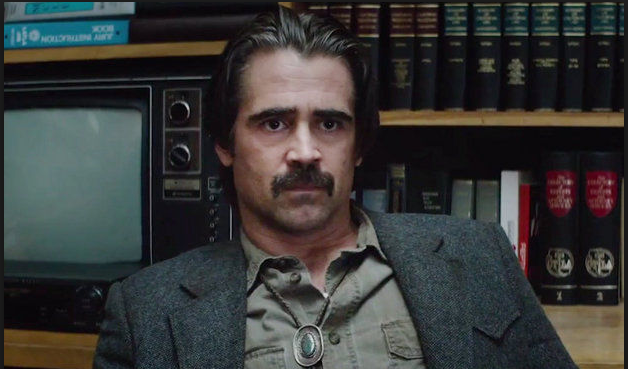 True Detective season 2 stars Colin Farrell from the films Alexander, Hart's War, and 2011's reboot of Fright Night as Ray Velcoro, a California Highway Patrol officer whose official description reads: "a compromised detective whose allegiances are torn between his masters in a corrupt police department and the mobster who owns him." Farrell's character deals with "cocaine and anger management" and was "suspended for sexually exploiting a young woman he pulled over." 
On May 4, after Colin Farrell picked up the Maui Film Festival's Navigator Award, he gave a long interview with Variety's David S. Cohen about True Detective season 2. Farrell said he is contractually obligated to keep his mouth shut, but he is allowed to talk out of the side of is mouth. He admitted he was a fan of the first season,  "and when I heard they were doing a second season, I thought 'Ooh, good luck to the actors that are doing that.'"
"Aesthetically, it's very different," Farrell described the show. "There are four main characters, as opposed to the two-character structure that's in the first piece. But it's a lot of the same sensibilities, and a lot of the characters are struggling with the same kind of existential quandries and questions that are related to meaning and pupose and the burying of the darkness that may be in your past."
He called his character "a bit of burnout, really," something he was personally acquainted with.
"I dug deep into my not-so-distant past," Farrell said. "I can't remember so much (of that). .. I was at the party long enough. I was the party long enough. For me…. I'm very glad to be alive."
"He's somebody who, like many of us in life, is wrestling with events that took place in his past, and is trying to move forward from them, but trapped in this continual cycle of behavior he can't get out of. I think fundmentally he's a good man that made some very bad choices," Farrell explained about his character.
True Detective opens with a murder, but Farrell thinks "it's more to do with what's happening with the characters than the solving of a murder, which is what I kind of felt about the first year anyway. So hopefully people respond to it. You never know. But it was a blast to work on. It was such good material, and such a wonderful cast of characters."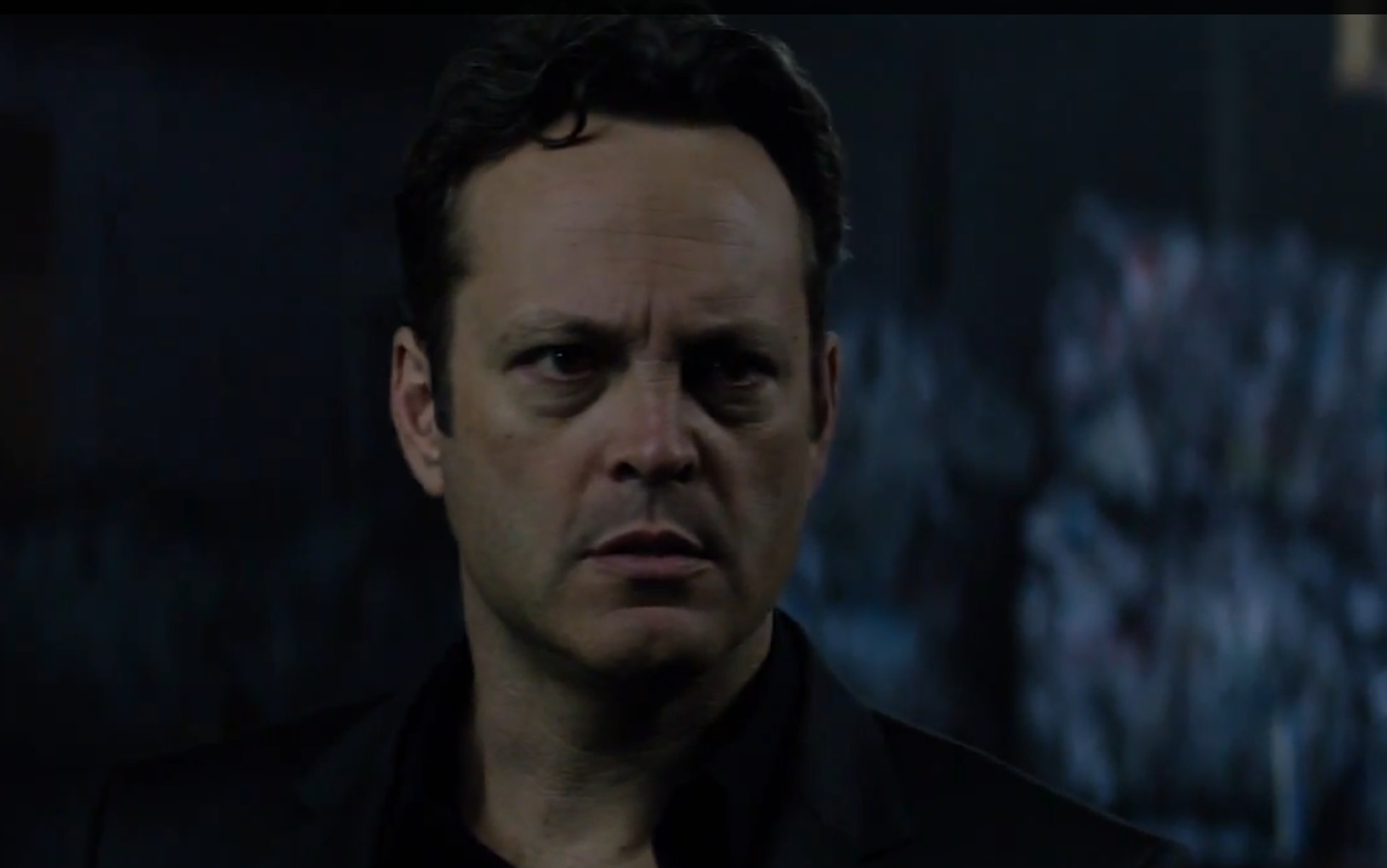 Vince Vaughn is former "thug turned businessman" Frank Semyon, "a career criminal in danger of losing his empire when his move into legitimate enterprise is upended by the murder of a business partner." Vaughn's character "is working with corrupt politicians to push through "a high-speed railway system" that would run along the coast of California bringing business in its wake.
Semyon tries to go legit but the murder of an associate derails that plan. He's got politicians in his pockets and more than misdemeanors on his mind. Deadline reported that Pizzolatto wrote Vince Vaughn's part with the actor in mind. 
In an interview with Playboy, Vaughn said he got the part while discussing a Rockford Files project with Pizzollato.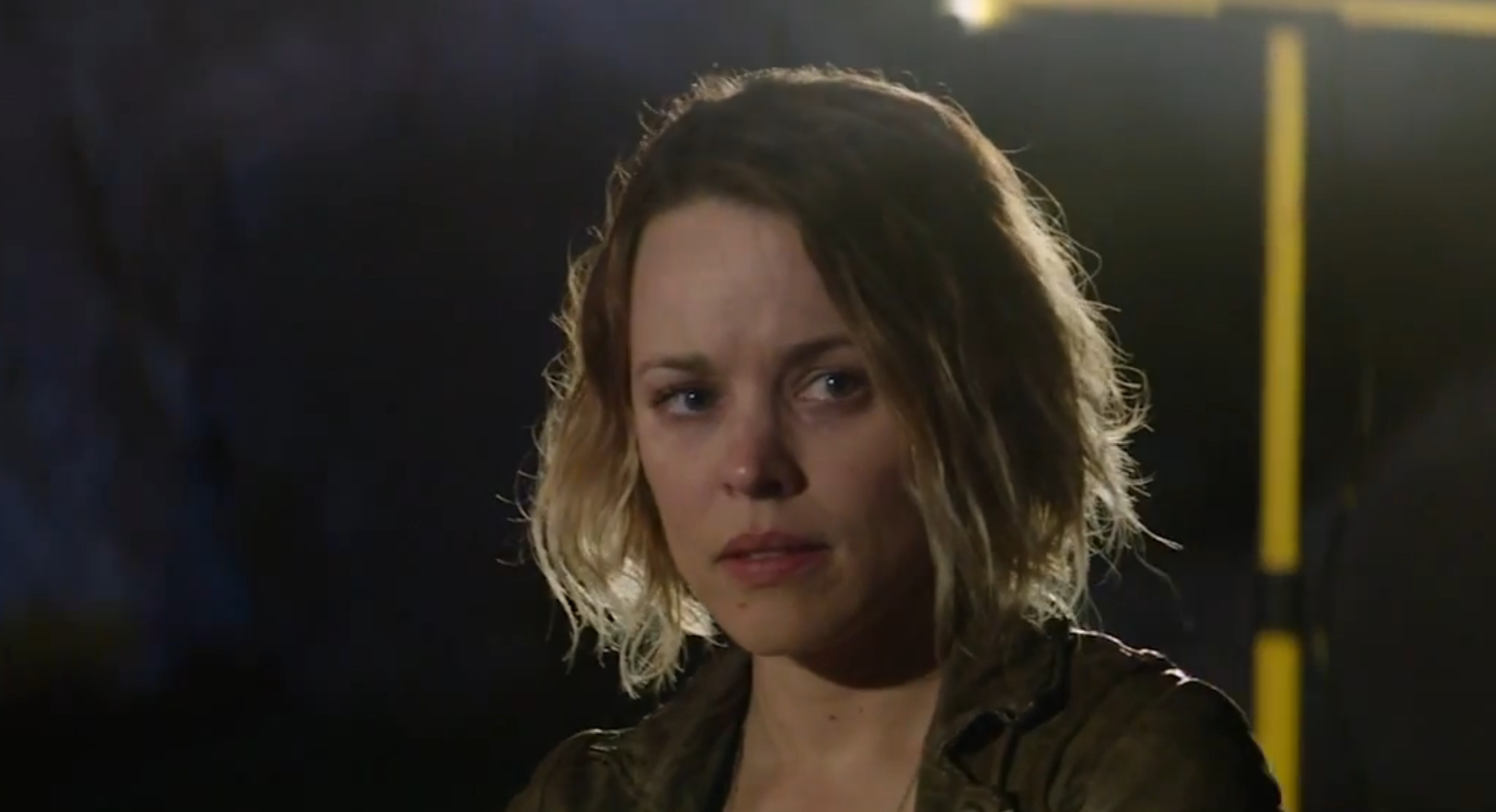 Rachel McAdams, who broke through as Regina George in the high school comedy Mean Girls in 2004, plays the main female lead, Sheriff Ani Bezzirades, "a Ventura County Sheriff's detective whose uncompromising ethics put her at odds with others and the system she serves." 
Taylor Kitsch plays Paul Woodrugh, "a war veteran and motorcycle officer for the California Highway Patrol, running from a difficult past and the sudden glare of a scandal that never happened."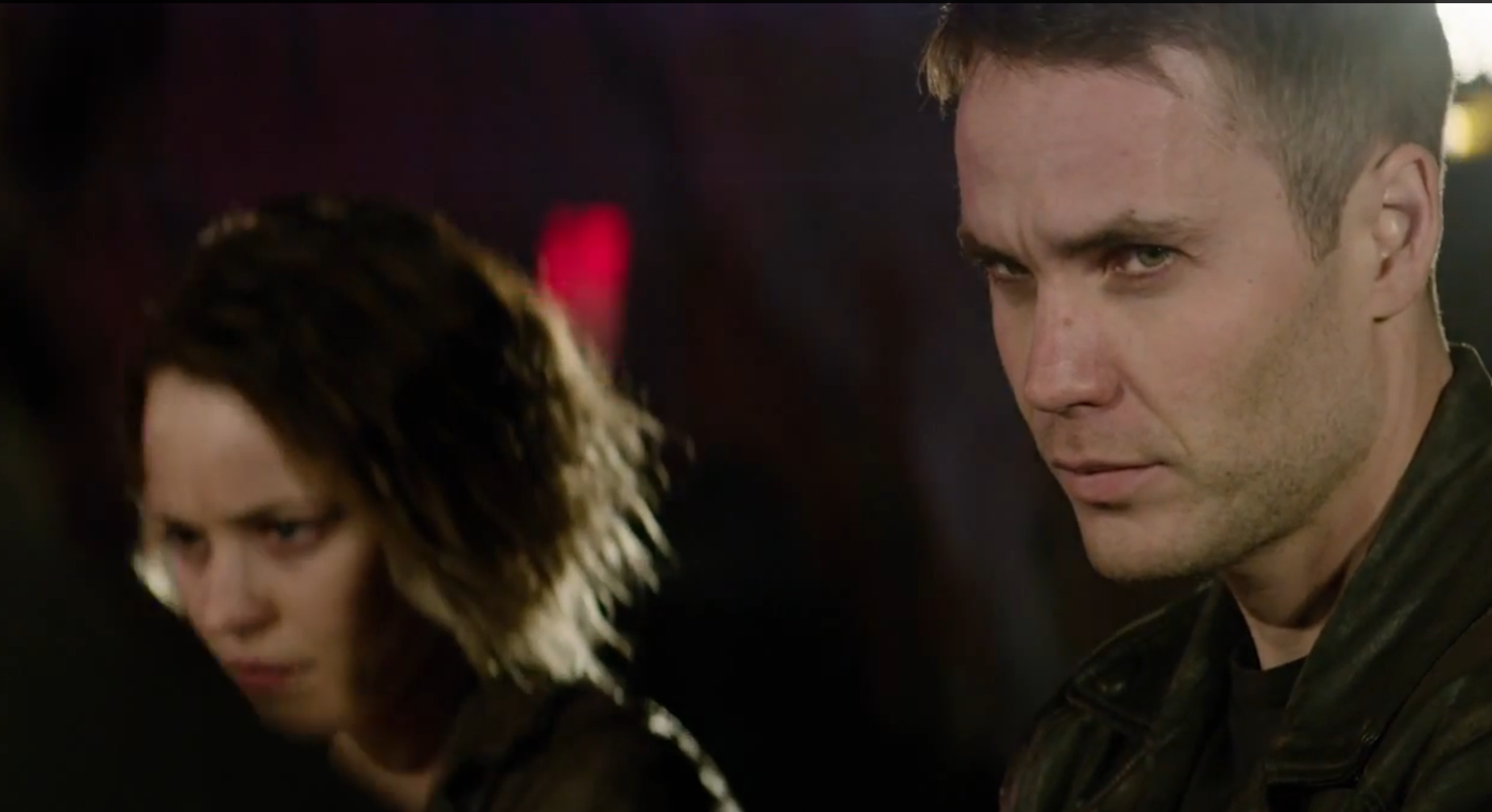 Afemo Omilami is Police Chief Holloway.  Michael Irby plays a character named Elvis Ilinca, the partner to Sheriff Ani Bezzerides (Rachel McAdams' character). Irby will be on the show for five or six episodes. Kelly Reilly is playing Jordan, Frank Semyon's wife, "a former D-list actress who is a full partner in his enterprises and ambitions."
Lolita Davidovich, from the movie Blaze, will be playing ex-showgirl Nancy Simpson, the mother of Taylor Kitsch's character. James Frain from The Tudors and True Blood will play a bad lieutenant named Jeff Hunt. Michael Hyatt, best known from for playing Brianna Barksdale on The Wire and Connie Reubens, the SWAT team commander on Spike TV's The Kill Point. will play Katherine Davis, an ambitious state attorney who knows how to keep things quiet.
"The cast also includes Kelly Reilly (Sherlock Holmes: A Game of Shadows) as Jordan Semyon, Frank's wife, a former D-list actress who is a full partner in his enterprises and ambitions; Christopher James Baker (Gotham) as Blake Churchman; Afemo Omilami (The Hunger Games: Catching Fire) as Police Chief Holloway; Chris Kerson (CSI: Crime Scene Investigation) as Nails; and James Frain (True Blood) as Lt. Kevin Burris.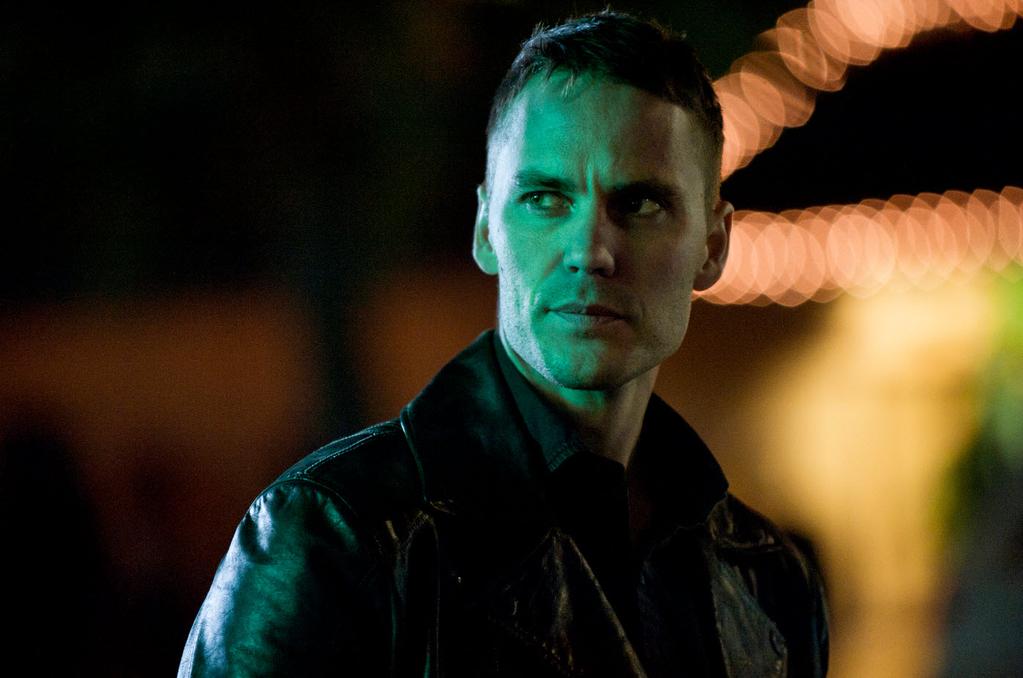 Castle's Jon Lindstrom will play Glenn Ellinger, "a patrician businessman who wears his immense power lightly, but wields it definitively."  Yara Martinez, who played Dr. Luisa Alver on Jane the Virgin and Adriana de Portago on Alpha House, will play a Mexican-American immigrant innkeeper named Andrea. Adria Arjona will play Emily, the girlfriend of Taylor Kitsch's character. Arjona recently joined the cast of the TNT drugs-in-Miami series Narcos, produced by Michael Bay and Jerry Bruckheimer. 
Chris Kerson will have a recurring role as a nail gun shooting survivor named, appropriately enough, Nails. The tough-as-nails-guy will be a loyal member of Frank Semyon's gang…I mean business. Kerson has been seen on 30 Rock and Pacific Blue.
C.S. Lee is ambitious state attorney general Richard Geldoss. Lee played Makusa on Dexter. Rick Springfield, the actor-musician and coveter of Jessie's girl, showed up in one episode so far. Ashley Hinshaw will play a troubled starlet. 
Rounding out the recurring cast, so far, are James Frain as Jeff Hunt; Riley Smith as Steve Mercier; Christian Campbell as Richard Brune; Jon Lindstrom as Glenn Ellinger; Emily Rios as Gabby Behenna; Ronnie Gene Blevins; Timothy V. Murphy as Osip Agranov.
David Morse (Treme) will also guest star.
True Detective Season 2 Story Details
The investigators are trying to solve the death of Ben Caspar, a 52-year-old man who was killed and dumped on a highway with occult symbols scratched on his chest. The official synopsis reads:
"The second season of True Detective will follow the death of Ben Caspar, the corrupt city manager of a fictional California city who's found brutally murdered amid a potentially groundbreaking transportation deal that would forever change freeway gridlock in the state. Three law enforcement officers from different cities and branches of the government are tasked with finding out who did it. They soon discover their investigation has much broader and darker implications than they initially thought. Caspar's 52-year-old corpse is found on a lonely stretch of Pacific Coast Highway near Big Sur—satanic symbols etched on his chest. It turns out he had a penchant for rough sex and may have been involved in the occult."
Just like in the premiere season, the three cops will have their own issues. The Wrap reported that Farrell's character "has been damaged by years of turmoil," the Monterey sheriff (McAdams) dives into "gambling and alcohol" when she's not on duty, and the California Highway Patrol officer (Kitsch) was "put on leave" after he pulled over a lady for drunk driving and let her off after she got him off, though The Wrap pulled that detail.
The second season will not be as dark as the first, according to HBO programming director Michael Lombardo. Variety reported that Lombardo told an audience at the Edinburgh TV Festival, "It's still dark. Nic explores the darkness in people's souls. … It's not as dark, but it's not a light ride. Nic likes looking into the crevices of the soul."
Pizzolatto did promise to keep it strange in season 2, but not quite as much. Shortly after the first season closed he said "I'm interested in the atmosphere of cosmic horror, but that's about all I have to say about weird fiction. I did feel the perception was tilted more towards weird fiction than perhaps it should have been."
There's also a second story synopsis:
A bizarre murder brings together three law-enforcement officers and a career criminal, each of whom must navigate a web of conspiracy and betrayal in the scorched landscapes of California. Colin Farrell is Ray Velcoro, a compromised detective in the all-industrial City of Vinci, LA County. Vince Vaughn plays Frank Semyon, a criminal and entrepreneur in danger of losing his life's work, while his wife and closest ally (Kelly Reilly), struggles with his choices and her own. Rachel McAdams is Ani Bezzerides, a Ventura County Sheriff's detective often at odds with the system she serves, while Taylor Kitsch plays Paul Woodrugh, a war veteran and motorcycle cop for the California Highway Patrol who discovers a crime scene which triggers an investigation involving three law enforcement groups, multiple criminal collusions, and billions of dollars.
I have been harping on one particular clue that the True Detective writer threw at us in the early stages of production: An occult conspiracy at the heart of the transportation system. The actual quote came from an HBO press release saying True Detective Season 2 would be about "Bad men, hard women and the secret occult history of the U.S. transportation system." HBO recently put out a Q&A release where Nic Pizzolata takes it back.
"There's definitely bad men and hard women, but no secret occult history of the U.S. transportation system," Pizzolata says in the statement. "That was a comment from very early in the process, and something I ended up discarding in favor of closer character work and a more grounded crime story. The complexity of the historical conspiracy first conceived detracted from the characters and their reality, I felt, and those characters are ultimately what have to shape the world and story. So I moved away from that."
I'm not sure I buy that entirely. The official synopsis still says the murder at the center of the season will take place "amid a potentially groundbreaking transportation deal." So, if there is no transportation conspiracy, why am I seeing these images on every bus?
Pizzolato also frightened me with the lack of the supernatural in the upcoming season. The Q&A also quotes him as saying "While there's nothing occult in this season, I think there's a disconcerting psychology to this world, and its characters have other kinds of uncanny reality with which to contend." This is promising, but I'm a little disappointed. HBO's spooky cop show brought the satanic detective genre to television and I figured with William Friedkin, the director of The Exorcist, on board, it would continue in that vein. But it looks like it's been derailed.
From what we can tell, True Detective season 2 will continue to explore the dark and murky underworld of some kind of privileged class. One of the first things to leak about the upcoming season was Amia Miley and Peta Jensen, two 24-year-old adult film actresses, were the only actors who weren't nude in an orgy scene that was reportedly something straight out of Eyes Wide Shut. The show has a decadent heart, even if the trailer shows one of the players are wearing a bolo tie.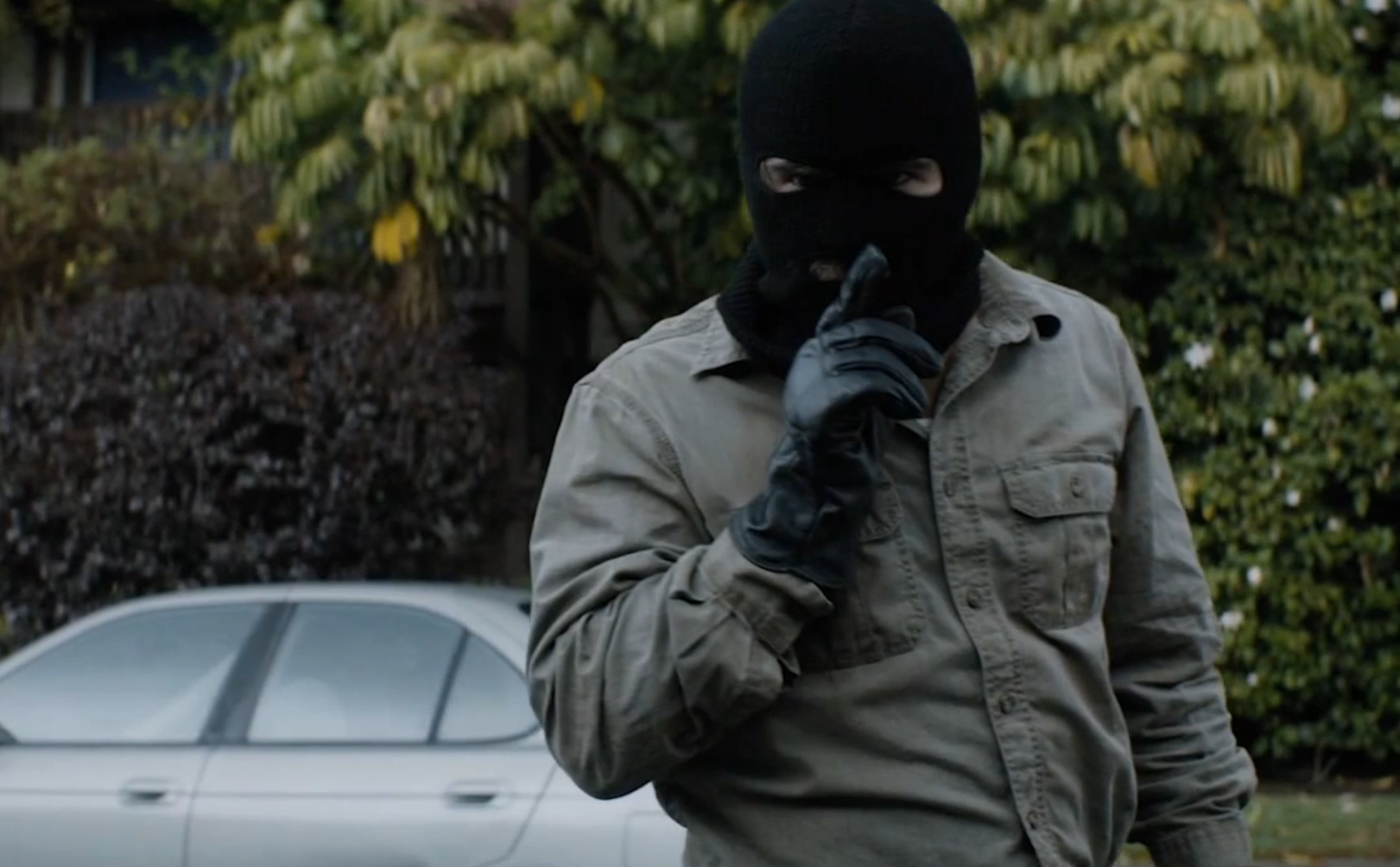 Possible True Detective Season 2 Story Inspirations
Pizzolato and Lombardo have so far teased that season 2 will be about some kind of shenanigans in the transport system, that the crime takes place on a west coast highway, and that the victim will have satanic symbols scratched on his chest. Not just occult symbols but specifically satanic ones. We know that Vaughn is a mob boss and the trailer shows him talking openly with Colin Farrell's cop character with the drooping seventies mustache. 
Because of the big business aspect of the upcoming season, I think we'll see references to the classic crime film, Chinatown. Corporate conspiracy is at the heart of Roman Polanski's classic noir masterpiece. The series might feature a crooked corporate cabal. We can trust Pizzolatto not to go in easy territory like the Illuminati when a local Rotary Club can house as much felonious finance as any Freemason lodge. Vaughn could also play someone who came up through the rougher side of the Teamsters, delegates who never drove or loaded trucks, but did other heavy lifting.
The city of Vinci is based on Vernon, Calif. The city had 112 residents and housed 1,800 businesses in 2010. John Leonis, who founded the city, sidestepped corruption charges after a probe in the 1940s. Leonis died in 1953 and left the city to his grandson Leonis Malburg, who was the city's mayor for more than 50 years. Malburg didn't live in Vernon, he lived in a wealthier neighborhood, much like Mayor Austin Chessani (Ritchie Coster) lives in Bel Air.
Black Mountain Security team that Woodrugh was part of in the desert. Black Mountain Security is probably based on the American private military company Blackwater USA, who were ambushed while making a delivery for food caterers ESS on March 31, 2004. Scott Helvenston, Jerry Zovko, Wesley Batalona, and Mike Teague, were killed, their bodies were beaten and burned and the burnt corpses were hung over the Euphrates after being dragged through the streets.
The private security force apparently had a bad rep in the region for mistreating POWs. The ambush, which is studied in military magazines to this day, led to the First Battle of Fallujah. After convictions came down in the early 2010s, Blackwater changed their name.Blackwater changed its name to Xe Services and then Academi after a Sept. 16, 2007 incident in Nisour Square in Baghdad where 14 unarmed civilians were killed and 17 others wounded.
The Blackwater Private Security Detail PSD was escorting a U.S. State Department convoy to an International Development meeting. The Iraqi Government revoked Blackwater's license to operate in Iraq on September 17, 2007. The FBI filed that they couldn't match the bullets in the incident which raised the idea that insurgents also fired at the victims.
Blackwater had charges of negligence, discrimination, prostitution, murder and arms smuggling thrown at them. Erik Prince, the company's founder, called them "baseless," but on April 14, 2015, one ex-Blackwater Worldwide security guard was sentenced to life in prison and three others given 30-year terms for killing 14 unarmed civilians in in Nisour Square, a Baghdad traffic circle, in 2007.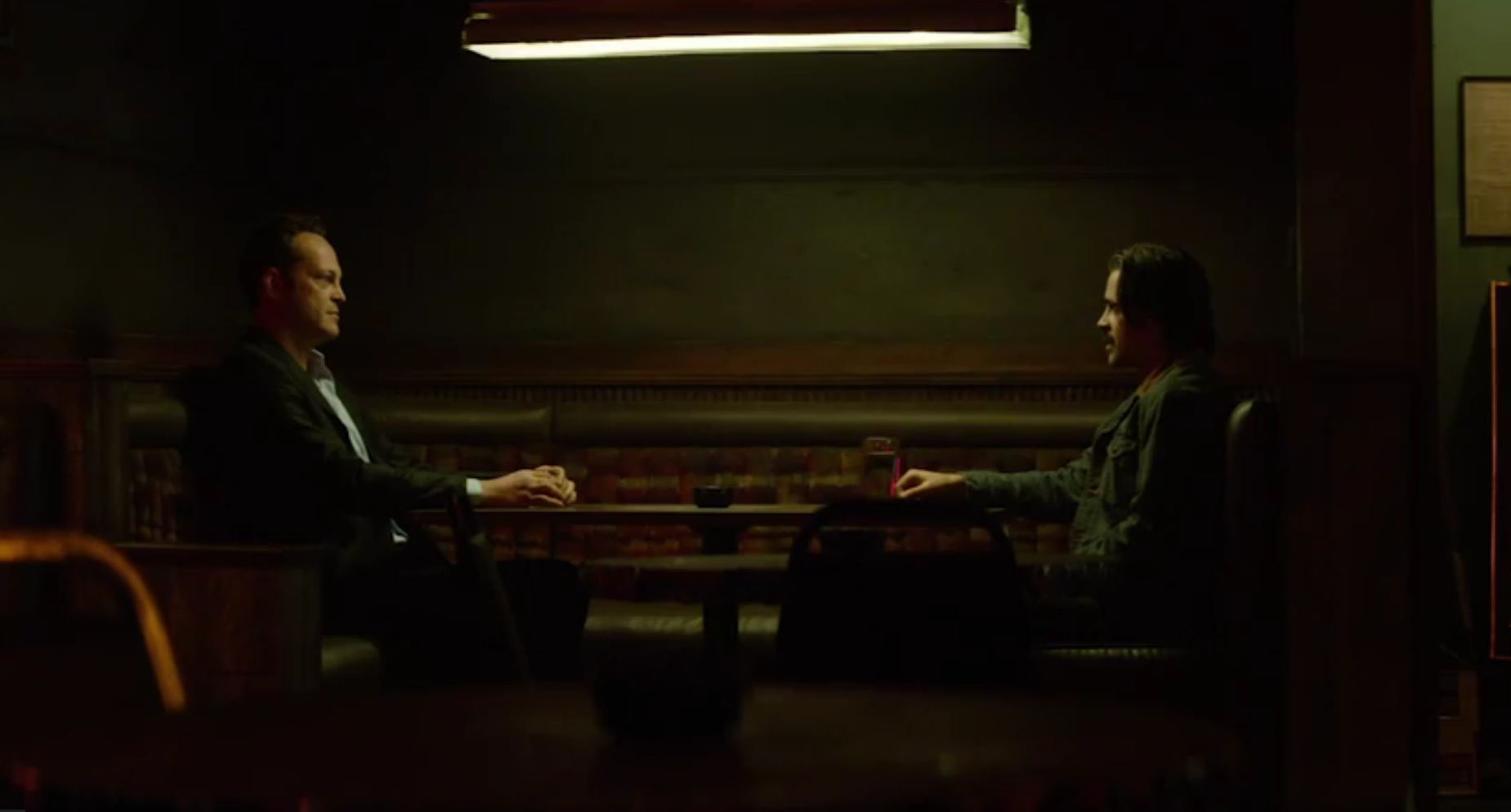 The victim will be into rough sex. Season one had all kinds of sex. Angry sex in the bathroom. Revenge sex on the kitchennette. Handcuff sex. Incestuous hand jobs. BDSM caters to all kinds of ritualistic fetishes beyond the ones let in the doorways in True Detective's first season. The scratchings could come from a heavy S&M session or next season could take some trips to a West Coast version of The Hellfire Club, the 18th Century British bacchanal for the socially blessed.
True Detective season two will be set between Los Angeles and San Francisco, an area that spans 400 miles that writer Nic Pizzolatto describes as "the places that don't get much press and where you wouldn't normally set a television show." The show will be shot on locations that evoke the "psychosphere ambiance of the place."
The highway murder has to point to a corrupt scheme put a high speed rail that links North and South California. There's money to be made through "land ownership and lucrative federal grants." Last season, Cohle and Harte found a spiritually evolved madman living on the fringe of society, this season the true detectives will hit the center of society, the strip malls.
True Detective Season 2 Images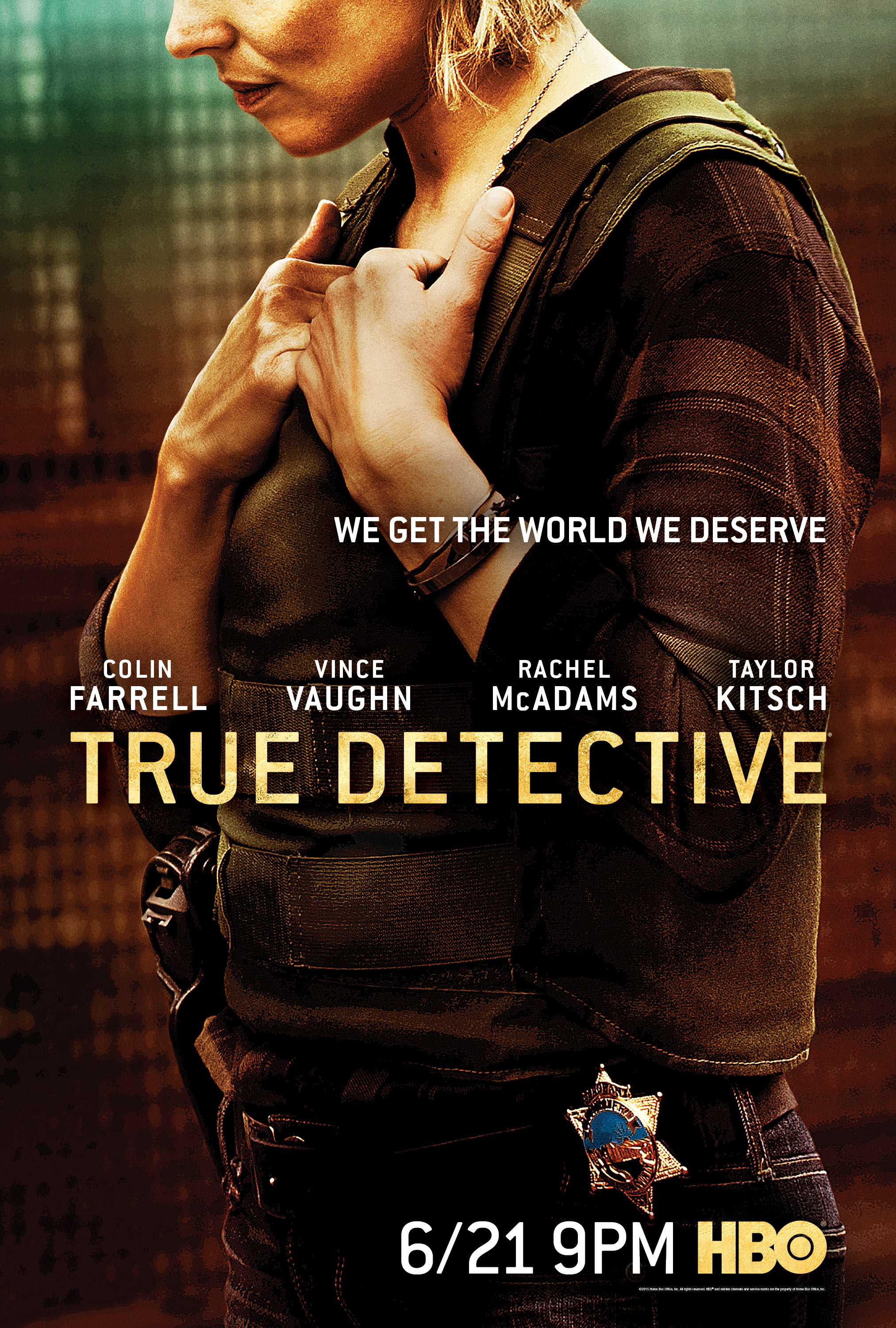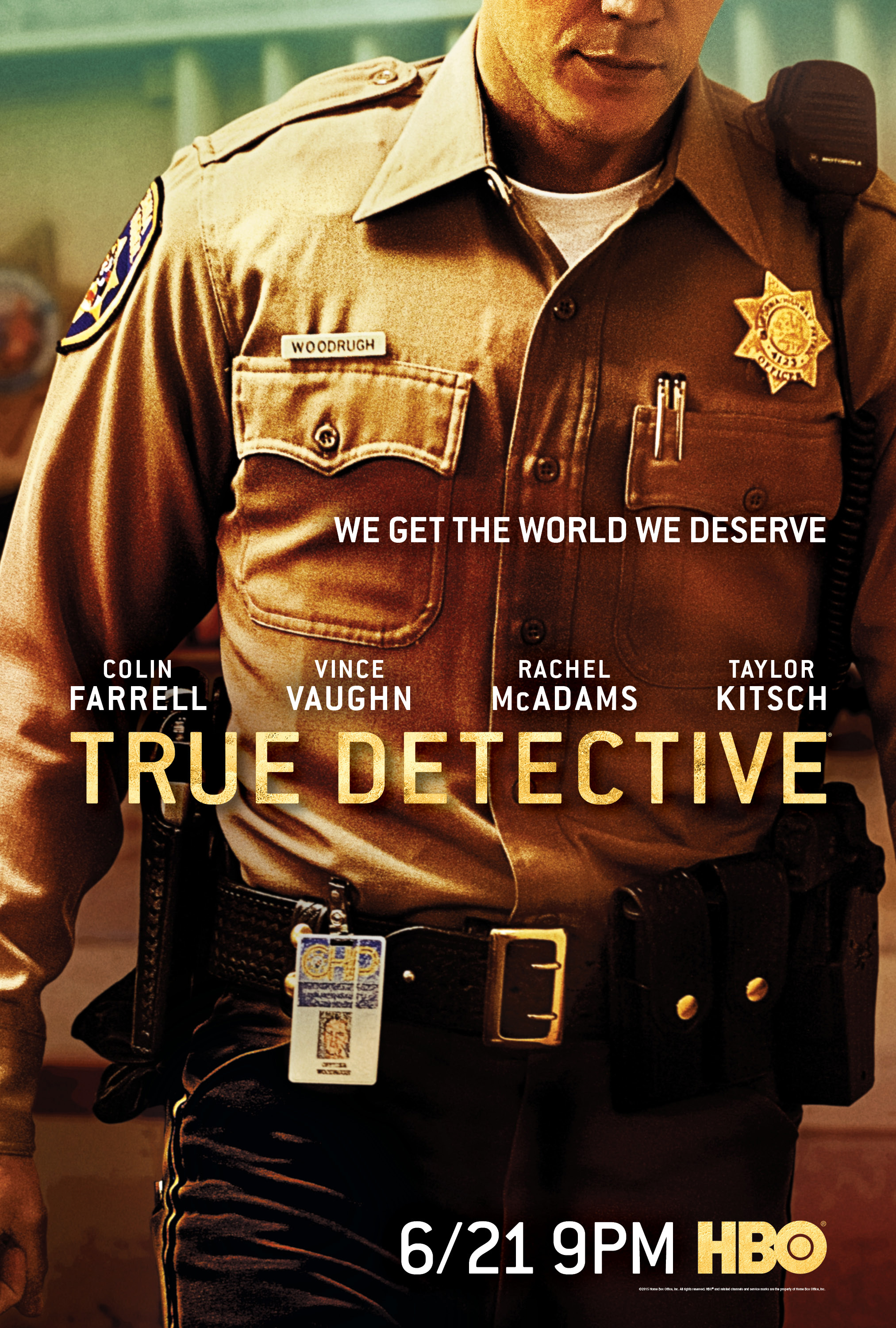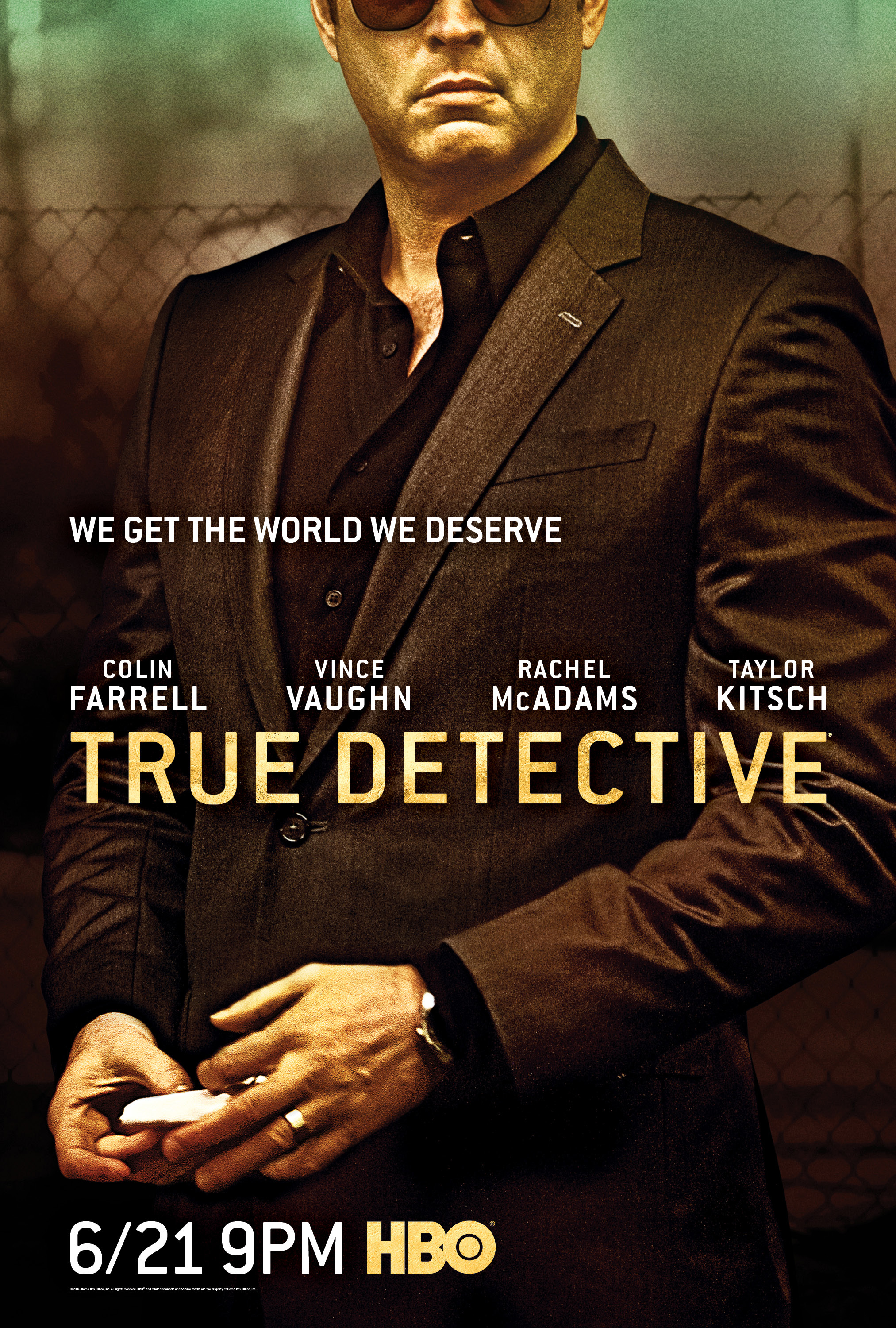 The True Detective official Twitter account added this cool 3D image, because we deserve it.
— True Detective (@TrueDetective) 
April 22, 2015