Features
True Blood and the Southern Gothic Vampire Genre
With True Blood season six premiering this weekend, here's a look at at the tradition of the Southern Gothic Vampire genre, including films like Angel Heart and the work of Anne Rice and Poppy Z. Brite.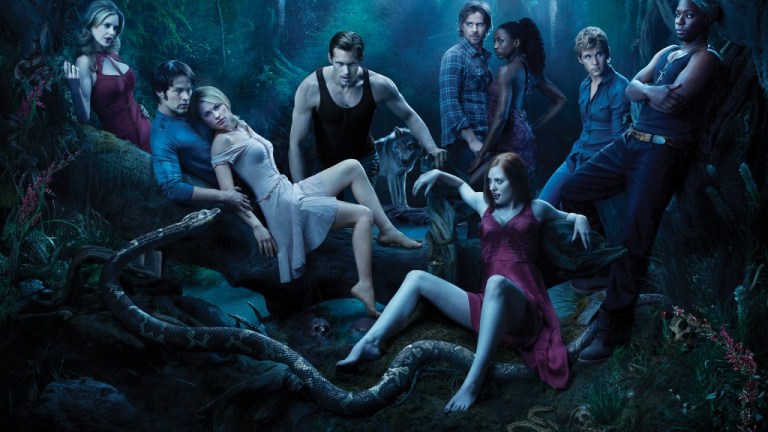 True Blood rises this week on HBO and I happen to be reading Charlene Harris' last installment of the Sookie Stackhouse novels, "Dead Ever After." I've had my problems with both the series and the books, primarily when they spun away from vampires into all the otherkin, but I also stuck with both. In the books' case, sometimes because of the non-vampire characters. Especially the ones that didn't make it to the show, the demon Mr. Catialiadas and his daughter the half-demon Diantha. Charlene Harris' "The Southern Vampire Mysteries" series and Alan Ball's vision of it for HBO's True Blood series come from the fairly recent tradition of the Southern Gothic Vampire subgenre of horror.
The Southern Gothic Vampire horror subgenre should not be confused, well, maybe it should be confused, it's always been my unstated intent to confuse, with the Southern Gothic novels of Truman Capote, William Faulkner, Harper Lee and Tennessee Williams. A recent example is Joe Samuel Starnes. Southern Gothic novels put a macabre twist on the violent and darker elements of southern culture. Southern Gothic horror movies, like the 1964 psychological thriller with Bette Davis doing Lizzie Borden in New Orleans Hush…Hush, Sweet Charlotte, invite you in with their best southern hospitality. And then you realize you're in a Cabin in the Woods. Southern Gothics and Southern Goth Vampire stories also have that racial tension that bubbles under the surface, the tradition of violent oppression. I'm not saying that doesn't happen in the northeast, but it's not been integrated into our artistic tradition. The Northeast isn't famous for it, except maybe in Crown Heights, Howard Beach and whatever section of Queens Archie Bunker lived in.
There's something about New Orleans that makes it an ideal setting for vampires. Maybe it's the heat. Everything moves so slow. Southern Gothic Vampire writers explore a volcanic sensuality. Maybe this is a reaction to the religious repression of churches like the Southern Baptist where the faithful openly deride sexual extravagance while churning out carnal rhythms on the church organ. Maybe Southern Gothic horror writers see more to fear because there is so much space between properties. There are more dark shadows to fill. More places to hide. Sure, New York City has dark streets and is as famous for alleys where you can get your ass kicked as it is for Nathans. But for the most part, its' a little crowded to hide monsters in Manhattan.
I love New Orleans. I first went when I was still doing Vampyr Theatre to check out the bayous and the ramparts that inspired Angel Heart, Down by Law, Interview with the Vampire and "Lost Souls." New Orleans comes alive at night. Every block had thirty bars and every bar had thirty bands. It was like a city of MacDougal Streets during the Feast of San Genarro with rice and beans. Anne Rice goes on about the French and Spanish food, but there's lot of Italian food in New Orleans. It's a flavorful mixing ground. The voodoo background is a palpable rhythm day and night. The supernatural tradition that is woven into the city flows on tap for horror writers. Tourists rub dirt on Madame Laveau's headstone. You can buy gris-gris bags at corner shops.
The Southern Gothic Vampire was first popularized by the mommy of the modern vampire reboot, Anne Rice. Anne Rice is a New Orleans native. She lived in the beautiful garden district. Rice sapped the sultry southern air to create a sensual bloodsucker series featuring the chatty vampire Louis. Another Louisiana native. Ann Rice's Vampire Chronicles followed Louis, a New Orleans plantation farmer who gets suckered into a life he never wanted. Oh, fucking woe is him. The whiniest monster since Lon Chaney's Wolf Man, "I don't want to kill. There's a full moon out tonight, lock me away before I kill." Just kill. You're a fucking monster. It's in the job description. That must be the southern guilt.
The vampires on HBO don't seem to feel that guilty. Well, vampire Bill seems to, and he's just a southern boy at heart. Charlene Harris, and therefore HBO, moved northwest from New Orleans, away from the bayous and the muddy Mississippi to Bon Temps and Shreveport, La. These towns don't have the easy association with vampires as New Orleans. They are far enough removed to explore the small town soap opera of the Sookieverse. You can hide a cluviel dor in New Orleans, but a gateway to fairyland would probably be stumbled upon and they don't want that many hits. The Queen of Louisiana, of course, does live in New Orleans. As do all manner of Sookieverse witches and demons. These bloodsuckers are mosquitoes.
Poppy Z. Brite is another New Orleans-based writer who kept her characters close to home. "Exquisite Corpse" was buried in New Orleans. She took The Crow to New Orleans for "The Lazarus Heart." The sociopaths of "Drawing Blood" shacked up in North Carolina. Brite's cast of merry murderers didn't concern themselves too much with southern guilt. They took advantage of the southern heat, though. Brite's books are the wettest of the Southern Gothic Vampire pages. No bodily fluid goes unappreciated. Brite's desanguinarians are leeches. Poppy Z. Brite is now Billy Martin and writes dark humor rather than the sensual horror that personified the Southern Gothic Vampire style.
From Dusk Till Dawn and Near Dark aren't Southern Gothic Vampire movies, they owe more to the Western genre of film. I include them here because I felt like talking about them. Near Dark from Katherine Bigelow saw vampires as criminal gypsies roving the southwest. A little Wild Bunch and a smidgeon of I Spit on Your Grave, though not enough. Near Dark's good old boy vampires have that southern swagger, the down home humor and the rough bonhomie of pickup trucks and saddle sores that they didn't get at Brokeback Mountain. But they're very human. This was Katherine Bigelow's best. Sure she's a goddess of action propoganda now, but really, Near Dark is an amazing achievement. Bigelow's vamps are desert predators, Wile E. Coyote with Acme sunblock.
While True Blood vampires are sensual and violent, the vampires from From Dusk Till Dawn suffer from their transformation into ugly inhuman vampire creatures. It's not that ugly vampires aren't sexy. They're not. Although Salma Hayek was the original reason I saw the movie. Monstrous vampires are also less frightening. They hold no mystery. You see chupacabra coming at you down Sixth Avenue with an animal face and bared fangs, foreheads bulging, their eyes glowing red, and you're going to think: "I'm going to stand over there for a little while." If a vampire monstrosity is about to pass you on the street, you'll pretend to check your phone or tie your shoe. Do some window shopping. You might even cross the street. But a charming vampire can get all up in your face and you'll like it. Until they call in the forensics team.
True Blood's season will open in the middle of a war between vamps and humans. Fangbangers will be classified 4Q, break open in the event of an emergency. The Southern Goth will rise and most will be buried again. The Southern Gothic Vampire will meet the Wild West as everyone in Bon Temps looks like they pack sawed-offs. It is a marriage of American entertainment that has been a long time coming. They were just waiting for the blood test.
Like us on Facebook and follow us on Twitter for all news updates related to the world of geek. And Google+, if that's your thing!