News
Trollhunters Season 2 Review (Spoiler Free)
Trollhunters season 2 proves that this ever-expanding narrative universe is in safe hands.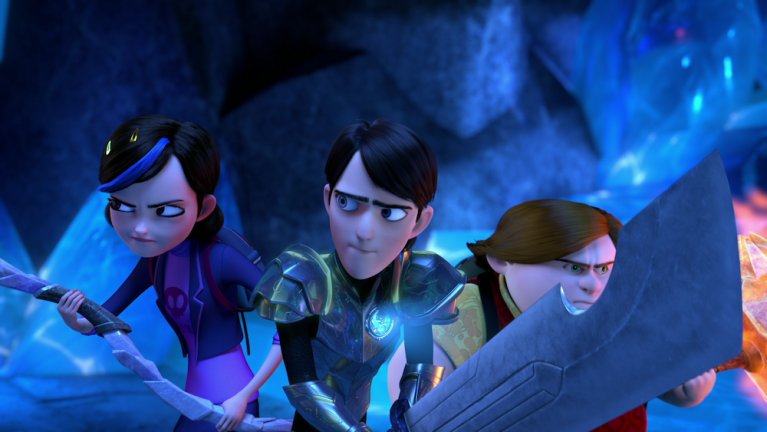 Trollhunters is back with a 13-episode second season that continues the adventures of human trollhunter Jim Lake Jr. (Anton Yelchin) and his friends Toby (Charlie Saxton), Claire (Lexi Medrano), and Blinky (Kelsey Grammer) as they try to protect the human and troll worlds alike from the dangers of the Troll Darklands.
The second part of "Tale of Arcadia" picks roughly where the first part left off, with Jim in the Darklands searching for Claire's baby brother Enrique, and Toby and Claire covering for him back in the human world. Meanwhile, the trolls of Trollmarket are desperate to protect themselves from the dangers of the Darklands, considering destroying the Bridge of Killahead and trapping Jim there forever alongside Gunmar (Clancy Brown) and his Gumm-Gumm Army.
If you enjoyed Trollhunters' first outing, then you're going to love the humor, action, and heart of this second season. The show's first 52 episodes were conceived prior to Trollhunters first airing, which means there is no jolt in tone or quality between the first and second seasons. This also means that, because of the long-term planning of the show's arcs, the late Yelchin, who tragically passed away in 2016, was able to record most of his voice work for the second season. Yelchin is back, lending an earnest, likeable quality to Jim.
The best parts of this new season come in Jim's adventures in the Darklands, which explore a darker side of the world of Trolls and initially reminded me of the opening scene in Thor: Ragnarok. While there, Jim will meet new and old enemies alike, with some of them becoming potential allies. New voice actors joining the cast in Season 2 include Mark Hamill as a nefarious troll with connection to another beloved Trollhunters character, Lena Headey as a powerful sorceress, and David Bradley as a mystical wizard.
Initially, the scope and imagination of Jim's adventures in the Darklands can make for a lack of excitement when we return to the more grounded, familiar aspects of Arcadia. It's hard to care about Jim's Arcadian nemesis, the catoonish high school villain Steve (Steven Yeun), when Jim is literally facing life or death circumstances in the Darklands. However, Trollhunters quickly expands the human world of this story with greater insight into the shadowy organization known as The Janus Order. (Another hilarious cameo from Guillermo del Toro as Toby's dentist is another stand-out in the Arcadia part of the plot.)
Jim's absence in the human world serves to make Trollhunters more of an ensemble show this time around, with Claire in particular getting more agency in the adventure in ways that only improve upon the narrative. "Maybe anger isn't your thing. Maybe you have to find something stronger inside," NotEnrique (Jimmie Wood) tells Claire in a high-stakes moment. She chooses fear as a motivator, a refreshing thematic exploration reminiscent of the best parts of Doctor Who Season 8.
While Trollhunters Season 2 can get a little MacGuffin-y at parts, with Claire, Toby, and Blinky's missions in particular about Getting The Thing in order to solve the smaller mysteries, Part 2 of this adventure brings back the most delightful parts of Part 1, while expanding this fictional world in new and exciting ways. Sophomore seasons are rarely as effective as Trollhunters at maintaining that tricky narrative balance. With character-driven world-building like this on display from Guillermo del Toro, Rodrigo Blaas, and Marc Guggenheim, the ever-expanding Trollhunters universe is in safe hands.
DreamWorks (Part 2) will premiere globally on Friday, Dec. 15, 2017 on Netflix.