News
Travelers Season 3 Episode Guide and Other News
The fight for the future continues on Netflix with the arrival of Travelers season 3, and we've got your definitive guide.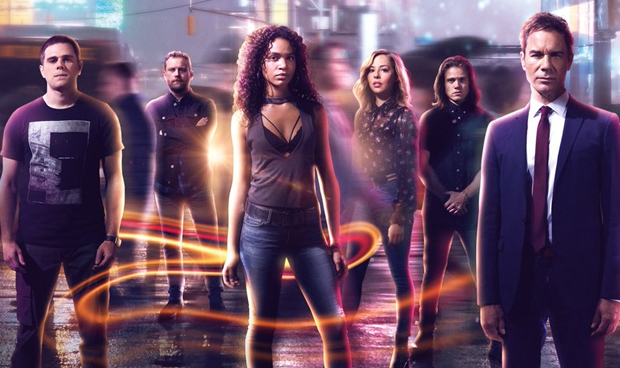 Travelers season 3 continues the mission to save the future, but the grand plan appears to be unraveling for FBI Agent Grant McLaren, his team, and their mysterious director. The word is out about the existence of travelers, and although some dismiss the reports as fringe conspiracy theories, the real FBI of the 21st century now wants to be in the loop on the group's operations. Can the two co-exist while Vincent and the Faction are still at large?
Below is a guide to Travelers season 3, which is available in its entirety on Netflix, along with the earlier seasons for those who haven't caught up or need a refresher. Hopefully the episode descriptions below will help as well, although some spoilers lie within.
Travelers Season 3 Release Date and Episode Guide
Travelers Season 3 premiered on Netflix on December 14, 2018 with ten more episodes for fans to enjoy. See the list of episodes and their descriptions below. WARNING: Spoilers past this point!
Travelers season 3 Episode 1: "Ilsa"
MacLaren, his team and their loved ones regroup at a safe house protected by the FBI, but doubts and betrayals may sabotage the rest of their mission.
Travelers season 3 Episode 2: "Yates"
MacLaren and Yates adjust to their new partnership while protecting a TV show host whose inflammatory rhetoric about Travelers has led to tragedy.
Travelers season 3 Episode 3: "Protocol 3"
Certain that his team erased his memory of the previous day, MacLaren retraces his steps in the case of a disturbed youth with a horrific future.
Travelers season 3 Episode 4: "Perrow"
The team learns that Traveler 001 is still alive when the Faction tries to capture him. Doubts about their loved ones worsen for Kat, Jeff and David.
Travelers season 3 Episode 5: "Naomi"
The team attempts to extract a rogue A.I. from a child messenger, but the program expands too rapidly. A new Traveler adjusts to his host.
Travelers season 3 Episode 6: "Philip"
The Faction kidnaps Philip and a group of other historians, forcing MacLaren and the team to extract their location from a critically injured Hall.
Travelers season 3 Episode 7: "Trevor"
Suffering from a fatal brain disorder, Trevor makes the choice to allow himself to be overwritten as the team races to invent an experimental cure.
Travelers season 3 Episode 8: "Archive"
MacLaren urges Yates to help him when a Traveler with a mission vital to humanity's survival arrives in the body of a just-captured serial killer.
Travelers season 3 Episode 9: "David"
The Faction sets off nuclear blasts that destroy all of the Travelers' archives, except the one in which a wounded David just happens to be trapped.
Travelers season 3 Episode 10: "Protocol Omega"
Shattered by recent losses and a sweeping new protocol, the Travelers face a bleak future with only one long-shot chance to succeed in their mission.
Travelers Season 3 Trailer
The new trailer shows how the cat is out of the bag in Travelers season 3, requiring the cooperation of the natives of the 21st. Take a look:
Travelers Season 3 Details
The newest poster art for Travelers season 3 brings a new style to the Netflix-only production of this Canadian show.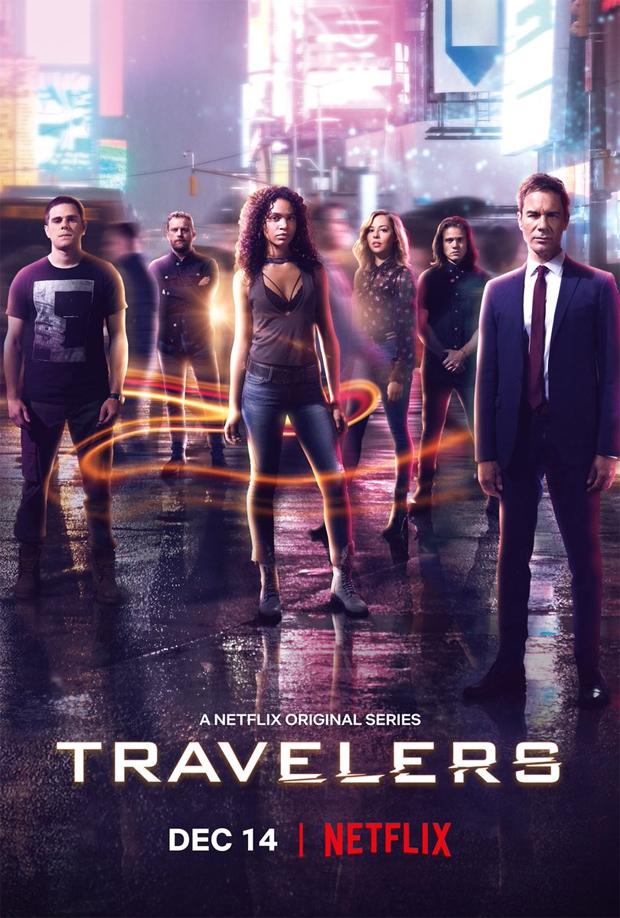 The once-again Will of Will & Grace, Eric McCormack, returns to the role of Grant MacLaren for Travelers Season 3, and we're biting our fingernails waiting to see where things will go from that rather-too-cliffhanger-y Season 2 finale. At least, we're relieved to find out that we won't be left hanging.
After the March announcement of the Travelers Season 3 renewal, McCormack provided the following message to fans:
"Before I was Will Truman again, I was a Traveler. And I am so excited to be able to tell our fans, worldwide, that Brad Wright's subtle and stunning sci-fi drama is back for a third season. I am so proud of this show, particularly that it's all-Canadian. From our devoted Vancouver crew, to an uber-talented young cast who hail from Alberta, BC, Manitoba and Ontario, to my producing partners and our Toronto roots, Travelers is a series as Canadian in its creation, as it is global in scope. I am counting the days 'til I return, not just as Special Agent Grant MacLaren, and as a producer, but as the director of the 3rd season premiere. Travelers will continue to be unwavering in its dedication to Canadian talent, and in its drive to be one of the strongest, most binged shows on Netflix."
Magda Apanowicz (Continuum, Caprica) expressed her excitement on Twitter that she would be joining the cast for Travelers season 3. She joins other Continuum alumni such as Jennifer Spence, Ian Tracey, and Patrick Gilmore in the Vancouver-based series.
Production on the third season began on March 26, 2018 and wrapped on July 6.
Michael Ahr is a news writer and podcaster here at Den of Geek; you can check out his work here or follow him on Twitter. Travelers has been feature on his Sci Fi Fidelity podcast several times.
Joseph Baxter is a contributor for Den of Geek and Syfy Wire. You can find his work here. Follow him on Twitter @josbaxter.