News
Travelers Season 2 Casts Enrico Colantoni
What you need to know about Travelers Season 2 with the latest casting news and more!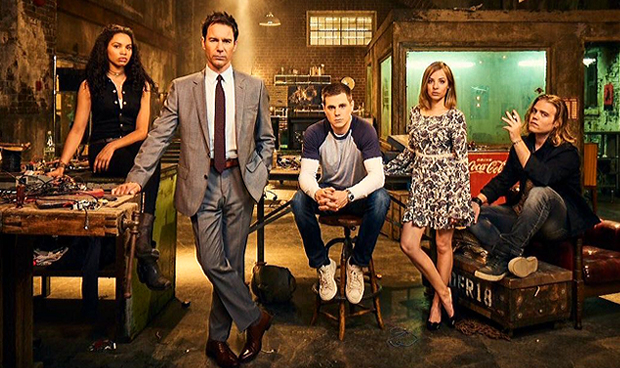 The inventive sci-fi series Travelers will extend the visas of its body-jumping time-trekkers. On a day that saw streaming giant Netflix renew its surprise offering The OA for a second season, it appears that Travelers was yet another bird to be advantageously hit with the proverbial stone of renewal. Now, the travails of the series' titular heroes will continue in Travelers Season 2!
Travelers Season 2 will have the team dealing with a timeline-mangled mess that would even evoke a gasp from The Flash, since their Season 1 incursions potentially wrought even bigger disasters for the future.
Travelers Season 2 Latest News
Enrico Colantoni will be the first new cast addition, marking the first real update on Travelers Season 2. The news arrived straight from the horse's mouth in an official video in which star Eric McCormack reveals that production has commenced and heralds Colantoni's arrival, before introducing him.
— Showcase (@showcasedotca)
April 4, 2017
The Candian actor Colantoni should be a spectacular addition to the show, bringing experience from signature roles as Keith Mars, father of Kristen Bell's titular young gumshoe of Veronica Mars and as sketchy photog Elliot DiMauro on sitcom Just Shoot Me!. He's also fielded runs on shows such as Person of Interest, The Mysteries of Laura (with McCormack's Will & Grace co-star Debra Messing), Remedy and Flashpoint, just to name a few. Fans of sci-fi satire may also remember Colantoni as the well-intentioned milquetoast alien leader Mathesar of 1999's Galaxy Quest.
Travelers Season 2 Renewal
With Travelers Season 2 locked down at Netflix, fans emotionally invested in the 12-episode premiere season, which debuted on Showcase in Canada in October and December 23, 2016 on Netflix US, can count on the eventual arrival of binge-earned fruits. The series focuses on a group of elite operatives from the far future who are tasked with preventing a global cataclysm that wiped out most of humanity. While they don't have a Flux-Capacitor-installed DeLorean, they use technology that sends one's incorporeal consciousness into the body of someone in the 21st century, living their lives. The team, led by Traveler-inhabited FBI special agent Grant MacLaren, played by Eric McCormack (Will & Grace, Perception), engage in dangerous ops to alter the course of humanity's bleak destiny.
Travelers is the brainchild of creator Brad Wright, a writer/producer whose name is attached to a wide array of small screen sci-fi, notably every iteration of the successful, dimension-crossing, movie-adapting Stargate SG-1 franchise. Indeed, the basic premise of Travelers falls along those same lines, while adding an original spin on the concept of time travel, mixing it with a mission-centric procedural framework servicing the larger narrative. According to McCormack in a celebratory statement:
"I'm as proud of Travelers as any show I've ever been part of. And I'm blown away by this extraordinary young cast as any group of actors I've ever worked with. That the entire team is Canadian is icing on the cake, which makes my friend, Brad Wright, the cherry on top."
Aside from McCormack's MacLaren, the show's team of body-snatching time-travelers consist of: Marcy Warton (MacKenzie Porter), Carly Shannon (Nesta Cooper), Philip Pearson (Reilly Dolman) and Trevor Holden (Jared Abrahamson). Patrick Gilmore rounds out the primary cast as David Mailer, the social worker handling the case of Marcy, who, before the time-jumping symbiosis, was overwhelmed by intellectual disabilities.
Travelers Season 2 Premiere Date
Travelers Season 2 will premiere in Canada on Showcase in fall of 2017.
While it doesn't have an official U.S. premiere date on Netflix, its Season 2's Canadian premiere seems to line up with Season 1's back in October 2016. Since it subsequently arrived on Netflix in the U.S. that December, it seems feasible to expect a December 2017 arrival.
However, as with anything connected to Netflix, fans must still play the mystery waiting game for the official word.
____
Travelers was a topic on the January 2017 episode of Sci Fi Fidelity. Listen below or subscribe! iTunes | Stitcher | Soundcloud