News
Transformers: Titans Return Poster and Images from Animated Series
Transformers: Titans Return is the second part of an animated series trilogy started by 2016's Transformers: The Combiner Wars.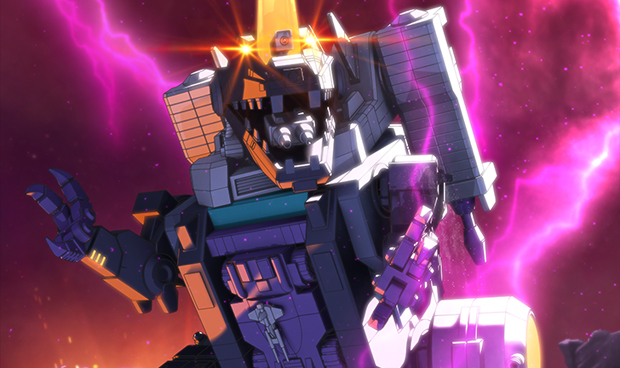 While Hasbro's popular 1980s property Transformers continues to enjoy lucrative success at the box-office and on toy shelves, there's a hallowed place in the hearts of its fans for its animated arena. While the 2010s saw new takes on the property, 2016 series Transformers: The Combiner Wars, a streaming offering from Machinima, combined classic "G1" aesthetics with modern intensity, which lead to 125 million global views.
Thus, the trilogy series continues with Transformers: Titans Return, which arrives in November with 10-episodes (11 minutes each). Now, the first images and a promo poster arrive to herald the event.
Transformers: Titans Return Poster
It's not very often that a threat arrives that has both Optimus Prime and Megatron worried enough to stow their ancient enmities to combine forces. Well, the arrival of the newly-awakened gigantic lizard Transformer called Trypticon has, indeed, done just that. As you can see in this poster, the Trypticon dwarfs, the normally-towering Autobot and Decepticon leaders, driving home enormity of the threat.
Transformers: Titans Return has also released a handful of promo images, previewing the stratospheric struggles ahead.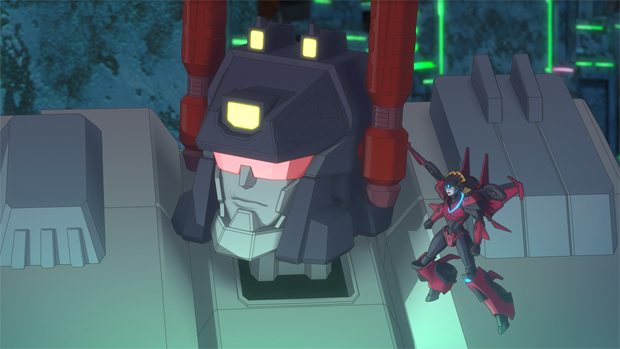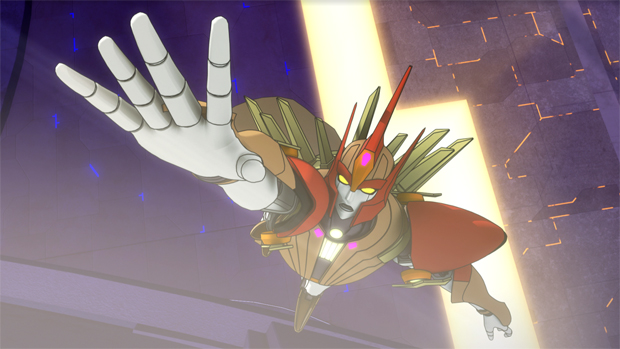 Transformers: Titans Return Story
Per the official synopsis:
Picking up right where the destruction of the Combiner Wars left off, TITANS RETURN takes the action of the Prime Wars Trilogy to new 'heights,' and features return appearances from many fan-favorite Transformers characters as well as introduces new Autobots and Decepticons. In the series, enormous Transformers called Titans are awakened and these massive characters bring massive problems. Trypticon, a gigantic lizard-like Transformer, rises to wreak havoc on Cybertron, while Windblade and a rag-tag team of Transformers must resurrect an ancient ally. Not all Transformers will survive, as beloved heroes are changed forever while others' sparks are blown to oblivion. Like Combiner Wars, sophisticated storytelling reveals more than meets the eye for older audiences and kids of all ages when a sinister secret is discovered.
Transformers: Titans Return Cast
Peter Cullen, the classic, definitive voice of Optimus Prime, will resume his voice duties.
Judd Nelson returns as Rodimus Prime and Hot Rod, characters from the 1986's animated Transformers: The Movie.
Star Trek: The Next Generation alumni Michael Dorn and Wil Wheaton are onboard as Fortress Maximus and Perceptor, respectively.
Jason David Frank, the iconic Power Rangers actor, will voice Emissary
Nolan North will voice Metroplex.
They will be joined by Combiner Wars returnees Abby Trott (Windblade), Jason Marnocha (Megatron), Frank Todaro (Starscream), Lana McKissack (Mistress of Flame), and DashieGames (Menasor), with newcomers such as MatPat (Computron), Rob Dyke (Devastator) and the viral conjurer of "Chocolate Rain" himself Tay Zonday (Chorus of the Primes).
Transformers: Titans Return Release Date
Transformers: Titans Return will arrive on several digital platforms sometime in November 2017.
Read and download the full Den of Geek Special Edition magazine here!