News
Transformers: Power of the Primes Trailer Features Mark Hamill!
The third and final storyline in Machinima's Prime Wars Trilogy Begins on May 1st.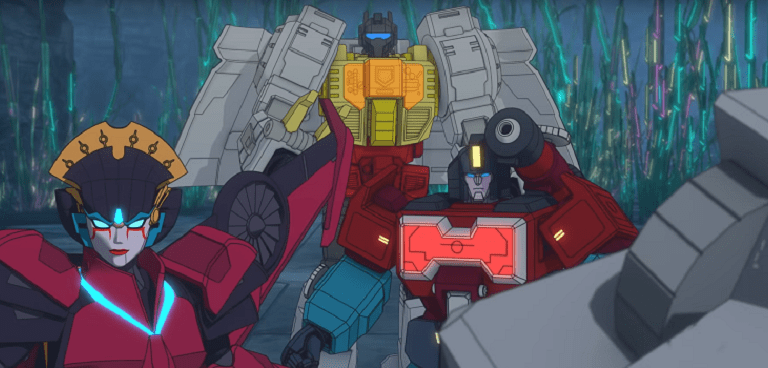 For fans of Transformers G1, Machimima's Prime Wars Trilogy has been nothing short of a valentine to the hugely influential 1980s cartoon series/toyline. So it's somewhat bittersweet that the web series that continues the adventures of the Autobots and Decepticons is coming to an end following the Transformers: Power of the Primes block of episodes.
Starting on May 1st, the new installments will begin launching on various Verizon properties, including Tumblr, go90 and Oath. This final batch of ten episodes (each with an 11-minute runtime) sets up a dramatic conflict in which the Transformers universe will never be the same. Here's a synopsis:
After Megatronus eliminates Optimus Prime and claims the Matrix of Leadership and Enigma of Combination for himself, the other Transformers bots look to Megatron to lead the charge against their diabolical foe.

Unbeknownst to them, Megatronus' pursuit of the next ancient artifact, the Requiem Blaster, goes beyond his desire for power and the search will uncover mysterious secrets from Cybertron's past. Before the TRANSFORMERS: PRIME WARS TRILOGY concludes, a new Prime will ascend and all will bear witness to the true POWER OF THE PRIMES.
Adding further excitement to this mechanical mayhem is the participation of voiceover actors who are, if you'll excuse me, truly more than meets the eye — including Mark Hamill, Ron Perlman, Gregg Berger (once again reprising his role as fan favorite Grimlock), Wil Wheaton, Judd Nelson, and My Chemical Romance's Mikey Way.
Here's your first look at the exciting chaos yet to come:
Yeah, we audibly gasped when we saw Perlman as Beast Wars' Optimus Primal as well.
The fun begins on May 1st, if you haven't been watching the Prime Wars Trilogy you really are missing out on what is arguably the greatest storytelling in the Transformers-verse since the franchise's 1980s glory days. Don't miss this.