Features
Top 5 Monty Python moments
Rob looks back at one of telly's best loved comedies...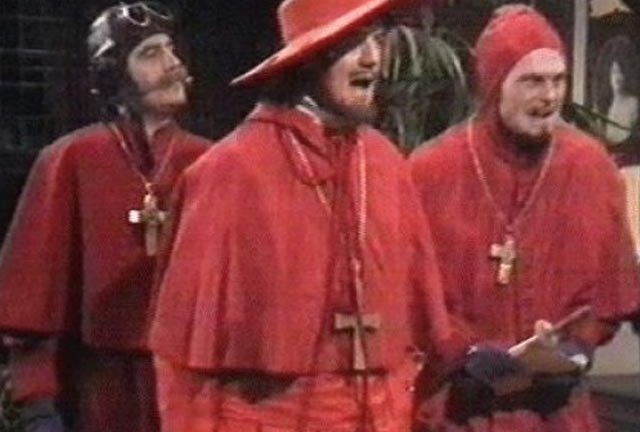 According to recent documents unveiled by the BBC, it seems that that cult comedy classic was very close to being withdrawn from the airwaves. Deemed to be 'nihilistic and cruel' the show was very, very close to being pulled. What better time is there to look back nearly 40 years at five classic moments from the show, without the parrot sketch?
1. Hell's GranniesWhether you are a mod, rocker, granny, baby or 'keep left' sign, this very serious sketch, Python's take on 'gang-culture', showed off that being in a gang, no matter what type of gang, is quite frankly a bit silly. The sight of the Python crew dressed up in women's clothes (again) driving motorbikes through shops and always just on the edge of 'corpsing', this is a sketch that will go down as one of the most surreal, silly and fun.
2. The Spanish InquisitionOne of the most quoted sketches from the show, the Spanish Inquisition has a lot more in its arsenal than just a comfy chair. The two…no three…no four weapons, why nobody expects them (fear, surprise, ruthless efficiency, an almost fanatical devotion to the Pope…I'll come in again) and the fact that they have to get the bus everywhere, have made cardinals Ximinez, Fang and Biggles some of the Python's best-loved creations.
3. SpamOkay, in the intro I did say we would do the top five sketches WITHOUT the parrot sketch, but I didn't say anything about not mentioning Spam. The tinned meat of choice for lunchboxes around the country got its moment in the sun courtesy of the Spam-obsessed café owner.
4. Self-defenseWhat's funnier than John Cleese being posh and shouty? Well, not a lot really, and in this classic sketch he gets to do both, quite a lot, as he gives his cadets full training in self-defense against attacks from numerous forms of fruits.
5. How not to be seenA public information broadcast as only the Pythons could do. We all know not to play in 'dark and lonely water' or to get our Frisbee from pylons, but up until this point, the general public had no idea of 'how not to be seen'. Thankfully, this informative and well presented film shows those of us who love a game of hide and seek, or for some reason do not want to be seen, the best methods of 'not being seen'. However, of course, from the film we know now that people always hide behind the middle bush.
Do you agree or disagree? What's your favorite?  We'd would love to know.