News
Top 5 Mobile Games of the Week (Apr 19 – Apr 25)
Fight some zombie strippers and saddle up robot unicorns for one more adventure in this week's Top 5 picks.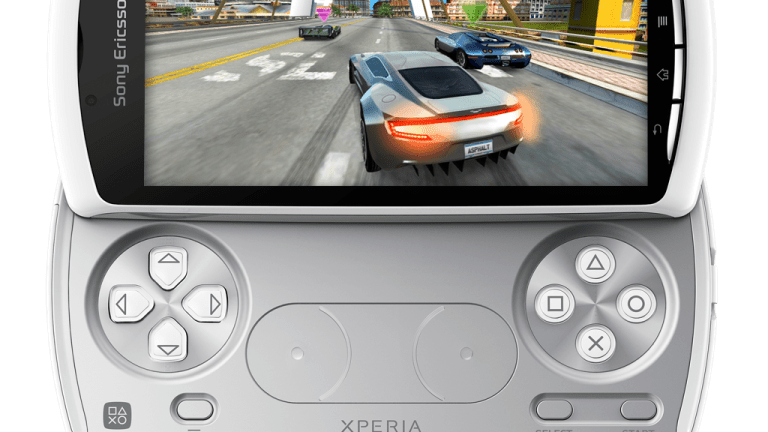 Every week when I have to come up with these Top 5 mobile games lists, there is always some initial hemming-and-hawing as I have to choose one title over another, or can't quite settle on what ranking I should give them: but not this week. No, this week featured so many big (and quite a few surprising) releases on the mobile market, that it took me all of ten seconds to decide which ones would make the cut, and then I spent the remainder of my allocated hemming-and-hawing agenda by having some quality game time with these fantastic new additions to the App Store catalogue. So you probably shouldn't waste another precious ten seconds of your time either by reading this introduction, and get right on to playing Den of Geek's Top 5 mobile picks for the week of April 19 – April 25:
5. Iron Man 3 – The Official Game
Developer: Gameloft | Platform: iOS | Price: Free
Iron Man 3 is easily one of the most anticipated superhero movies of 2013, and so why shouldn't they market off the huge success of Tony Stark by incorporating a mobile game companion? Well this one is of the endless runner variety, and features my favorite superhero fighting A.I.M. forces through all sorts of locations from New York to China, and firing on all fronts in beautiful graphics and fluid animations. Oddly enough, Iron Man 3 – The Official Game is said to take place AFTER the events of Iron Man 3 the movie, which seems a tad bit strange for a movie tie-in game (especially since Iron Man 3 hasn't even been officially released yet). But whatever, it's still Iron Man, so who cares. Granted, using a freemium model, Gameloft's IAPs in Iron Man 3 – The Official Game are a little outlandish, and most of which force you to pay up or wait around to even be able to play. But I'm hoping those F2P constraints will eventually be tweaked after the inevitable fan backlash towards the model, as Gameloft gets the kinks all worked out so we can have Mr. Stark flying and dodging bullets at maximum speed. Again, I don't really mind the tiny flaws here, because the game is still about Iron Man, and who doesn't think that Iron Man is awesome?
Download Iron Man 3 – The Official Game on the iOS App Store
4. LEGO Batman: DC Super Heroes
Developer: TT Games | Platform: iOS | Price: $4.99
If you're a new reader around here at the Den of Geek camp, then you might not be aware that we're all pretty big fans of superheroes on this site: and some might say there's no bigger superhero out there than Batman right now. Any game where Batman takes a leading role is like a match made in heaven for us, and so the latest Batman and Robin-centric mobile LEGO adventure is certainly no exception. It seems like there's a LEGO game for almost everything these days (and if you've read our feature on the 25 Video Games We'd Like to See Made, then you know that I've been holding out on a LEGO Twilight adaptation for quite some time now); but Batman has always been one of the LEGO series standouts. With LEGO Batman 2: DC Super Heroes released for all the major home consoles last summer, LEGO Batman: DC Super Heroes on the iOS platform is a full console experience in every sense of the word. With over 80 playable characters like Superman, Wonder Woman, and The Flash, and tons of superhero suits, gadgets and special abilities to find, something tells me we'll be playing this one and collecting all of those addicting LEGO brings for some time to come. RACHEL!!!
Download LEGO Batman: DC Super Heroes on the iOS App Store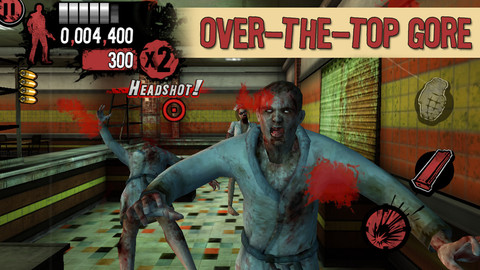 3. House of the Dead: Overkill – The Lost Reels
Developer: SEGA | Platform: iOS and Android| Price: $4.99
A House of the Dead game on the iOS platform: do I even need to say anything more here?! There was once a time when House of the Dead 2 was THE zombie shooter on the video game market, back when the SEGA Dreamcast was still a thing, and before the awful monstrosity known as Typing of the Dead happened and knocked the series' credibility down a few pegs. But 2009's House of the Dead: Overkill was a step in the right direction for the fading on-rails zombie series, and I mostly remember it because I had never heard a video game use the F-word so many times before: let alone a Wii exclusive! But violent, bloody, and campy as hell, Overkill was an absolute blast to play, and The Lost Reels promises to bring more of the same. With a Story Mode containing "3 goregasmic worlds full of carnage" titled Papa's Palace of Pain, Ballistic Trauma, and Naked Terror, players will face off against everyone's favorite undead adversary: the zombie stripper! You can find more dirty innuendos like these on the game's official iTunes description page, and you'd best go hide your kids when playing this one, as House of the Dead: Overkill – The Lost Reels is foul-mouthed, disgusting, and one hell of a good time.
Download House of the Dead: Overkill – The Lost Reels on the iOS App Store | Download House of the Dead: Overkill – The Lost Reels on the Google Play Marketplace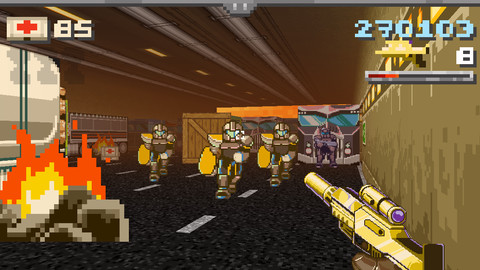 2. Gun Commando
Developer: Ripstone Ltd. | Platform: iOS | Price: $0.99
Despite how far the FPS genre has come in 2013, there is still a big part of me that misses those early shooters from days of old, like the original Doom and Wolfenstein 3D. But with the growing trend of mobile games, and indie developers who miss them just as much as I do, we can finally play some new games that take us back to our FPS roots. Gun Commando was first released on PlayStation Mobile certified devices and PS Vita this past January, and now the rough-and-tough, shoot-em-up throwback is bringing all of that arcade-style goodness to your iOS screens. The FPS game utilizes an intentional dated look and feel, with bright cartoony character designs drawn by renowned comic book artist Romano Molenaar that evokes all kinds of retro nostalgia. But aside from these seriously awesome old-school reminders, the developers are still very aware that this is 2013, and so they've added some new tricks to the trade that you probably didn't see in Wolfenstein 3D, like fire hazards, the prospects of headshots, and sliding under lasers. Gun Commando features "an ingenious weapons upgrade system" and 24 levels full of exciting alien carnage and epic boss fights, as you help Gun Commando Jack Bennett hunt down evil alien forces on an overrun Earth, and very poetically kill every last one of them!
Download Gun Commando on the iOS App Store
1. Robot Unicorn Attack 2
Developer: [adult swim] | Platform: iOS | Price: Free
As if there was ever any doubt that Robot Unicorn Attack 2 wouldn't snag the number one spot on our list of Top 5 mobile releases this week, the sequel to the game that helped cement the endless running genre has emerged from the clouds in all sorts of pink and purple sparkly glory. I'm pretty sure that if you've never played the original Robot Unicorn Attack before, or lost yourself to the game's soothing and sultry soundtrack of Erasure's "Always" with the alluring lyrics "Always, I wanna be with you / And make believe with you," then we might not be able to be friends anymore. Like any good sequel, the surprise follow-up to Adult Swim's 2010 smash hit changes up the classic endless running format just enough to make things interesting, and to keep that unicorn horn sparkling into the magical cotton candy sky. This time around, players can choose between Team Rainbow or Team Inferno, and race through two different worlds that are constantly at war: "one of Rainbows and Harmony and one of Ice and Wonder." In Robot Unicorn Attack 2, you can even customize your own unicorn with different bodies, manes, and horns, and battle frightening creatures like Space Whales and Leviathan Seahorses. Have I made my point yet? Let's get to flying then my fellow robot unicorn brethren!