Features
Top 100 Christmas TV episodes ever: 40 – 21
Wesley counts down the penultimate 20 entries in the top 100 Christmas TV episodes of all time list: from number 40 to 21...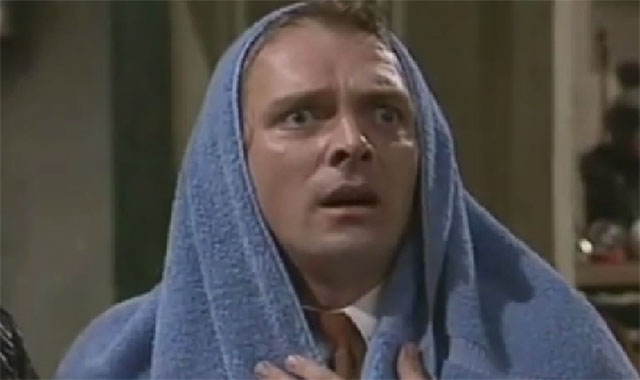 This updated article was first published in December 2015. Read entries 100 – 81 here, entries 80 – 61 here, and entries 60 – 41 here.
40. BOB'S BURGERS – Christmas In The Car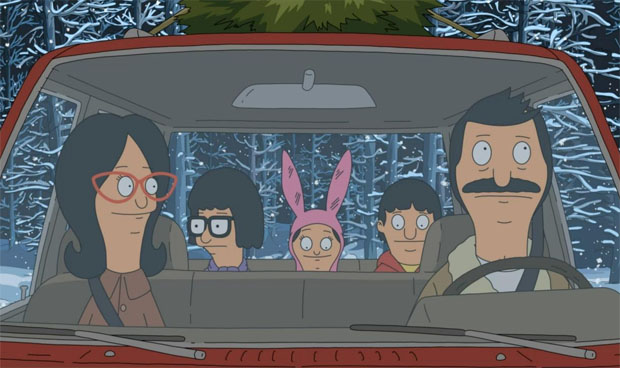 USA/Season 4/2013Aired on Foxdirected by Bernard Derriman and Jennifer Coyle, written by Steven Davis and Kelvin Yu
Quietly ascending to become the jewel in the crown of Fox's animated line-up, Bob's Burgers strikes a unique tone, somewhere between the down-to-earth realism of King Of The Hill and the more frenetic, offbeat spirit of Home Movies. Christmas In The Car is a gobsmackingly creative, completely original festive episode – and there aren't too many of those around these days, sixty years into the medium's life – a prime example of a show firing on all cylinders, packing so much great character comedy into one twenty-minute package that it barely stops for breath. A journey to purchase the Belchers' third Christmas tree of the season (the first two have already died) turns into something rather more exciting, as a lorry decorated to look like a candy cane appears to be attempting to drive the Belcher family off of the road. It sounds sinister, and well, it is, a little bit – but there's so many brilliant jokes along the way. The childrens' Santa Claus trap, set up before the family set out, is a hilarious concept that the show takes complete advantage of.
39. CHEERS – Christmas Cheers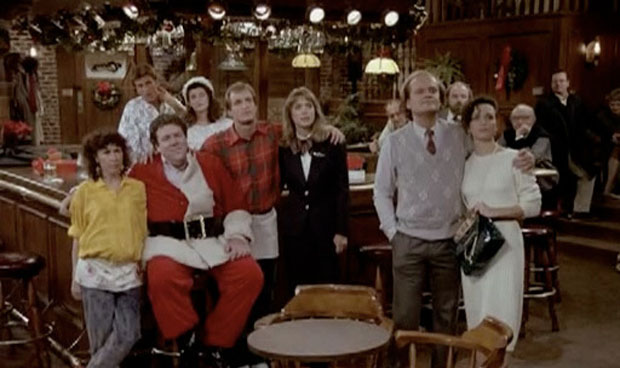 USA/Season 6/1987Aired on NBCdirected by James Burrows and Thomas Lofaro, written by Cheri Eichen and Bill Steinkellner
The bar where everybody knows your name: the perfect home-from-home to celebrate Christmas with those you love, right? Well, things aren't quite as idyllic as that this Christmas at Cheers, as still-new boss Rebecca is forcing all of the staff to work regular hours on Christmas Eve. Not that the customers are particularly happy, either: Frasier's downtrodden, Norm's working extra time as a department store Santa, Cliff's desperately focused on winning a trip to Disney World. It goes from bad to worse for Sam Malone when he realises he needs to buy Rebecca a nice gift – something that's reasonably priced, but still indicates he wants to sleep with her. All of the characters get their own little storyline in this neatly structured, festive-feeling edition of one of TV's greatest, longest-running series – and as if further seasonal spirit were required, the show both begins and concludes with the gang watching It's A Wonderful Life on the bar TV.
38. BOTTOM – Holy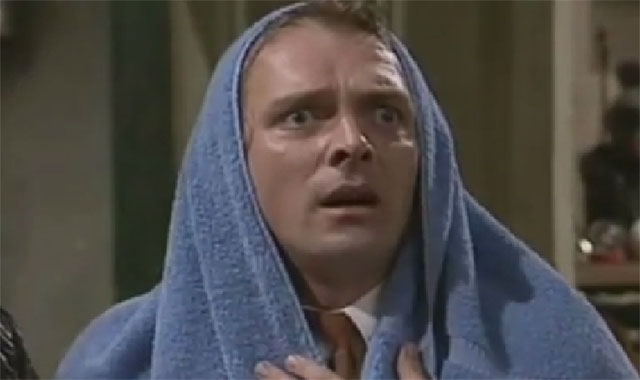 UK/Series 2/1992Aired on BBCdirected by Ed Bye, written by Ade Edmondson, Rik Mayall
When you've reached peak festive schmaltz, a bit of crude, violent filth is the only thing for it. Enter Rik Mayall and Ade Edmondson's Bottom with a Christmas special in which no-one learns a heart-warming lesson, nobody's heart grows three sizes, and everybody stays despicable until the very end.
This half-hour episode sees Richie's psychopathic attempts to follow Christmas tradition thwarting Eddie's desire for a boozy, relaxing day in front of the TV. Christmas Day in the pair's Hammersmith hovel involves gonad-electrocution, finger amputation, the invention of brandy butter-replacement vodka margarine, and Richie developing a God complex (or should that be Mary complex?) when an anonymous infant is found on the doorstep. Come for the slapstick violence and an inspired nativity gag, but stay for Rik Mayall's brilliant, manic performance.
37. THE DICK VAN DYKE SHOW – The Alan Brady Show Presents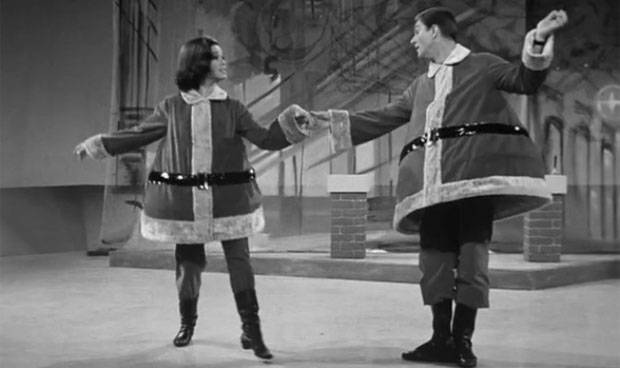 USA/Season 3/1963Aired on CBSdirected by Jerry Paris, written by Sam Denoff and Bill Persky
One of the most celebrated sitcoms of the 1960s, The Dick Van Dyke Show – about TV comedy writer Rob Petrie, played by Dick Van Dyke – was an intelligent and sharp show, one of the earliest examples of TV about TV. The only Christmas episode of the 158-show run, The Alan Brady Show Presents is actually quite an unusual example of the show, structurally: for the holiday, the (on-screen) creative team behind the in-universe variety programme The Alan Brady Show take on the roles of the main cast, participating in a musical revue packed with songs and comedic sketches. It'd make for an odd introduction to the show for a newbie, but watched in the context of the show's full run, it rates as one of the most enjoyable and unusual Christmas episodes of the era: an absolute blast.
36. THE BEVERLY HILLBILLIES – Christmas At The Clampetts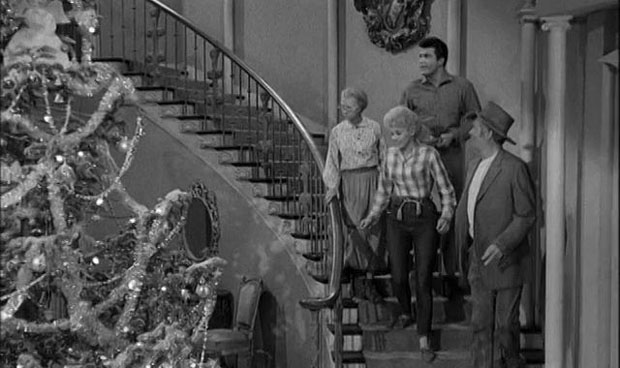 USA/Season 2/1963Aired on CBSdirected by Richard Whorf, written by Paul Henning & Mark Tuttle
CBS' "rural comedies" – The Beverly Hillbillies, Petticoat Junction, Green Acres, et al – have never really garnered much critical love. 'Purged' in the earlier 1970s despite strong ratings in a bid to appeal to more affluent demographics, they nonetheless have retained a sizeable fanbase over the ensuing decades. The Beverly Hillbillies is the most famous of the bunch, the pre-eminent fish-out-of-water sitcom about the Clampetts, a family who struck it rich with oil on their land and moved to Beverly Hills. The juxtaposition of the hillbillies' lifestyle with that of their upper-class neighbours was the series' primary theme, and Christmas proved prime territory for such. This consistently funny episode sees Mr Drysdale – the Clampetts' neighbour and banker – shower the family with gifts, from a television right up to a boat manned by a trained chimpanzee. While dated in a few places, what really strikes is just how much of the comedy here holds up well over fifty years later. Granny's confusion about the television – she thinks it's a washing machine – is absolute gold, silly but spectacularly funny.
35. BUFFY THE VAMPIRE SLAYER – Amends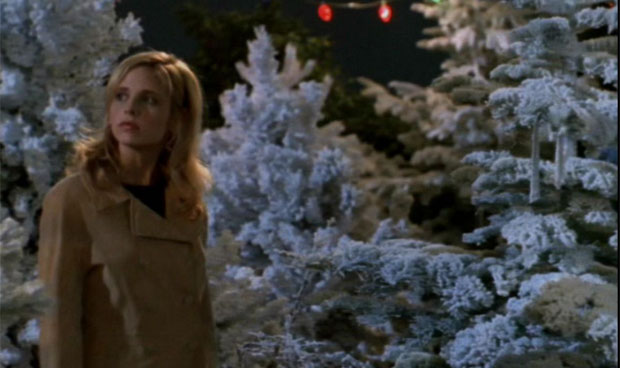 USA/Season 3/1998Aired on WBdirected by Joss Whedon, written by Joss Whedon
It's a nightmare Christmas for Angel, as he awakens from bad dreams, haunted by memories of those he slayed as Angelus in centuries gone by. Things go from bad to worse as Buffy gets sucked into his visions too, and the grim spectres of years gone by insist that he must kill Buffy to be released from his suffering. Angel commits to killing himself in a bid to free himself, but Giles and Buffy are able to determine the source of the insanity – the First Evil, a being able to manifest itself as anyone dead – and desperately attempt to set things right. Meanwhile, Sunnydale's experiencing unseasonably warm weather, and Willow is contemplating losing her virginity to Oz. It's not exactly a traditional turkey-and-tree Christmas special – but Buffy was never one to live life by others' rules. A compelling, tense episode that proved pivotal in the development of the Buffy and Angel relationship, getting the two talking again after having mutually decided to part ways several episodes prior.
34. THE ROYLE FAMILY – Christmas Special 1999
UK/Special/1999Aired on BBCdirected by Steve Bendelack, written by Caroline Aherne, Craig Cash & Carmel Morgan
Christmas with the Royles became something of a TV tradition in the new millennium, but it's actually the 1999 special – pre-transition to BBC1 – that holds up best of all. The utterly banal non-adventures of a working-class Manchester family permanently affixed to the TV, The Royle Family tapped into the comedy of the mundane, through characters that – let's be honest – often represented us viewers more closely than any other show before or since. The first of the Christmas episodes, we hear about the big dinner they've just eaten – the turkey wasn't as good as it could've been – and the presents they've given and received. The real excitement comes toward's episode's end, however, as heavily pregnant Denise goes into labour – with only patriarch Jim left at the house to assist. It was the first time The Royle Family became truly dramatic – and, to my mind, remains the finest example of the show delving beyond the living room.
33. MALCOLM IN THE MIDDLE – Christmas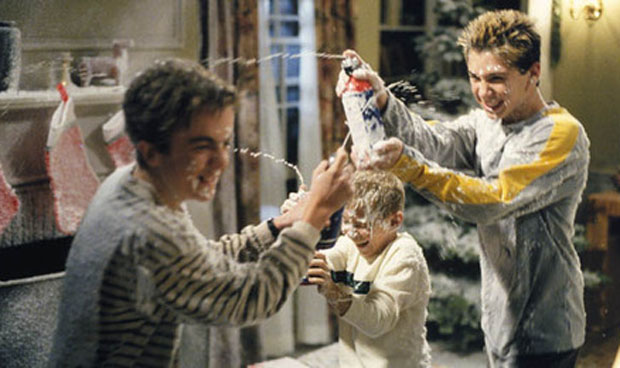 USA/Season 3/2001Aired on Foxdirected by Jeff Melman, written by Maggie Bandur & Pang-Ni Landrum
Malcolm In The Middle was on fire in its early seasons, one of the sharpest shows on TV and an oft-forgotten forerunner in the shift towards single-camera sitcom domination. Of the show's three Christmas episodes, it's this first entry that best captures the chaotic, working-class spirit of this wonderful show. Mom Lois has laid down the gauntlet: the boys must behave or Christmas will be cancelled. Things are going well, and Lois and Hal even contemplate celebrating Christmas with the boys a day early, as a reward. Alas, simultaneously, Malcolm and co have begun to contemplate the prospect of Lois wheeling out this same threat in the run-up to every future celebration, and decide they have to break the cycle now. Family comedy at its most honest. Elsewhere, military school student Francis takes Christmas off to visit the utterly unpleasant Grandma Ida. It's a horrible experience for everyone involved, and there's no hugging or learning in evidence: just bitter frustration. Merry Christmas! A bitterly funny festive special.
32. THE LEAGUE OF GENTLEMEN – Yule Never Leave!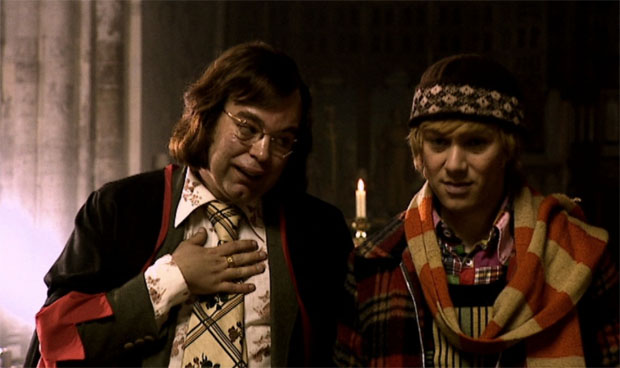 UK/Special/2000Aired on BBCdirected by Steve Bendelack, written by Mark Gatiss, Steve Pemberton, Reece Shearsmith & Jeremy Dyson
No-one tunes into a League Of Gentlemen Christmas special anticipating peace and goodwill to all men… but Royston Vasey takes depravity to new lows in Yule Never Leave!, probably the most grotesque and unnerving Christmas special of all-time. Everyone's favourite atheist reverend, Bernice Woodall, takes in three disturbing tales from parishioners seeking festive solace. Charlie's recurring nightmare about wife Stella's dealings with local coven Solutions takes a turn for the deadly; an elderly man proffers the surprising conclusion that gay German exchange teacher Herr Lipp must be a vampire; Dr Matthew Chinnery comes clean about an unfortunate curse that has doomed generations of his family. It's a festive treat that completely lives up to the series' uniquely horrific tone, and is capped with the greatest gift of all: circus ringmaster Papa Lazarou dressed as Santa Claus. Festive nightmare fuel at its finest.
31. SIX FEET UNDER – It's The Most Wonderful Time Of The Year
USA/Season 2/2002Aired on HBOdirected by Alan Taylor, written by Scott Buck
When discussing the oeuvre of peak HBO, Six Feet Under often gets sidelined. There's no shortage of The Sopranos, Deadwood and The Wire coverage, but Six Feet Under doesn't really seem to garner as much attention as it deserves. A dark family comedy-drama set at a funeral home, its preoccupation with death probably prevented it from going truly mainstream, but those same thematic elements are what helped it to transcend the trappings of the genre, to become an all-time great. The show's most festive episode takes place on and around the one-year anniversary of the series premiere, in which patriarch Nathaniel Fisher was killed in a car crash on Christmas Eve. As a serialised show with a large ensemble cast, there's a lot going on here – some Christmassy, some not so much – but perhaps the episode's most seasonal subplot is the "funeral of the week" – a Hell's Angels cyclist who died in a crash on his way to work as a mall Santa – which takes place on Christmas Day. Meanwhile, the big family Christmas dinner, which mother Ruth is desperately trying to arrange, proves the source of a number of the episode's most memorable moments.
30. SOUTH PARK – Mr Hankey, The Christmas Poo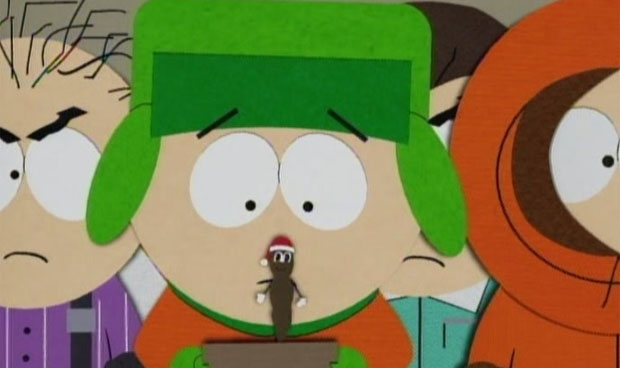 USA/Season 1/1997Aired on Comedy Centraldirected and written by Trey Parker and Matt Stone
Eighteen years on, I feel I can still write with confidence that South Park remains the only TV show to centre multiple Christmas episodes around a sentient piece of human excrement. I mean, I haven't checked all that thoroughly, but the odds look pretty good to me. South Park's often used Christmastime to experiment with format: there's the inspired Mr. Hankey's Christmas Classics music video collection, and the brutally violent Happy Tree Friends-esque Woodland Critter Christmas. It's this more traditional (well, relatively) episode that takes the show's Christmas crown, though: as the Jewish Kyle takes solace in an apocryphal talking piece of faeces during the holiday season, the entire town seeks to eliminate Christmas altogether, in a bid for total political correctness. Everyone remembers this episode for the classic Mr. Hankey, the Christmas Poo song – and that's certainly justified, it's hilariously disgusting and dumb – but there's actually quite a lot of other great material here, and the reveal to the townspeople that Mr Hankey really does exist plays out very well.
29. REV. – Series 2, Episode 7
UK/Series 2/2011Aired on BBCdirected by Peter Cattaneo, written by James Wood and Sam Bain
Christmas beckons for The Reverend Adam Smallbone, and far from being a source of relaxation and reflection, it's getting him a tad stressed out. Early mornings give way to busy days, as religious pressures coincide with those in his personal life: Midnight Mass needs prepping, father-in-law is staying over, a turn as Father Christmas at the school is required. Rev. has always been masterful at capturing the countless small joys and frustrations that dominate our daily lives, and that's still true here, but it also gets a shot at the big moment here – as stress gives way to blessing on Christmas Day, Adam's wife announces she is pregnant – and it delivers completely, emotionally resonant as ever. Tom Hollander and Olivia Colman deserve more recognition for this underrated show; this Christmas special is as good as anything the show ever did.
28. ALL IN THE FAMILY – Christmas Day At The Bunkers
USA/Season 1/1971Aired on CBSdirected by John Rich, written by Don Nicholl
Archie Bunker is not a happy man. That's a statement that applies much of the time – the grumpy, angry racist often found things to get frustrated with. But this Christmas, it goes doubly so. At first, he's reluctant to divulge the source of his depression, but eventually he is forced to: thanks to a mistake made by a colleague at work, he hasn't been given a Christmas bonus. His spirits fail to be heightened by the presence of his daughter Gloria and her hippie hubby Mike; neighbours the Jeffersons also jail to imbue him with festive joy. All In The Family is most noted for its brave social commentary – lead character Archie, while funny, was deliberately repugnant, and creator Norman Lear intended for him to be judged and disliked by viewers – but it also worked well as straight-ahead sitcom, and this first season Christmas episode is a fine example of such.
27. BLACK MIRROR – White Christmas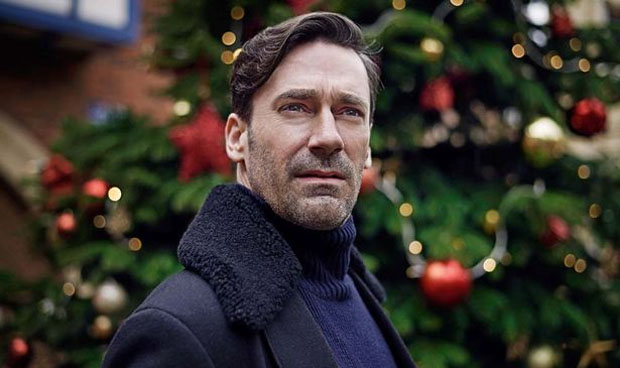 UK/Special/2014 Aired on Channel 4directed by Carl Tibbetts, written by Charlie Brooker
Charlie Brooker's techno-paranoia-come-social-satire masterpiece Black Mirror is one of the most fascinating shows of the new millennium, a dystopian, discomfiting melange of jet-black comedy and Twilight Zone-style morality plays. Regular episodes of the show have been hour-long standalones, but for the Christmas special, Charlie Brooker opted for a slightly more unusual structure, with three loosely connected short stories taking place within a larger framework tale. Set at a remote outpost in the dead of a snowy winter, Joe Potter and Matt Trent (portrayed by the inspired team of Rafe Spall and Jon Hamm) celebrate Christmas together. As Wizzard's "I Wish It Could Be Christmas Everyday" plays on the radio, the two begin to discuss why they opted to take the jobs they're in. They recount a triumvirate of unnerving, disarming sci-fi tales – featuring augmented reality, smart technology and futuristic restraining orders – that meticulously coalesce in a jaw-dropping conclusion. This is festive drama at its most unconventional, challenging, and downright entertaining.
26. DOCTOR WHO – The Snowmen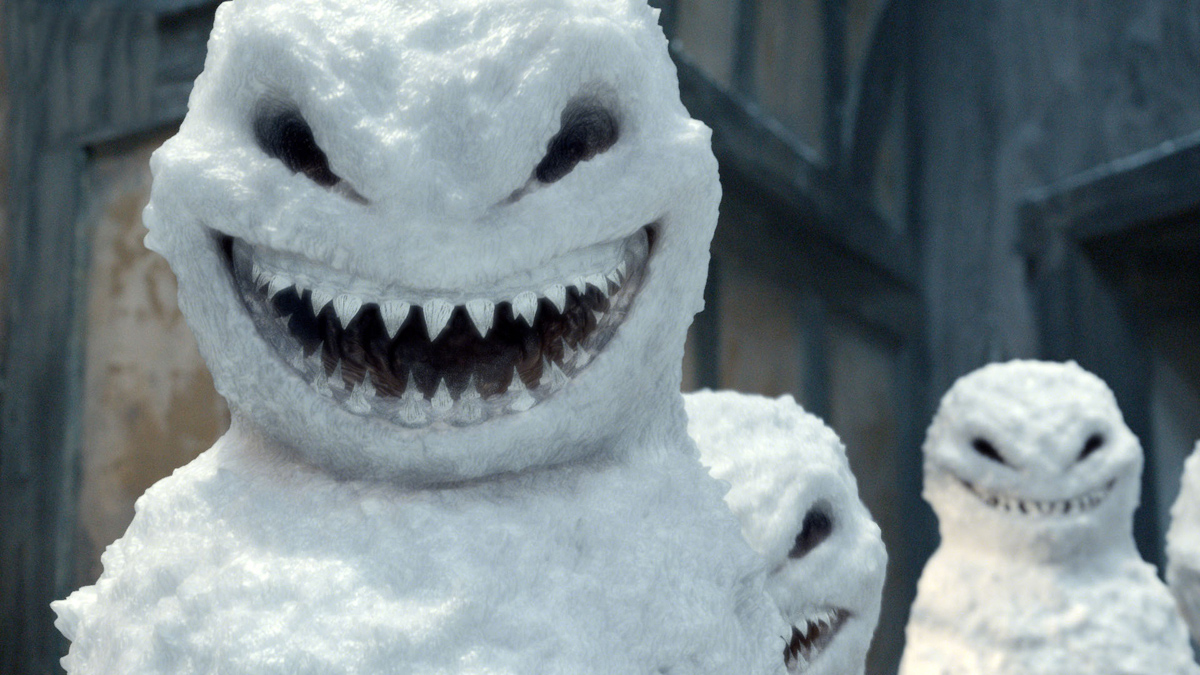 UK/Special/2012Aired on BBCdirected by Saul Metzstein, written by Steven Moffat
The revived, revamped and reinvigorated Doctor Who was one of the great TV success stories of the new millennium. Bringing a cult icon back into the living rooms of fans old and new alike, Russell T. Davies' new adventures of the Time Lord were a popular and critical success, and annual Christmas specials soon became a mainstay of the BBC1 festive schedule. A number of these entries are solid Who, but 2012 special The Snowmen is the very best, an amalgamation of everything the show does well. Set in Victorian times, Matt Smith's Doctor is devastated at the loss of Amy Pond and Rory Williams in the previous episode. He's forced out of his retirement by Clara, a young governess living a double life as a local barmaid; the two team together to investigate the mystery behind a spate of self-building snowmen. Perfect Doctor Who material, a family-friendly yet high-stakes story packed with action and intrigue: it's everything one could want from Christmas Day television.
25. THE TWILIGHT ZONE – The Night Of The Meek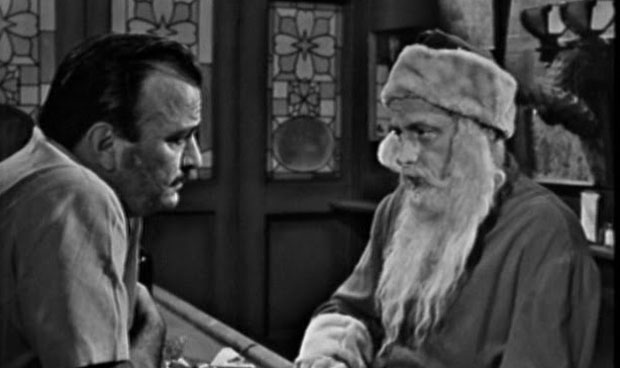 USA/Season 2/1960Aired on CBSdirected by Jack Smight, written by Rod Serling
The Twilight Zone is most often remembered for its creepy morality tales, those with a final-act twist that left a real chill in the spine. Night Of The Meek doesn't quite fit the formula, though: it's a rather more touching story of a down-and-out department store Santa named Henry Corwin, frustrated at his lot in life and turning to drink to cope. Fired from his job, he proclaims his desire that he be able to live up to his role as Santa, and his wish that the meek could inherit the Earth. The world of The Twilight Zone works its magic, and soon bestowed upon him is a magical sack of gifts that automatically presents recipients with a present suited to them. Police suspect that Corwin has stolen the items in the bag, but when they pick gifts from the bag they receive nothing more than empty cans and a cat; they're soon convinced that the sack is magical. Asked what he wants for Christmas, Corwin wishes that he be able to dole out presents every year in the same manner; the episode concludes with the implication that Corwin has become the "real" Santa Claus, headed back to the North Pole. A touching, uplifting episode from a show that didn't often deal in such positivity.
24. THE COLBERT REPORT – A Colbert Christmas: The Greatest Gift of All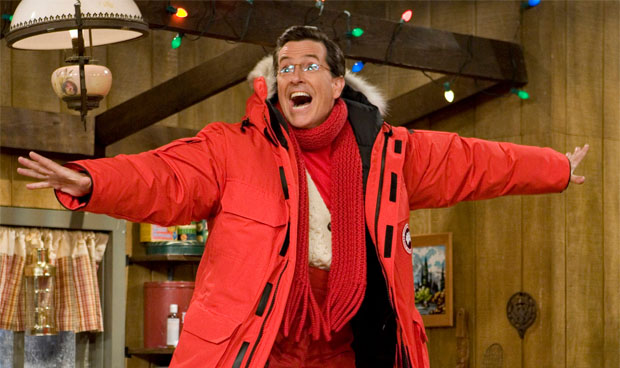 USA/Special/2008Aired on Comedy Centraldirected by Jim Hoskinson, written by Stephen Colbert, Allison Silverman, David Javerbaum, Michael Brumm, Peter Gwinn
Who better than right-wing pundit parody Stephen Colbert to host a traditional Christmas special, one that harkens back to those of years gone by? With his own straight-faced, satirical take on the classic format, Stephen invites us into his very own Christmas cabin to bask in the glow of old-fashioned music and entertainment. Regrettably, he becomes trapped indoors for a majority of the show's runtime when he hears a bear prowling outside; this doesn't prevent a number of special guests from joining him in a bid to break out, however, including Elvis Costello, Willie Nelson, Jon Stewart, Feist, and John Legend. It's spot-on parody from minute one – Toby Keith's hilariously over-the-top right-wing country Christmas song is perhaps the highlight among highlights – and the closing relevation that the titular 'Greatest Gift of All' is the self-same special on DVD is a brilliantly conceived capper.
23. LOST – The Constant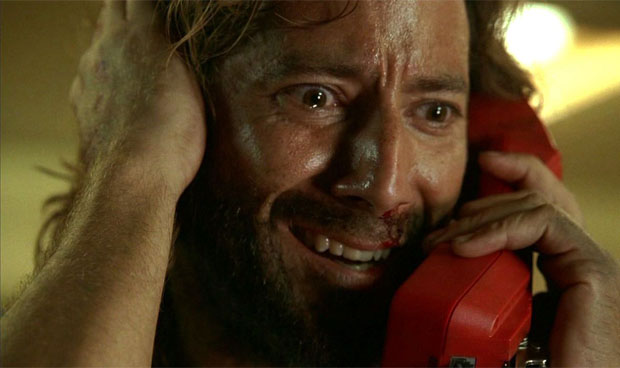 USA/Season 4/2008Aired on ABCdirected by Jack Bender, written by Carlton Cuse & Damon Lindelof
The intensely serialised Lost remains a difficult show to feature in "best episode" lists, as every episode is so inter-dependent on others. But it would be a sin to fail to acknowledge the emotional acuity of The Constant, one of the show's very finest hours, and the only episode that draws on Christmas in any major way. During turbulence on a flight, Desmond's consciousness traverses between 1996 and the present day (Christmas Eve 2004), recounting the aftermath of his breakup with ex-girlfriend Penny. It's a time-travel episode, but one very much grounded in humanity and romance, as we grow ever more desperate to witness Desmond reconnect with Penny. As the episode unfolds, we begin to grasp the scale of the Desmond-Penny connection, the manner in which it transcends time and space, and the way a sci-fi concept like that of a Constant – an anchor present in multiple time periods, to allow someone to snap out of a time travel situation –  ties in with the greater mythos of Lost. It blends powerful, tear-inducing character material with exciting sci-fi thriller elements and a heart-warming festive ambience.
22. SESAME STREET – Christmas Eve On Sesame Street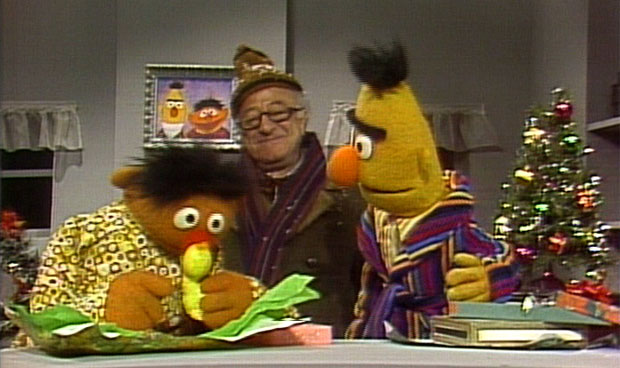 USA/Special/1978Aired on PBSdirected by Jon Stone, written by Jon Stone and Joseph A. Bailey 
Sesame Street is an international phenomenon, yet its presence on UK screens in recent decades has been close to non-existent. That's a shame, as it's always been one of the most intelligent shows for the pre-school set, an inherently likeable blend of fun and learning, letters and numbers, Muppets and humans. The show's first Christmas special is structured with largely episodic segments set betwixt a wraparound story. Big Bird is concerned when Oscar the Grouch draws to his attention that Santa can't possibly fit down narrow chimneys – and if he can't get in, there will be no presents. His exploits in a bid to test Oscar's hypothesis are lovably innocent, likeable and sweet. Elsewhere, Cookie Monster – in sequences that remain genuinely funny no matter how old you are – is attempting to write to Santa, but keeps getting distracted; Bert and Ernie get themselves stuck in a "Gift of the Magi" situation; and Grover partakes in some brilliant Christmas-themed interviews with (human) children.
21. THE OFFICE (USA) – Christmas Party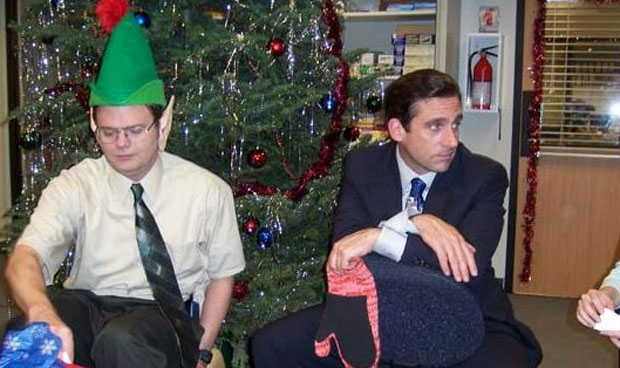 USA/Season 2/2005Aired on NBCdirected by Charles McDougall, written by Michael Schur
The first, brief season of the US Office was tentative, drawing too heavily on the British source material to become a truly good programme. That all changed early in the second run, though, as the creative team – with a 25-episode run to fill – began to venture more freely from their predecessor's template. One of their earliest out-of-the-ballpark classic episodes was the series' first Christmas episode, Christmas Party. An arranged game of Secret Santa transitions into Yankee Swap thanks to boss Michael Scott's desire to swap his own gift, which he's disappointed with. Jim isn't too happy with this, as he's put a lot of thought into wooing Pam with his carefully-curated, selection of in-joke presents for her. The present-swapping sequence is a fine example of sharp sitcom writing, as the laughs come thick and fast; the idea to have Michael himself put a $400 iPod into the $20-limit game mix was inspired.
Come back tomorrow to read the top 20 entries.