News
TNA's Advanced Booking Gives Impact Good Build
TNA has done an excellent job advertising matches weeks in advance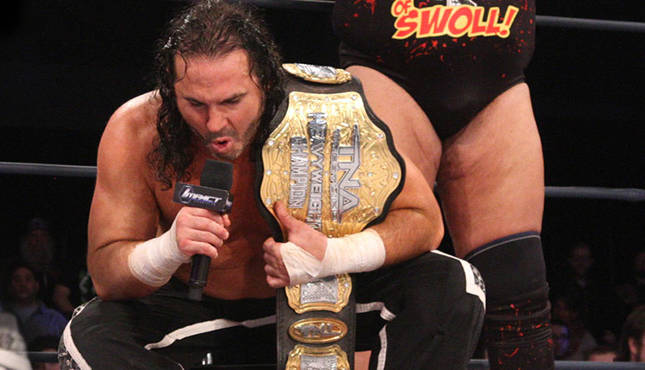 TNA's latest edition of Impact Wrestling, which aired Tuesday night on Pop TV, felt like a good pay-per-view lead-in show, and ultimately that's how TNA was treating it. Most of what happened here set up what we'll see at a Lockdown edition of Impact next week. If you consider this episode of Impact within that context, a go-home show for a pay-per-view, this was a good show.
TNA is in a bit of a tough spot with Matt Hardy and ECIII. They are both freshly turned, and it's too early in either of their new runs to take a loss. On this show, ECIII picked up a pinfall win over Hardy in a tag-team main event. They'll face next week in a Lockdown match for the TNA World Title. 
This feels like some even-steven booking, with ECIII getting a win on this show, assuming he takes the loss next week at Lockdown.
TNA has done a nice job of advanced booking. There are a few matches that we know we'll get down the road, including Angle-Lashley, Hardy-ECIII, Jeff Hardy-Eric Young, Hardy-Hardy, ECIII-Tyrus one-on-one, and Galloway-Bennett. It's a much better job than WWE does in that regard, and that's probably due to the fact that TNA only has two hours of television too fill on a weekly basis, and not five (at least).
At this point, even though he's been there for about one year, I do begin to wonder if Billy Corgan is beginning to have more influence on how TNA tells its stories. The pace of the storytelling is much improved and everything featured on the show has meaning. Everything has a storyline. There is very little waste involved, and even the midcard wrestlers have some sort of storyline purpose when they are on the screen.
Basically, there is no filler. Every segment is featuring something and there is progression that's slow enough for the viewer to follow, but also filled with enough action to keep them hooked and interested. The audience numbers aren't great, but that has more to do with the show falling victim to two network moves in the past year, and less availability. Neither network is as wide-known as Spike TV.
But TNA is carving out a good niche for itself, and the shows have been really good since moving to Pop. The central focus of the show, in the main event picture, is the World Title and that's always the most important thing. They have made the Tag Titles feel important as well. The only titles that haven't been featured much are the King of the Mountain and Knockouts Title.
We've written this in the past, but TNA is also doing a good job making the audience miss certain people. They aren't cramming every wrestler on the show every week. For example, this week we missed Trevor Lee, the new X-Division champion. My guess is he'll be on the show next week, because they don't leave them away too long for people to speculate their whereabouts, but the product isn't watered down in the least.
Match Results
1. Eric Young and James Storm fought to an apparent double count-out.
2. Mike Bennett beat Mandrews
3. The Wolves beat Decay in a Monster's Ball match to retain the TNA Tag Titles
4. Madison Rayne & Gail Kim beat Mari Bell & Jade
5. Odarg The Great & Mahabali Shera beat Jessie Godderz & Eli Drake
6. ECIII & Rockstar Spud beat Matt Hardy & Tyrus
Quick Strikes
1. TNA continues to do a nice job building up Mike Bennett. It's the opposite of how they have handled some bigger names in the past, bringing him along slowly, at least in terms of opponents, rather than throwing him into a major match right away. It seems as if they're heading towards a Bennett-Galloway match down the road, and that should be Bennett's first big TNA match. Bennett is the one new face to TNA, and they're smart in not burning through all of his potential opponents in short order.
2. TNA advertised Bobby Lashley vs. Kurt Angle for three weeks from now. TNA continues to do good things as far as advanced booking goes. There are always big matches advertised for the next week's episode, at bare minimum. TNA is holding this Lashley-Angle match for three weeks, giving ample time to promote it and really make it feel like a big match. That's something WWE has a hard time doing, both because of their impatience and because it's difficult with so many hours of television to fill on a weekly basis.
3. Well, that Monster's Ball match was interesting. Richards sucking the mist out of Rosemary's mouth — I can't believe I just wrote that — was unique, at least? We can safely say we've never seen that before. That aside, this was a really good match with non-stop action. There were some insane spots in this match, and everyone was showcased well. No one was hurt here, even Decay, despite taking the loss.
4. Now that the tour of India was scrapped, we see just where Mahabali Shera slots in. Shera has been virtually invisible since the debut on Pop TV. He went from being positioned as a potential finalist in the World Title Series — if the matches were taped India — and is now teaming with Grado, er, Odarg The Great. 
This was supposed to be funny, but the problem is it wasn't. Why was Drake worried about Grado being back in TNA? Is it only because he switched the briefcases and Drake is afraid of that evidence? It has to be, because Grado barely won a match during his first TNA run. It doesn't fit the narrative … unless he is afraid of Grado's "evidence" that he shouldn't have been fired. Shera doesn't even get the win here, Grado does. That really shows you where Shera stands. He was being over-pushed before, really only because of the India tour and TNA has dialed back on his push big time.