News
TNA World Title Series is Great for Impact Wrestling
Impact Wrestling has found a nice groove with the World Title Series, and it's a format that could finally re-energize its product …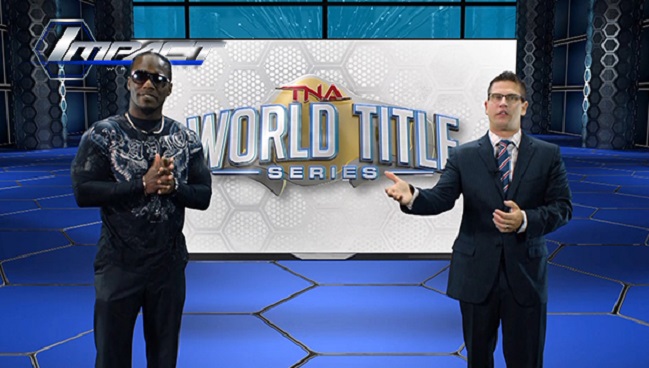 When TNA introduced the World Title Series last week, it was intriguing. How would they pull off such a giant tournament? Last week's start was fantastic, and TNA followed it up with another really great episode of Impact Wrestling.
We're only two weeks in, but it seems that the World Title Series has reinvigorated the product. It's a simple format but it's working for TNA. Matches and interviews, nothing crazy.
The roundtables have been another fantastic addition. There isn't any soap opera storylines bogging down the product, it's interviews and matches, with some personal issues sprinkled in that usually begins with the roundtable discussions.
The commentary was also really strong on last night's episode. It was probably the best it has been since Mathews and Pope teamed up. They played off each other really well and even Pope, who has been criticized — and rightfully so — was really good talking about strategy in the matches. Two instances in particular were in the opening match, when he noted that Davey Richards was looking to his corner out of instinct going for a tag, and then talking about the differences between singles and tag matches. Later in the show, Eddie Edwards kicked out of a boom drop by Robbie E., and Pope did an excellent job explaining it, noting that Robbie went for a quick pin and didn't get all of his bodyweight on the cover.
TNA doesn't have the roster it once had and some of the names aren't really names at all, but the format of this series, with the roundtables setting up some personal issues and then post-match interviews backstage to augment the matches themselves, has really worked for TNA the last two weeks.
In a sense, it's copying Ring of Honor's sportlike feel, but in it's own unique style. If it keeps up with this format, I'll be looking forward to Impact more than Raw on a weekly basis.
Match Results
1. Matt Hardy beat Davey Richards in about 11 minutes.
2. Kenny King beat Aiden O'Shea.
3. Abyss beat Eric Young.
4. Robbie E beat Eddie Edwards.
5. Mahabali Shera beat Crazzy Steve.
6. Bobby Roode beat James Storm.
Quick Strikes
1. SPOILER ALERT — No he won't. It's the middle of the NFL season, TNA isn't on their radar, and Bill Belichick doesn't want his players talking to the media, let alone wrestling a match.
2. Terrific opening match between Hardy and Richards. They started with mat wrestling and also worked in some exciting high spots. Ultimately though, this match had a story and the commentary — even Pope's — really accentuated the in-ring story. Pope commented that Richards was looking to the corner for a tag after kick-outs. The whole presentation of this match was really well done, from the match itself to the commentary to the roundtable discussion, where Richards talked about preparing for this series his whole career with the training camps he went through.
3. Another good match between King and the up-and-coming O'Shea. They kept O'Shea strong, dominating most of the match until King picked up the win late. O'Shea is a dark-horse in this series. TNA seems to be invested in him, and it wouldn't be a surprise to see him come out of what is a fairly lackluster group.
4. The spot where Eric Young hit a low blow on Abyss and then an elbow off the top was a good false finish; the crowd seemed to sense that the match was over there and reacted properly. Interesting to see Abyss get the win as well. Looking at the group, it seemed obvious to be set up that Roode and Young would move on from round robin matches, but with Pope picking Abyss, and Abyss winning this opener, that might not be the case
5. Well that was a surprise by Robbie E over Eddie Edwards. Really good showing by Robbie, and it seems like they're going to book him as the Cinderella story in the tournament, with Pope alluding to that story after the match on commentary. This has been one of Pope's better nights overall on commentary for TNA, and he was good again here. After Edwards kicked out of the boom drop, Pope pointed out that Robbie went for a quick pin and didn't have all of his weight on it or else that could have been it for the match. Kicking out of a big move like that works when someone is explaining it on commentary.
The Finish
I can't say enough about how much I enjoy this format. If you haven't watched Impact in a few months — or even a few weeks — check it out. It's such a refreshing change coming off the GFW "invasion" angle.