News
TNA Teases a Hardy Feud on Impact
Matt Hardy was scheduled to defend the TNA Title against Jeff Hardy, but TNA pulled a swerve ...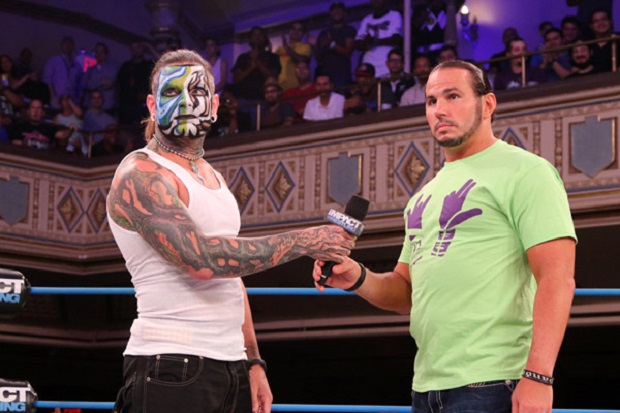 As expected, TNA didn't deliver on the main event of last night's Impact Wrestling. With no advertising ahead of time, that's smart. At the beginning of the show, Jeff Hardy talked himself into a TNA World Title matche against his brother, Matt Hardy, for later in the night. 
TNA will get more out of a Hardy vs. Hardy match later. That said, it's hard to tell where they're going with things after the angle to close the show.
Eric Young and Bram are in the middle of a feud with Beer Money. Yet as the show closed, E.Y. piledrove Jeff Hardy off the apron and through a table. Now they throw Jeff Hardy into that mix somehow. E.Y. and Bram do not seem to be affiliated with Matt Hardy in any way.
Then there's ECIII, who wasn't on the show last night. Plus Beer Money, who also fought off Abyss and Crazzy Steve, who are also in the middle of a feud with The Wolves after stealing their World Tag Titles. There's just a lot of everyone being involved with everyone.
Overall, this show was just a notch below last week's, which I thought was TNA's best since moving to PopTV. They are keeping the focus on the titles, which is definitely a plus. Almost every segment on this show focused on some form of title. Keeping the championships as the focus is a smart way to write the show. TNA has done a nice job of making them all seem important as well, even the somewhat mysterious King of the Mountain Title.
They can't make it a habit to not deliver on main events, though. They want to pride themselves on being a wrestling company. That's great, but it's a dangerous strategy to promise main events and not deliver. It's okay here, and it's okay once in awhile, but TNA can't make it a habit.
That said, it was the smartest choice given the circumstances. Matt vs. Jeff is something that should be built up for several weeks, not just thrown together in one night.
Feast or Fired Goes As Expected
The match was somewhat hard to follow with so much action going on at once, but that's what you get in matches like Feast or Fired. It was more of a distraction than anything else. There were some very cool spots, in particular the Galloway-Drake spot where Drew Galloway tossed Eli Drake after being hung upside down in the corner.
I'm not a huge fan of Feast or Fired, but this one made some sense. The only thing that made little sense was utilizing Beer Money in this match. The story is that they want a TNA World Tag Team Title shot. Okay, great. But they don't need to risk being fired in order to get one. They're only a few wins away from a title shot. It makes little sense, from a storyline perspective, why Beer Money would take such a risk.
Most of the other guys involved makes sense. They are gambling the pink slip for a title match of some kind. It's just that Beer Money and Galloway really didn't need to be involved.
The reveal at least made sense. It was predictable, but it was also the best way to go. Not that you want to see Grado lose his job, but from the product standpoint giving Drew Galloway the World Title shot was much better than Grado, with TNA just going for some shock value.
But ultimately, two of the three title shot winners — Galloway and Beer Money — were close enough to title shots on their own that they didn't need to risk being fired in order to get them. That hurts the concept of the match. Feast or Fired should be a lot like Money in the Bank. Utilize up-and-comers who are on the undercard and are willing to risk getting fired for the break of earning a title shot. Drake, Robbie E, Jessie Godderz, Mahabali Shera … there are plenty of options.
X-Division Is a Cornerstone, But It Needs to be Real
The X-Division Title match was okay. It's all a matter of taste. There are times these X Division matches look more like a dance than a fight. At times, there is too much cooperation. It loses the sense that it's a competition with people looking to win. Instead, it looks too much like an acrobatic act. 
That's not to take away from the athleticism. It's amazing. It just needs to be presented as being more real.
Match Results
1. Grado, Drew Galloway, Eli Drake and James Storm win Feast or Fired briefcases
2. Tigre Uno beates D.J. Z and Mandrews to retain the X-Division Title
3. Awesome Kong beat Velvet Sky
4. The Wolves beat Crazzy Steve and Abyss
5. Jeff Hardy beat Matt Hardy via disqualification. Matt Hardy retains the TNA World Title.