News
TNA Strays From Wrestling, Fails Miserably
If TNA wanted you to "Stand Up" for wrestling, and TNA Wrestling, perhaps it should present more wrestling on Impact WRESTLING …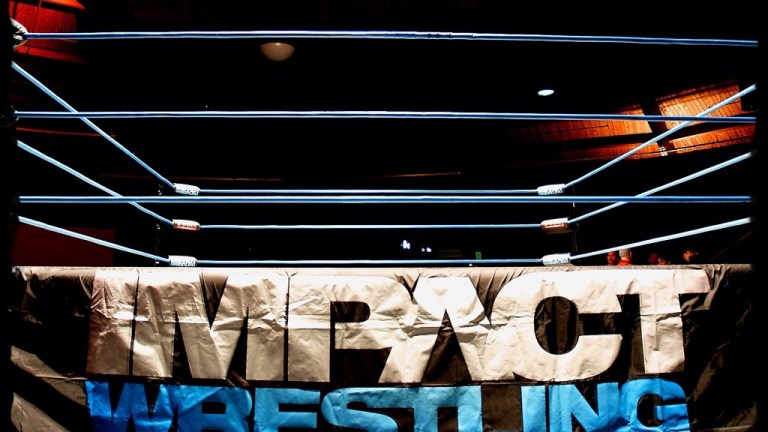 Wrestling on a wrestling show. What a concept. It's something we often criticize WWE for, and deservedly so. WWE is a pro wrestling company that's ashamed of pro wrestling. Vince McMahon is obsessed with becoming an entertainment mogul, and not restricted by being just a good pro wrestling promoter.
TNA usually falls on the opposite end of this equation. TNA's roster, even as depleted as it now is, is by far the strength of the company. Yet last night, TNA aired three original matches. Three. In a two-hour show. And none of them were even that long or eventful.
All the while, new TNA authority Bully Ray wasn't heard or seen on the show. TNA World Heavyweight Champion Ethan Carter III wasn't heard or seen on the show. The Wolves, the TNA Tag Team Champions, haven't been on the show in weeks, ever since winning the belts.
TNA used about 30 minutes of its two-hour block to re-air the King of the Mountain match from Slammiversary three weeks ago. Reportedly, the number of replays lately have to do with TNA being forced to cut out segments that feature Hernandez, who was not truthful with TNA regarding his contract status with Lucha Underground.
Aside from that, I'm all for making people feel special and not over exposed on the program, but it just seemed downright off to have the authority figure, who the announce team kept reminding the audience arranged the three matches, not on the show. Same for ECIII, who has been such a focal point.
A few weeks ago Mr. Anderson hinted at retirement, and hasn't been on television since. There's a lot going on in TNA that seems to disappear. Granted, there was to be a Knockouts match between Gail Kim and Taryn Terrell, but it never happened. At least there was some action there.
Maintenance shows are OK in television, as long as they set up something bigger down the road. You have to hope that TNA has something strong for next week, because after touting shows with title matches for several weeks, this seemed like a downer.
Match Results
1. Bram def. Magnus in a street fight
2. Eric Young def. Rockstar Spud in a chain match
3. Matt Hardy def. Bobby Roode in a tables match to become the No. 1 contender for the TNA World Title
Quick Strikes
1. Drew Galloway and Eli Drake cut a promo segment that was very strong. We never heard much from Drake before this promo, and he was much better on the mic than I expected. The story was really simple, but effective. Drake is the jealous, egotistical maniac who turned on the man who helped him make it to TNA in the first place. Simple, but very effective storytelling. Galloway, meanwhile, continues to be the most underutilized talent in pro wrestling. He's a superstar and should be a multi-time World Champion by now, if WWE or TNA had any clue what they were doing.
2. James Storm introduced Serena as his partner against Magnus and Mickie James, but the crowd barely reacted to Serena's introduction. It almost sounded like Storm tripped on a word or something. Serena must have a thing for cults, as she was obviously a member of the Straight Edge Society in WWE. Pope tried to get over who Serena was, but the crowd – who couldn't hear him, obviously – didn't seem to care all that much and it came through on television. Still, this is a good fit and should make for a good match. The crowd reaction just didn't help TNA get anyone excited for it.
The Finish
The show was mainly in-arena promos with three new matches and a replay, but not enough was done to make any of the matches feel important, even the No. 1 contender's match for the TNA Title. Ironically, none of the promos came from the six people who actually wrestled matches on the show. We never heard from any of the competitors, which could have made some of the matches feel a bit more important.
The show was very promo-heavy. Sometimes that's okay, but the more promo segments, the more it makes the show feel like WWE-lite. There weren't any backstage pre-tapes with the roving cameraman, which is also a TNA staple.