News
TNA Stalls With Pop Debut
TNA opened another new era on Tuesday night on PopTV, as Impacted moved to a new network for the second time in one year ...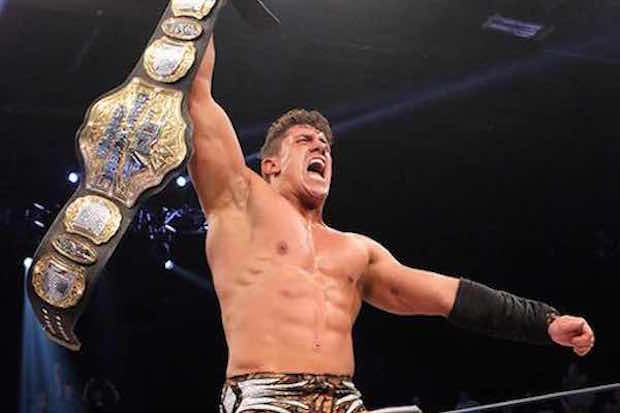 It was another "new era" for TNA last night, as Impact Wrestlingdebuted on Pop TV after its deal with Destination America expired at the end of last year.
But for what was billed as the new era of TNA, it felt a lot like the same, old Impact.
For the last three months, TNA has focused almost entirely on the matches during the World Title Series. In the first 45 minutes of last night's episode of Impact, there was one match. There was, however, two promo segments. Dixie Carter kicked off the show and then Kurt Angle talked some more a few minutes later.
So once again, TNA doesn't feel like any sort of alternative to the WWE. Instead, it's a lite version of what WWE offers on Raw on a weekly basis. Long promo segments and less wrestling. It was discouraging overall coming out of what was a good World Title Series. The format went back to what it was.
Now the numbers aren't all the discouraging for TNA. They drew an audience that was roughly what they were drawing on Destination America. While Pop TV is actually available in more homes, it was also the first night on a new network that has never aired pro wrestling, and also primarily airs television geared towards women. Impact's lead-in was Days Of Our Lives, after all.
The first show drawing about the same number of people is encouraging. TNA didn't lose an audience, despite moving to an obscure network that, at least on my cable provider, wasn't even offered in HD. It's buried in obscurity, at least on my cable system.
Some people don't even yet have access to the channel.
Now, it's episode one. There's plenty of time for TNA and Pop to improve the product and presentation. An HD channel in major markets is a good start. 
Also, it could be a bit concerning that most commercial breaks were between two and three minutes. The average break is around four minutes. That could be an indicator that the show didn't sell well with advertisers as well as the network perhaps thought it would. Or, it could simply be a coincidence with the show airing so soon on Pop after an announcement late last year.
Regardless, the bottom line is that TNA needs to differenciate itself from WWE. When TNA was at its peak, it was a true alternative. The X-Division and other elements made it work and made it different.
Match Results
1. Ethan Carter III beat Bobby Lashley
2. Matt Hardy beat Eric Young
3. Bobby Roode beat Bram to retain the KOTM Title
4. The Beautiful People beat The Dollhouse
5. Ethan Carter III beat Matt Hardy to win the TNA World Title
Quick Strikes
1. The World Title Series always felt as if it was going to come down to Hardy and ECIII. That's fine, too. ECIII is one of the best things TNA has, so utilizing him in main-event spots is smart, especially in a World Title win. The chase is always better as well. I'm not sure there is much fuel left in a Hardy-ECIII feud, now that ECIII has a clean win, but there are other contenders there for ECIII. Roode, Storm, Mike Bennett, and more possibilities, as well as Drew Galloway. 
2. Considering the time restraints they had, this was a very good main event between Hardy and ECIII. It's good to see that TNA gave the title back to its hottest heel as well. It feels like the Hardy-ECIII storyline has been going on for months, though. Hopefully, with ECIII getting the clean win tonight, they begin to move in a new direction. The next person who is owed a title shot is probably Galloway, considering he earned a one-on-one match at Bound for Glory only to have Hardy added to the match. He's wrestling Kurt Angle in the main event next week, so we'll see where it goes from there.