News
TNA Shows Real Potential Ahead of Bound for Glory
TNA hit the reset button on Wednesday with a very good edition of Impact Wrestling, leading into Bound for Glory in 10 days …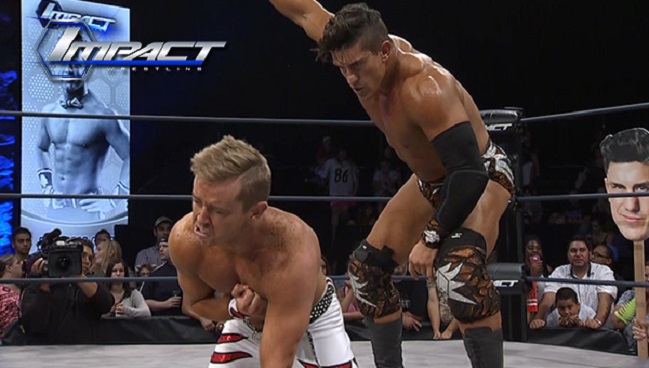 For the first time in nearly three months, TNA's Impact Wrestling was without the influx of talent from Global Force Wrestling, and the company used the opportunity to hit the reset button in more ways than one.
First, TNA celebrated its victory over GFW. But they also ended a lot of ridiculous storylines at the same time. Chris Melendez won his leg back from Eric Young (that might be the strangest sentence ever), the Revolution appeared to finally meet its demise and the Jeff Hardy servant angle also came to an end.
On the whole, Bound for Glory started to take shape, and it should be a solid card.
If I were booking Bound for Glory, my card would look like this (and remember, we don't read spoilers here so if the card is already finalized, we don't know it):
ECIII vs. Drew Galloway for the World Title
Eric Young vs. Kurt Angle
Jeff Hardy vs. Tyrus
Gail Kim vs. Awesome Kong for the KO Title
Abyss vs. James Storm
Velvet Sky & Madison Rayne vs. Jade & Marti Bell
Bobby Roode vs. Lashley for the KOTM Title
Tigre Uno vs. Rockstar Spud vs. Manik vs. Kenny King vs. DJ Z for the X-Division Title
There's some good and some bad with a card like that. First, it doesn't feature The Wolves. However, there's really no one for them to face. The Tag Team division in TNA isn't very deep, and unless the Hardys reunite, there really isn't a team there for the Wolves right now. Not unless TNA goes out and signs someone.
A one-off — maybe The Wolves vs. The Young Bucks — would really add to the show. The Bucks seem willing to do pay-by-appearance deals, as long as they aren't tied to ironclad contracts.
Kurt Angle we're assuming is still willing to compete on the show; he's going through family issues with his brother arrested for murder last week. If we assume that Taryn Terrell is still out injured, then the Beautiful People vs. Dollhouse tag match makes a lot of sense. Roode and Lashley for the KOTM Title I almost threw in, just to get those guys on the program. The X-Division is an absolute mess that needs rebuilding.
But the anchor to the show is Galloway in the main event. He can be the face of TNA. There's something about his promos. Even through the yelling, which can be a bit much, he seems to exude a real passion for TNA and pro wrestling. He has the chance to take hold of a roster that is lacking a lot of top-tier talent.
ECIII just won the World Title in July. He's been a good heel champion but hasn't had much of an opportunity to break out in his role underneath a lot of the TNA-GFW stuff. Maybe that's TNA's way of masking the fact that, while they like ECIII, they aren't convinced of him as World Champion material. If so, I think that's the wrong approach.
Galloway-ECIII has the chance to be a very good feud for TNA that needs to go well past just Bound for Glory. If I were TNA, I find a way to get out of the match with ECIII still champion, but Galloway very much on the chase. It could be a long-arching story for TNA to tell throughout the winter.
Match Results
1. Chris Melendez beat Eric Young to win back his prosthetic leg
2. Gail Kim beat Jade to retain the TNA Knockouts Title
3. Tigre Uno beat Kenny King to retain the X-Division Title
4. Ethan Carter III beat Rockstar Spud to retain the TNA World Title
Quick Strikes
1. Do me a favor. Go back and read the first line in the match results above. Just read it. They kept Young strong despite him taking the pin. He dominated the entire match until the final few seconds. I'm just glad they gave Melendez his leg back so that this ridiculous storyline can finally go away.
2. Jade was impressive in her singles match with Kim for the KO Title. When the Dollhouse run is over, she could have a strong singles run. A good first title defense for Gail Kim as she heads into her match with Kong at Bound For Glory as well. Really a good match that told a good story, with Kong coming out for a stare down at the end.
3. Uno has been a decent titleholder, but it would have been nice to see King re-establish himself in TNA with a win for the belt in their match. It was an interesting match, showcasing the difference between Uno's speed and King's strength. There's a lot more that TNA could be doing with King at this point.
4. After ECIII beat Spud to retain his title, Jeff Hardy turned on ECIII and Tyrus. After the win, ECIII demanded that Hardy end Spud's career with a Twist of Fate, but he declined. Matt Hardy then tried to help his brother, but Tyrus took over. ECIII then demanded that Hardy hit Matt with a Twist of Fate. Hardy again declined, before Matt fought out of Tyrus' grasp and Jeff Hardy ran off ECIII with some punches. Overall, the title match was short but it was used as a vehicle to lead to this segment, which seemed to signal the end of another silly storyline where one man is another's servant because of a wrestling match.
The Finish
Good show that hit the reset button for TNA, quickly taking the focus off GFW vs. TNA and setting up Bound for Glory. TNA transitioned really well by ending some feuds and resetting much of the TV product after they were somewhat unified against a common opponent the last several weeks.