News
TNA Says Farewell to Angle, Welcomes Lashley The Heel
Kurt Angle wrestled his final TNA match on last night's Impact ...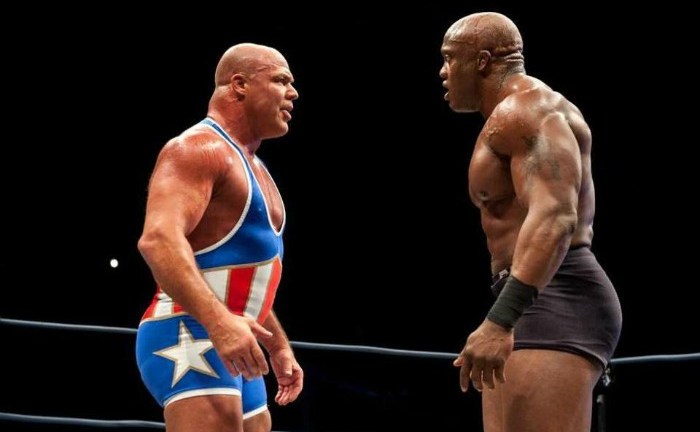 Last night on Impact WrestlingKurt Angle wrestled what appears to be his final match for TNA, if not beyond.
Angle wrestled Lashley, taking a pin after three spears. 
After the match, they show a close-up of Angle on the mat bleeding from his mouth. Pope says that Lashley did it through his own merit. Lashley picks up Angle for a hug as Brian Hebner is applauding. Lashley has a huge smile on his face as he raises Angle's hand.
Then, Lashley drops Angle with a huge clothesline before sitting in the corner. Angle gets back up and Lashley smashes Angle with another spear before throwing referee Brian Hebner outside the ring.
Lashley ran through Drew Galloway and Eddie Edwards, who came down to help Angle. Then ECIII's music hit, and he walked to the ring, scaring off Lashley as he retreated up the ramp. The show went off the air with ECIII checking on a fallen Kurt Angle.
Lashley works better as a heel. He had the storyline a few weeks back of the mystery woman flirting with him, and that could be part of the explanation for his change in attitude here. Although TNA runs the risk of that mirroring the Matt Hardy/Reby story currently being told.
They seemed intent on getting Lashley over as a heel after this match, destroying everyone that came to Angle's aid, including the man of the hour, twice.
It was good booking to have ECIII come out and make the save, with Lashley retreating. Again, TNA saved the blows for a future episode like they did with Spud and ECIII two weeks ago.
TNA also continues a positive trend — in my opinion — of keeping some acts off television each week in order to keep them fresh. This week, we didn't hear from TNA World Champion Matt Hardy, with the exception of pre-recorded comments. 
Decay was also also not to be seen on this show, with the exception of one music video.
TNA has had a very good pace since joining Pop TV, and next week promises to be a big episode with it coming to us live from Orlando.
Match Results
1. Eric Young retains the KOTM Title in a KOTM Match over Bram, Big Damo, Jimmy Havoc, Will Ospreay.
2. Gail Kim retains the Knockouts Title over Jade
3. Beer Money wins the TNA Tag Titles over The Wolves
4. Bobby Lashley beat Kurt Angle.
Quick Strikes
1. Lashley's promo on Angle at the start of the show was odd. It's even more odd knowing what happened in the main event.
Just two weeks ago, Lashley was playing a big heel in a promo opposite Angle. He did a little bit here as well, at least at the end, but he was a little too respectful at the start of this promo. I'm sure that Angle is a big role model for Lashley, but if they are really trying to build heat for this match, then Lashley should have followed up his previous promo more strongly. The audience doesn't need to see Lashley's admiration for Angle. That doesn't do anything but douse the little friction they created with his promo a few weeks ago. If Lashley wanted to show respect for Angle, do it after the match, not an hour before it.
2. What a Tag Title match! WWE's tag team division is so much better now than it was four or five years ago, but there isn't a team in WWE that can touch what Beer Money and The Wolves did here. The teamwork and double-team moves, the fast-paced action, it's just not WWE's style. TNA also gave these four plenty of time. It was a little more than 16 minutes of television time, but who knows how long that match actually was? It could have been edited down from 20-plus minutes. There wasn't a dull second for the entire match.
3. Mike Bennett and Angle had another altercation backstage. Could this be building up to something? There doesn't seem to be a reason to have Bennett and Angle keep interacting if it's not going to lead to a match. Building up this Lashley match as Angle's last, only to go back on that so quickly is not the best move, but down the road if Angle does decide to come back for one match, there is a built-in opponent with Bennett. If nothing else, he at least got to interact with him.