News
TNA: Rockstar Spud Will Make it Count Against Kurt Angle
Rockstar Spud will make you root for the underdog when he takes on Kurt Angle at Destination X for TNA Impact Wrestling.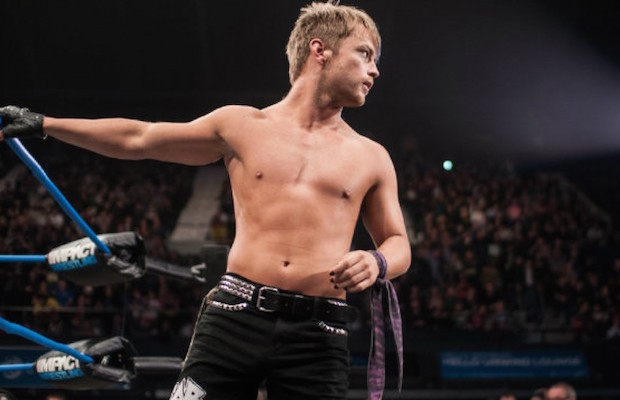 Rockstar Spud has been told he'd never do a lot of things in pro wrestling. He'd never sign with a major company, he'd never be on a major television program and for sure, he'd never challenge for a World Title. At 5-foot-4, 159 pounds, the critics were endless.
But Wednesday night on a special TNA Impact Wrestling titled Destination-X, (9 p.m. ET, Destination America), Rockstar Spud will challenge for his first World Championship when he wrestles Kurt Angle for the TNA World Heavyweight Title. Spud earned the opportunity last week, trading in his X-Division Championship for a shot at the World Title.
It would be easy for Spud, at this stage, to gloat in front of those detractors, but that's not his style. Still, he knows that nobody thought this opportunity would ever come. In fact, after being told it so many times, he started to believe it as well. He was told he "lacked ideal size," or something thereabouts, more times than he can count.
"Every single day," he said. "Still now. 'Hey man, you're going to do this, but you're not going to win because we can't put a belt on you.' That's what I get told in independent promotions all the time.
"I've had people say, 'Yeah, people like you and all, but we can't really put you on the posters and stuff.' That's where it used to get to me. I want to be the guy on the posters. I want to be the guy on the lunch boxes. I want to be the guy doing the personal appearances. I want to be the guy that's on all the advertisements for the show on the television screen. I want to be the guy in all the commercials. I want to be the guy in all the main events. I want to be the guy with all the belts. I want to be the guy.
"I'm really sorry that the guy who wants it more than anyone happens to be 5-foot-4 and 159 pounds. I want to be the guy. … I wish I was 6-4 and had muscles because I'd take over this industry. I would change it."
Despite his size, Spud is changing the business, at least within TNA. His push this year has been one of the highlights of the program, as his character has evolved from the hateable lackey behind Ethan Carter III to the never-say-die, never-quit underdog as a babyface.
Spud's bloody Hair vs. Hair match with EC3 in March was one of the more brutal and emotional scenes on a U.S. wrestling program in recent years, and really defined Spud's status as the ultimate underdog.
But still, Spud knew his underdog status wasn't simply a theme on Impact Wrestling, it was very real. Most promoters only saw the limitations of a smaller wrestler. Spud wanted to crash through that glass ceiling and burn any roadblocks to the ground.
So when he realized he was going to have the opportunity to challenge for a World Title, he admits it was an emotional day. Soon after he absorbed just how big the moment was for him, he immediately got to work with Angle putting together what Spud says is an entertaining match.
"When they told me what I was doing that day, I got kind of emotional, really," he said. "OK, I'm fighting for the World Heavyweight Championship, I'm me, and I never believed this would happen to me in my wildest dreams. I got all that out of the way at the beginning of the day and had my little release of emotion there, and then I was just concentrating on how we could tell a really great story that's going to compliment Kurt.
"I'm also in there with the best ever and a legend. I'm sitting there and it was just … I can't describe it. We were just figuring out the best way to compliment Kurt Angle and Rockstar Spud in a pro wrestling match. I feel we did that. I honestly think you'll be very surprised by what you see in the match and I'm extremely excited for it to air tomorrow on Destination America."
That's what makes this match, this moment, for Spud so special not only for him personally, but pro wrestling as a whole. In today's era, audiences seem to be clamoring for reality television. Keeping up with the Kardashians draws millions of viewers each week with very little substance. Well, Spud's story is reality TV at its finest. Yes, Rockstar Spud is a wrestling character, but James Michael Curtin's journey to this title match mirrors that of the character he plays on television.
"This is the closest you'll see to James Michael Curtin in a wrestling ring," Spud said. "You can feel it. I'm not just some guy playing a character on a wrestling show. This is a real person who has been fighting for this his whole life, and this is a real situation. This guy who was told he would never, ever get this opportunity, or he would never even get looked at by a professional company, to be signed by one, to be a champion in that company, to be a success in that company and now he's fighting the best in the world for the World Championship, that's storytelling. That's what dreams are made of. I'm dreaming everyday because I'm in this business.
"This business has been so good to me. For the first time in my life, I'm comfortable being James Michael Curtin because I'm so happy I can be given the microphone and be me. Everywhere I go, I can just be me now. That's so rewarding. I'm so proud to be in this industry."
Rockstar Spud will challenge TNA World Heavyweight Champion Kurt Angle for the TNA World Heavyweight Title on Wednesdaynight (9 p.m. ET) on Destination America. The show will replay at midnight ET, 9 p.m. PT.