News
TNA Needs To Protect Elevated Talent
TNA has been able to build a lot of new talent in the World Title Series, but they also need to follow it up ...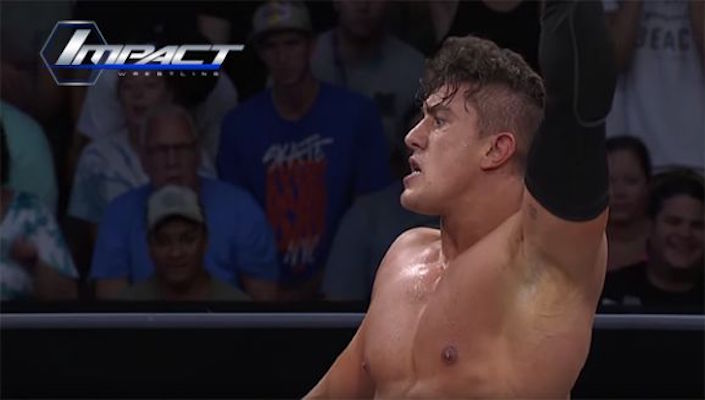 TNA has a Final Four in its World Title Series after last Wednesday's Impact Wrestling. Barring a surprise, it seems likely we'll see Matt Hardy vs. ECIII in the finals of the World Title Series. They've been building to this re-match since the series kicked off, and I'm not sure why they would get away from it now.
On this episode, TNA president Dixie Carter said in an interview that the semifinals and finals of the tournament will take place on Jan. 5, during Impact's debut on PopTV. That makes sense. We'll have to see if TNA has enough content to fill the final three episodes on Destination America, though it seems plausible that they could air a bunch of first-run, random matches next week and then clip shows on Dec. 23 and 30, with the holiday weeks likely leading to fewer viewers anyway.
TNA has already advertised an 8-man tag match between Group X Division and Group Future 4 next week, as well as a four-way match, so it seems that TNA has some matches taped for next week's show. TNA also advertised looking ahead to the final four members of the tournament.
Outside of the wrestlers who have advanced, for many of the wrestlers involved in the World Title Series, it will be about how well TNA follows up on their development throughout this tournament. Davey Richards vs. ECIII on this show was excellent, and Richards joins a long list of guys who have been elevated in this tournament. I'd also include Jessie Godderz, Robbie E. and D.J. Z, just to name a few.
Godderz and Robbie E., in particular, went from after-thoughts to two guys who hung in there with main-eventers. That's something TNA needs to continue to build on and protect these guys during the next TV tapings.
It might also be tempting to put Robbie E. and Godderz together in a program stemming from their break-up, and that might work, but it would work better if they wait it out and give each guy a feud they can go out and win.
TNA's taping schedule isn't the easiest, with five nights all in a row. But hopefully, they stick to a strict script and protect the guys in the World Title Series that have been elevated. With budget cuts and a thinner roster in terms of star power, the new talent that TNA has been able to elevate should help out considerably on PopTV, but wasting that momentum and killing their pushes — look at what WWE generally does as an example — could derail their development in the eyes of the audience.
Match Results
1. Bobby Lashley beat Mahabali Shera
2. Eric Young beat Tigre Uno
3. Matt Hardy beat Jessie Godderz
4. Ethan Carter III beat Davey Richards
Quick Strikes
1. They told a good story in the Lashley-Shera match. They definitely got over Shera's strength and size, as he physically manhandled Lashley more than anyone I can remember in TNA in a long time. But, they also played up Shera's inexperience, especially in that spot in the corner where Lashley hit a powerbomb while Shera danced in the corner.
2. Eric Young is a really good heel. He's basically a 5-foot-10 version of 1995's Psycho Sid, but as ridiculous as he can be at times, it's helped shed the image of the goofy comedy character he was for years. Right now, there might not be a better heel in TNA. ECIII is coming along and he's getting there, but even he sometimes comes across as being too cool. There's no redeeming factor about E.Y.'s character.
3. That was as good as Godderz has looked in a TNA ring. There were large portions of the match where Godderz was in control and driving the ship. He worked over Hardy's back to set up his finisher, and it was a really simple match. But, TNA did a lot here to build Godderz. The question is whether or not they follow-up on it with the upcoming TV tapings, or if they'll have the World Title Series exist in a vacuum. Godderz, Robbie E., and D.J. Z have all been elevated in losses during this tournament.