News
TNA Needs to Book the X-Division Better
The X-Division can set TNA Impact Wrestling apart, but Destination X Proved that some changes need to be made first.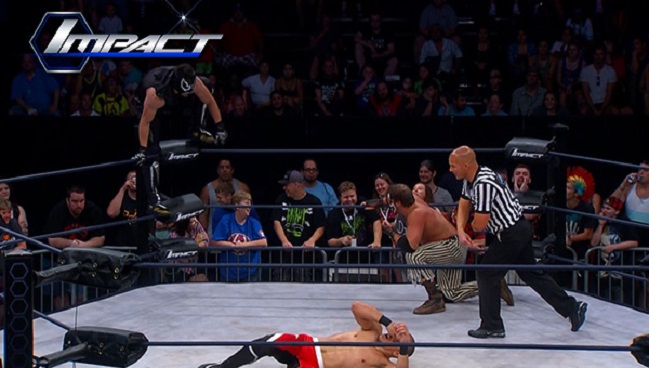 A.J. Styles, Low Ki, Austin Aries, Jerry Lynn, Chris Sabin, Samoa Joe, Kaz, Christopher Daniels, Alex Shelley, Rob Van Dam, and even Kurt Angle.
Do you know what they all have in common?
They've all been TNA X-Division Champions.
On this week's Impact Wrestling, with Rockstar Spud cashing in his title for a shot at Kurt Angle's TNA World Heavyweight Championship, nine wrestlers competed in three-way matches to determine the final three competitors in a three-way match for the X-Division Title. Those nine were Low Ki, Manik, Crazzy Steve, Grado, Tigre Uno, Mandrews, DJ Z, Kenny King, and Cruz.
Compared to the lineage of that title, there's not a lot of depth in those nine.
Low Ki and Kenny King should have been sure bets. DJ Z, formerly Zema Ion, I'm still a huge fan of and would like to see him go back to his previous persona. But the other six just haven't been treated well enough on TNA television to be taken seriously as title contenders.
There were enough wrestlers not on this show that could have been swapped into these matches in order to give the title some more prestige. Rockstar Spud did a good job reminding people of how important the X Title was in his promo when he cashed it in, but there seems to be something missing in the X-Title booking.
Eric Young and Matt Hardy, for starters, could have been welcome additions to these qualifiers. Would it be a step down? Or would it actually help elevated the X-Title having those names want a shot at it?
What about changing the format a bit? Tyrus would have been a good fit, and there could be a good story there to tell with Tyrus being the monster against the traditionally smaller, faster X-Division guys.
It's important that TNA has never actually established the X-Division Title as a cruiserweight belt, though its history seems to suggest that's the case. But it's not that way in an official capacity. ECIII and Tyrus are trying to take over TNA, ECIII has his World Title shot, and Tyrus wants the X-Title so they can control the gold. Maybe they even team to face the winner of The Wolves vs. The Dirty Heels trying to capture all the gold.
There are stories there to tell.
But instead, the qualifiers just seemed to feel flat. The X-Division helped establish TNA's style, it's brand, back when the company was first finding its foundation. Somewhere along the line, that title has lost its identity.
We've seen what John Cena has done in WWE reigniting the U.S. Title. The X-Division Championship can be revived, but it needs a jolt of energy.
Match Results
1. Kurt Angle [c] def. Rockstar Spud to retain the TNA World Hvt. Title: I really liked this match and the story that it told. Spud was the scrappy underdog who just wouldn't quit, and they told that story quite well. I'm interested to see where they go with how he lost. Spud was playing to the crowd, and it resulted in Angle snapping on the ankle lock for the win, which Spud really sold well in a never-say-die way. They could go a few different directions now with Spud tapping but also losing the way he did, taking a moment to look to the crowd and it cost him.
2. Low Ki def. Manik and Crazzy Steve in an X-Division Qualifier: Strange match with a really obvious outcome, at least to me. It was a good match, just booked strangely with these three guys. It was basically Low Ki against two guys who haven't been treated with a lot of wins on television, so this seemed like a foregone conclusion before the opening bell.
3. Tigre Uno def. Mandrews & DJ Z in an X-Division Qualifier: The first two winners of the qualifiers were the guys that should have won, but these matches feel just like random wrestlers thrown together without any real reason or story. Uno is good, but he's been jobbing for a while on television. Hopefully this means he's on an upswing and I'd like to see DJ Z go back to being Zema Ion, because he was tremendous in that role.
4. Grado def. Kenny King and Cruz in an X-Division Qualifier: This was the worst of the three-way matches. I don't get Grado. I think he's supposed to be funny? I'm just not getting the joke. Kenny King should have won this match, and that could have led to some good interplay between Low Ki and King heading into the title match three way. The match instead will be Low Ki vs. Grado vs. Tigre Uno. Low Ki should win the match, because the other two guys haven't been treated with much fanfare on television. Taking out Grado and adding King in there would have made for a more interesting story, in my opinion.
5. Bram def. Crimson: What a weird promo by Bram to start the match. He basically came to the ring and challenged any former TNA wrestler. So are there former TNA wrestlers just hanging around backstage with their gear on, hoping that someone calls them out? Because out popped Crimson. It was clumsily written.
Bram has been doing some good things as a heel, and I liked him cutting down the X-Division, as a big, mean tough heel should do, but randomly calling out any former TNA wrestler seemed strange to me. Even stranger was that Crimson happened to be at the entrance ramp, dressed in full gear. If this was a reintroduction of Crimson on TNA TV, it wasn't good. If it was just a one-off, then it's at least makes a bit more sense.
6. Kurt Angle [c] def. Austin Aries to retain the TNA World Hvt. Title: Another very good match from Angle and Aries (shocker, I know). They went almost 20 minutes and the finish came when Angle forced Aries to tap in the ankle lock. After the match, Ethan Carter III, Angle's challenger at the upcoming Slammiversary pay-per-view, hit the ring and attacked Angle, raising the TNA World Heavyweight Title over his head as Angle was down, and the show went off the air.
The Finish
The two World Title matches were fantastic, while everything else seemed like filler to get from Point A to Point B. TNA needs to do a better job re-establishing the X-Division. The nine competitors it had competing for for a shot at the title was a joke compared to the lineage of that belt.