News
TNA Makes One Last Pitch Before Slammiversary
Drew Galloway defended the TNA World Title just a few days before he'll defend on pay-per-view against Lashley on Sunday ...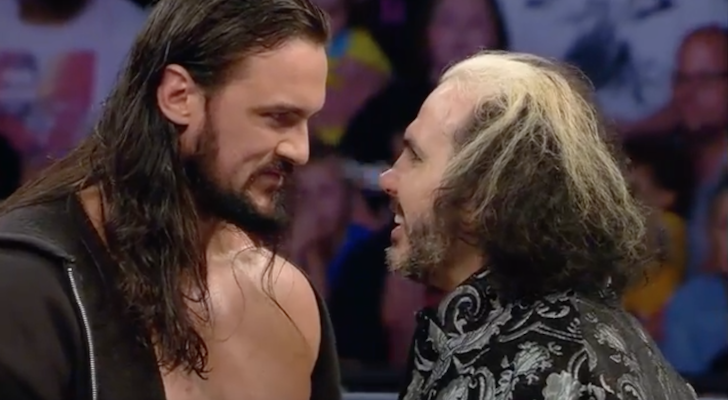 Not the strongest lead-in show for Slammiversary, but TNA did reinforce its major storyline points heading into the pay-per-view on Sunday.
As it turns out, Slammiversary is shaping up to be a strong card. Remember, TNA's top-three matches are all re-matches from what we've seen on Impact in recent months, but TNA has done a real nice job making these matches feel fresh and adding another layer to the rivalries heading into the pay-per-view.
The Hardy video last week was different, but it generated a lot of buzz for TNA. Why not try some new things? What does TNA have to lose at this point? Overall, by comparison, TNA has built to Slammiversary much better than it built to Bound for Glory last October.
Also in this episode was an Eli Drake "Facts of Life" segment, as well as a vignette where the new King of the Mountain Champion was actually climbing mountains.
Last week I read a lot about the production value behind the Hardy video, and how much that must have cost TNA. This isn't a WCW movie shoot … those aerial shots can be done with a $150 drone bought at Best Buy. It was something different and allowed the viewer to take a look at the character outside of the setting inside the Impact Zone.
Speaking of the Impact Zone, it could just be different lightning or strategic camera angles, but the crowds there seem larger than in the past. Not having that wall, or whatever that black curtain was that TNA sometimes had behind the first few ringside rows that I remember seeing last year, helps as well.
As much hype as Hardy vs. Hardy has received I don't get the feeling that there are a lot of people itching to see this match. It will be interesting to watch the crowd reaction on Sunday during the PPV. Sometimes with the post-produced Impact show, it can be difficult to truly read the live audience. I'm not a huge fan of the Willow stuff. These alter-egos and mystical creatures just don't do it for me when it comes to pro wrestling. Even some of Undertaker's theatrics are too over the top for me, sometimes, albeit more in the mid-90s when he would gain magic powers from the urn.
1. Sienna beat Madison Rayne to become No. 1 contender for the Knockouts Title
Convincing win here for Sienna, but it could have been even more convincing. Sienna has been on a tear since joining the roster and Madison Rayne is not at the forefront of the division. Considering Sienna has been booked similarly to Awesome Kong, albeit less dominating, essentially a squash match here could have worked better, and it wouldn't hurt Madison much given her placement in the division.
2. Eli Drake, The Tribunal and Decay beat Grado, Mahabali Shera, The Bro-Mans and Bram
Not a fan of debuting The Tribunal here if you weren't going to give one of them the pinfall win. It's really hard to have a 10-man match with limited television time. A good general rule is that matches should last at least as long, in minutes, as the number of competitors in the match.
3. Gail Kim & ECIII beat Mike Bennett and Allie
Good match. Glad to see TNA keep Maria out of this match, allowing her first match to be on PPV this Sunday. It also makes it easy for Allie to take the fall here, so no one is hurt heading into the PPV. Interesting, though, that Sienna attacked Gail, but Jade was nowhere to be found for the save, especially after Jade ran off Sienna earlier in the show.
4. Trevor Lee beat Eddie Edwards to retain the X-Division Title
Really good match until the cheap finish, where Helms hits Edwards with the title belt.. Lee avoids the typical car-crash X Division match being more mat-based. It's a refreshing look for the X Division and they did a nice job telling the story of contrasting styles in this match.
5. Braxton Sutter beats Bill Kalas in a squash match
Really good debut for Sutter. He got in some impressive kicks and picked up an easy win. That's a nice way to showcase a talent. All things considered, this was a much better debut than The Tribunal earlier in the episode. At least on the onset, Sutter playing the old-school babyface role seems like it might work. He's humble but also not gullible or goofy as a babyface. If TNA can keep him strong, he could be a good throwback babyface. The risk you run with the humble babyface is the fans turning on him, but Sutter has enough respect from the fans during his long run on the independents, that the character will work in TNA.
6. Drew Galloway beats Matt Hardy via DQ when Bobby Lashley interferes
Galloway retains the TNA Title. Predictable finish with the Lashley interference, but TNA needed a way out of this match without a finish heading into Sunday. Give TNA credit for not just booking a six-man main event, like WWE seems so content doing.