News
TNA Keeps the Focus on Actual Competition
TNA continues to protect the sanctity of the World Title in another title match on Impact …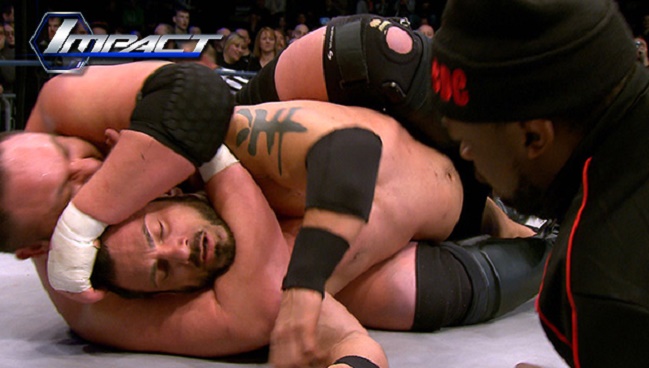 Up until the Royal Rumble and the focus on the shot at the WWE World Heavyweight Title, think of the difference between the prestige of the World Titles in both WWE and TNA.
Brock Lesnar was WWE Champion and he is a beast. He tore through John Cena at SummerSlam and then disappeared from WWE television for most of the fall. The focus wasn't on the WWE Title. When Lesnar was present on television it was, but the title wasn't even discussed for weeks on end during broadcasts of Raw and Smackdown.
That's changed since Lesnar has returned, but still, is it smart for a pro wrestling company to neglect its top prize for long stretches of time? No, it's not.
On the other hand, TNA has done a terrific job, even when the show was starting to struggle on Spike TV, of making its TNA World Title not only remain prestigious, but it's the focal point of the roster and is something that's coveted.
WWE's program is a variety show. TNA's is largely as well, but on Impact you get a clear picture that everyone is competing for a chance to be World Champion. They're not there to "entertain us" as we've heard some on WWE — including top-man John Cena — say on TV. Even Dolph Ziggler used that term when accepting his Slammy Award.
I'm sorry, but you're not there to entertain us. You're there to win matches, and win the World Title. That's why you're a pro wrestler.
TNA has that narrative on point. The execution isn't always terrific, but that's going to happen from time to time. What hasn't changed is that TNA's roster is focused on winning the World Title. They're not worried about entertaining the crowd — at least that's not what the narrative is on television.
Picture it like this …
You're a Seattle Seahawks fan, and your team just lost the Super Bowl to the New England Patriots. In his postgame press conference, star quarterback Russell Wilson says this:
"Yeah, you know, we lost the game, but if we were able to entertain each and every one of you, then I'm happy."
Can you imagine the backlash?
Pro wrestling isn't real sport, but it's simulating it. The process needs to be respected as natural competition. TNA does a great job with that when it comes to its World Title.
That continued this week on Impact, when Kurt Angle cut a promo at the start of the show to proclaim his desire to once again become World Champion. MVP wrestled Bobby Lashley for the title and it was match of the night.
Make the World Title important, and you'll have a pro wrestling company that works.
If you're a Ring of Honor fan, it's the same thing they've done with their World Title, which will culminate at its 13th Anniversary pay-per-view Sunday night.
Quick Strikes
1) To open the show, Josh Matthews said it was a "rare event" to get a World Title match in Impact. Really? TNA doesn't run pay-per-views. They put World Title matches on their television all the time. I understand you're trying to sell the show, but tell the truth. If my memory is correct, TNA has also featured two World Title matches on Destination America. That's been two months.
2) Sargent Melendez was in a terrible segment with the BroMans. The match and the ridiculousness after it was so confusing, that even Matthews and Taz seemed legitimately perplexed. TNA had a chance to do something with Melendez when he debuted, and admittedly those patriotic gimmicks have a short shelf life, but I really feel like they fumbled with Melendez.
3) Bram looked like a believable monster when he hit the ring and ran through Noam Dar and Rampage Brown. He looked like an absolute killer who could benefit from a few weeks of booking like this. He's on a path to a match with Magnus eventually, but if Bram runs through guys and then can run through Magnus, TNA might have something there …
Match Results
1) Rockstar Spud & Mr. Anderson def. EC3 & Tyrus
2) Robbie E and Angelina Love def. Chris Melendez and Brooke Tessmacher
3) Austin Aries def. Samoa Joe
4) Noam Dar and Rampage Brown ended in a no-contest
5) Bobby Lashley def. MVP to retain the TNA World Heavyweight Championship
The Finish
Another solid show for TNA. The BroMans segment was just awful and dragged the overall rating down a bit for sure, but the Samoa Joe-Austin Aries match and the World Title match were both really good to help offset that.
Joe also cut a terrific promo. Too bad we already know he left the company.
Mike McMahon covers pro wrestling for Den of Geek. You can follow him on Twitter.