News
TNA Impact Wrestling: Who Will Challenge Kurt Angle for the Championship?
Kurt Angle defended his TNA World Heavyweight Title against Eric Young and Bobby Lashley on Impact. Who is next to challenge him?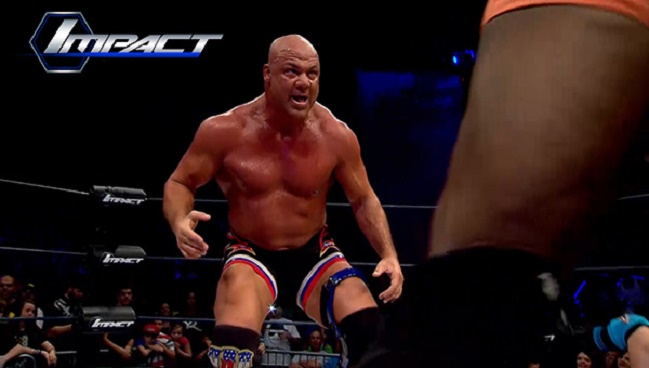 The way the main event of Impact Wrestling ended on Friday night, it appears that the series between Kurt Angle and Bobby Lashley is over, and Lashley is going to move on to a feud with Eric Young. Angle pinned Lashley clean in the middle of the ring, and then Young took out his frustrations on Lashley after the match, nailing the former champion with a few steel chair shots.
That begs the question: who is next to challenge Kurt Angle?
Here is a list of potential contenders:
1. Bobby Roode
After his feud with Eric Young capped off last week, we haven't seen much of Roode. And by much, I mean at all. He was absent from this episode of Impact, which I found interesting. It could be that TNA didn't want people distracted as they wrapped up Angle-Lashley.
2. Eric Young
This makes little sense, at least to me personally, but I need to include it. Young mentioned he was the No. 1 contender. I'm not sure how, but he claimed to be. So if he didn't get a one-on-one match, and he wasn't pinned in a multi-man match, it seems pretty clear he should be entitled to a one-on-one title match, right?
3. Austin Aries
Remember, he holds the Feast or Fired briefcase. Like Roode, we also haven't seen him on television. Is that an omen, or just purely a coincidence? In pro wrestling world, nothing is a coincidence as far as I'm concerned.
4. Mr. Anderson
He's really good, I really like his stuff in the ring and as a character, and TNA is inexplicably not doing anything with him right now. Back when Anderson was in WWE, I thought he was the future face of the company. He's still the same guy. He would run with that chance if ever awarded the opportunity.
Personally, I'd like to see go with Anderson. I think he has a lot to offer, and just hasn't been given the chance to really show it. I think putting Anderson in a top program with a guy like Angle also helps to keep him invigorated, especially if you allow the wrestlers to have a voice as far as where stories are headed.
Quick Strikes
1. Homicide interfered in the match between The Rising and The BDC. I'm actually a huge fan of Homicide, and I hope that this means TNA is going to start doing more with him. I'm not sure why he needed to be a masked man, other than for the big reveal, but I hope they find him a good role on the show, because he's really quite good.
2. Awesome Kong is the new No. 1 contender for the Knockouts Title. This match didn't live up to everything their former matches did, but it was still really, really good. I like the way TNA is rebuilding Kong, too. They are pumping a lot of steam behind her again, and pushing her as a monster in the division, which she should be. Kong is still the most unique talent in women's wrestling and she should be a featured wrestler in that division.
Match Results
1. Awesome Kong def. Gail Kim to become the No. 1 Contender for the TNA KOs Title
2. Khoya def. Abyss & Manik in a Triple Threat Match
3. The Rising def. The BDC via disqualification through interference
4. Davey Richards def. DJ Z
5. Kurt Angle [c] def. Bobby Lashley & Eric Young in a Triple Threat for the TNA World Hvt. Title
The Finish
It was a good final chapter to Angle and Lashley, and sets up a personal issue to take Lashley away from the title picture, which is something I think you need to do if a babyface isn't going to win the title at the end of a program. The Kong-Kim match was also very good, and I like the storyline development between The Rising and The Beatdown Clan.
Overall, another solid episode of Impact Wrestling. TNA isn't hitting grand slams every week, but they're hitting solid doubles. Just a solid, consistent show.