News
TNA Impact Wrestling: Turning Point Doesn't Deliver
TNA presented a special edition of Impact Wrestling on Wednesday titled, "Turning Point," but the show didn't live up to the hype …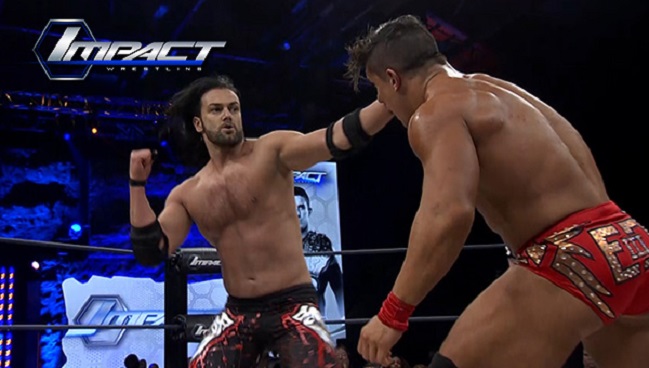 Since it rightfully abandoned the pay-per-view market a little more than one year ago, TNA has typically hit home runs with their special editions of Impact Wrestling, which kept them more on a traditional PPV schedule. Three or four Impact shows would lead to a special edition of Impact on cable television.
But last night's Turning Point fell short.
The night began with a promo between Jeff Jarrett and TNA World Heavyweight Champion Ethan Carter III, where Jarrett said ECIII could either defend the title against P.J. Black later in the show, or be stripped. That was the main focus of several backstage segments for the first 90 minutes of the program, yet to the television viewer, the outcome was never really in doubt.
Then there was the show's opening contest. Bram fought Mr. Anderson in an "open mic challenge match," and it was an entertaining match, but the concept was dumb. Josh Mathews said the rule was whoever grabbed the microphone hanging above the ring first could use it legally as a weapon.
OK.
But it was apparently a No DQ match – Anderson and Bram were allowed to use chairs and tables – so then why on earth was a little microphone so important to get in order to use as a weapon? Also, I thought the stipulation was that whoever grabbed the mic first could use it as a weapon? So why was Anderson allowed to steal it and use it on Bram to get the win? The only way that concept works is if weapons aren't allowed, and the microphone is legal to only the man who captures it.
Wrestling is "scripted," but too many times companies use that as a script to think they can do whatever they want. If there are no rules, there are no reasons to watch.
Later in the show Mahabali Shera cut a painful promo on James Storm. Just nauseating television, if we're being honest. It dragged on and just never connected one bit. Storm was very good, as he usually is, but Shera is just going to be some dancing idiot?
That's right. The big thing they wrote for Shera to get himself over with the crowd was to say he wanted to dance, just like all of the people in the crowd.
Why? Just … why?
It felt very, very forced. Like when WWE forced Lance Storm to dance around late in his WWE career for no apparent reason whatsoever. Shera just said he likes to have fun and dance like the people and started dancing. Okay? Whatever floats your boat, I guess.
There were some good moments on the show, though. The Drew Galloway-Eli Drake match was very good, and it apparently signified the end of their short feud, as Mathews said Galloway had finally conquered Drake. TNA has done a nice job keeping some of its storylines short and succinct. That contrasts well with some of the more long-range stories. If everything were a six-month build, it would make for some boring television.
The main event between Black and ECIII for the World Title was also a strong match. The main event was by far the best match of the night. Black's high spots woke up the crowd, but the crowd never seemed to buy into the idea of Black winning the title, and didn't really respond to the near falls during the match.
Match Results
1. Mr. Anderson beat Bram in an "Open Mic Challenge."
2. Gail Kim beat Marti Bell and Jade in a six sides of steel handicap match.
3. Drew Galloway beat Eli Drake in a no disqualification match.
4. Matt Hardy beat Tyrus.
5. Ethan Carter III beat P.J. Black to retain the TNA World Hvt. Title.
Quick Strikes
1. Jarrett said in the opening segment that "for the first time ever! A GFW talent will wrestle for the TNA Title." … For the first time ever? GFW is barely two months old.
2. The Gail-Dollhouse cage match was a good match, but this match should have made the viewer want to see Kim vs. Terrell more. It was a good win for Gail, but just felt like a one-off that didn't help build their feud at all.
3. As written above, good match between Galloway and Drake. Galloway seems primed to be on to something bigger. They began a slow build to what should lead to an eventual title opportunity, with the announcers playing up that Galloway could easily be TNA World Champion right now, if not for Drake.
4. Eric Young is going to wrestle Chris Melendez for his prosthetic leg. Wait, what? Yup, I actually wrote that. And yup, it actually happened. Just another weird wrinkle in what feels like a really weird show this week.
5. Granted Matt Hardy is coming off a match where he nearly won the TNA World Title, but it's really hard to take Tyrus seriously as a monster heel bodyguard when he gets beat in two minutes.
The Finish
What a weird, weird show. Let's hope TNA gets back on track next week.