News
TNA Impact Wrestling Should Show More Faith in the Knockouts
TNA main evented Impact with a Knockout Title Match, but not really …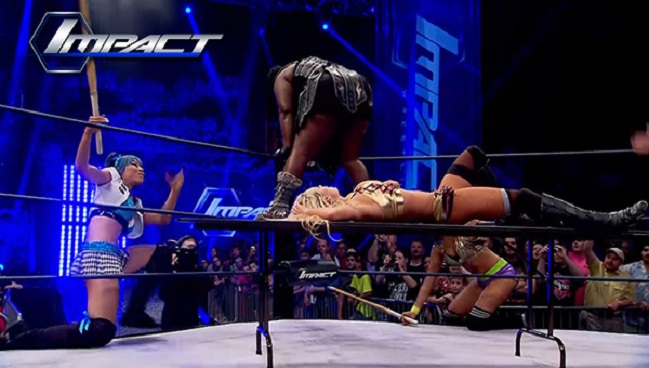 Awesome Kong and Taryn Terrell could have main evented Impact Wrestling  on Friday night. Essentially, they did, but not really. TNA didn't really build the show around its ladies, when in fact they could have, and been just fine.
It's a lack of confidence. Perhaps that's understandable, but Terrell or Kong, while proud of the match they had, probably don't feel as if the company is 100 percent confident in them carrying a show
Here's why:
Terrell and Kong were the last match on the show, but it wasn't advertised as the last match on the show. Austin Aries was supposed to get a TNA World Heavyweight Title shot against Kurt Angle, after announcing he was cashing in his Feast or Fired contract. Eric Young was originally advertised as the main event.
The match didn't happen. Young, presumably upset with Aries stealing his title shot, beat up Aries at ringside and then bloodied Kurt Angle, when he tried to make the save. It was a good closing angle to an otherwise quiet show, but on a night that TNA centered the program around the Knockouts, including building up the division in advertised promos throughout the week, main eventing the show with the Knockouts Title match would have been a nice touch.
Moreover, Terrell and Kong had a really good match. No DQ women's matches are not the norm in pro wrestling, so it was unique. It also only lasted a little more than five minutes. Taking the last 10 minutes of the show and giving Terrell and Kong more time only would have done more to raise the prestige of that division and title, and Terrell and Kong could have done plenty with that extra time.
TNA is in a position where trying new things should be encouraged. They were praised almost 10 years ago, when they main evented an Impact on Spike with Gail Kim against Kong. For TNA, on a network like Destination America, with its low overall viewers compared to Spike, outside-the-box thinking should be the norm. It's not going to get viewers back up to one million overnight, but it could be a start. The status quo seems like a recipe for just more of the same when it comes to viewership, and TNA needs to grow.
Quick Strikes
1. Taz announced earlier this week that he was leaving TNA. According to various reports, there were several issues that led to the departure, which was described as mutual. One of the last straws came last week, when TNA was late on payroll due to what they explained as a miscommunication between TNA and Panda Energy in Dallas.
Regardless, that reflects poorly on TNA's front office. With no live events, several TNA talents are probably relying on their weekly or bi-weekly payroll to make ends meet, and being late on payments is inexcusable. You need to take care of your employees — oops, I mean "contractors."
2. TNA did a lot tonight to help further Eric Young as a top-tier heel. It's still hard to get totally on board, if you remember his comedic antics of the past, but the vengeful Young, who bloodied Angle and took out Aries, had a mean streak we haven't seen from that character before.
3. Mickie James gave an emotional speech that was essentially announcing her retirement before James Storm convinced her to have one more match. No opponent or date was named.
Match Results
1. Brooke def. Angelina Love, Gail Kim & Madison Rayne to become No. 1 Contender to the KO Title
2. Mica def. Kenny King
3. Laura Dennis def. Jade
4. Davey Richards def. Manik
5. Taryn Terrell def. Awesome Kong in a No DQ Match to retain the KO Title
The Finish
Given how good TNA's program has been the past few weeks, even months, this show was a letdown. The main event KO match was good, but it should have actually main evented. The middle of the show really seemed to drag with a lack of real star power in those spots. Like WWE, TNA needs to be in the business or building new stars, and that showed in the midcard of this program.