News
TNA Impact Wrestling Results: 9/3/14
If TNA could actually develop some long-term vision, the talent is there to take things far. If only...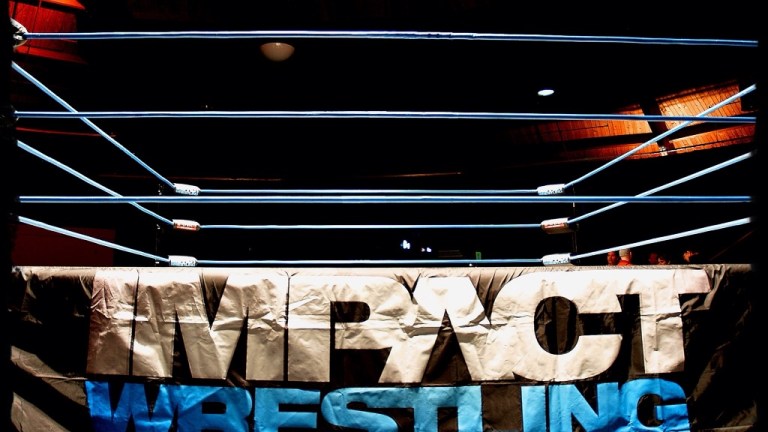 Wednesday's Impact Wrestling was headlined by an unadvertised Champion vs. Champion match after X-Division Champion Samoa Joe challenged World Hvt. Champion Bobby Lashley in the program's opening segment. This isn't so much a TNA problem, because WWE has made similar booking decisions, but rather it's an example of a larger problem within pro wrestling.
Nothing is sacred.
I'm not naive enough to think the pro wrestling genre can ever go back to where it was in 1990, when top stars never faced each other on free television. There are too many other channels and the audience's attention span is a fraction of what it once was. But that doesn't mean they need to give away Champion vs. Champion matches.
WWE did this quite often two summers ago, when Daniel Bryan was World Heavyweight Champion and CM Punk was in the midst of his run as WWE Champion. When WWE needed a good match, they put the champs together. Often, it was unannounced.
How is that supposed to create any buzz?
In this particular case, the angle they ran to setup the match – we'll get to that in a moment – needed to result in a one-on-one match, but it didn't need to result in a match on the same program. Champion vs. Champion is enough of a draw, especially with Lashley and Joe, that I would have preferred they booked the match for next week and give the people something to talk about for the next six days.
Here's how it all happened on Impact Wrestling:
Joe's Gonna Kill You
The show opened with Bobby Lashley, MVP, and Kenny King out to cut a promo. MVP said that there wasn't anyone in New York as tough as TNA World Hvt. Champion Bobby Lashley, who was also going to soon become the Bellator MMA Champion, as MVP put it.
That brought out Samoa Joe. Remember him? Well Joe took issue with the claim that Lashley was the toughest man in the New York, and Joe proclaimed that Lashley wasn't even the toughest man in the building. He then challenged Lashley to a match later in the program, and to "put the belts aside," because it wasn't about that.
Kenny King then tried to interject, but Joe smacked him in the mouth and a small brawl ensued before the heels retreated.
It's good to see Joe back in a main event picture. He's one of TNA's "homegrown" talent and not only an excellent wrestler, he's great on the mic and has a unique, one-of-a-kind look. Unfortunately, he has been one of the most misused talents in the company as it pushed the likes of Hulk Hogan and his band of brothers, brother.
Gail Kim def. Taryn Terrell to retain the Knockouts Championship
A really fun match between Kim and Terrell. It wasn't the violence-filled spotfest like their matches prior to Terrell's pregnancy, but it was still an entertaining match. Kim is the best women's wrestler in the world right now, and I don't think it's even a contest. Paige and A.J. are close in WWE, so is Natalya, but Kim might be quietly putting in the best work of her career.
After the match, Havok made her TNA debut, chokeslamming Kim and also taking out Terrell. It was an impactful – no pun intended – debut for Havok, but it just felt out of place. I'll reserve total judgement until they play it out a bit more, and maybe Havok explains why she attacked both Kim and Terrell, but on the onset, it seems a tad confusing.
Havok's look is very unique – she's almost the Abyss of the women's division, in a way – and they could do some interesting things with her.
EC3 Turned Face (not really)
Well, at least in my living room he did.
EC3 cut a promo where he attacked the fans for chanting Dixie going through the table, "breaking her back." The next line is what did it for me. Carter said that he wanted the words "extreme" and "hardcore" banned from TNA, because he was sick of living in the past.
It was meant to be a throwaway, heelish line. But realistically, TNA should be listening to their own advice here.
Rhino was out next and he started a brawl with EC3. After they were separated, EC3 told Rhino that if he wanted a match, he would get it … against Rockstar Spud.
Magnus & Bram def. Gunner & Shaw
Bram caught Gunner with a roll-up pin for the win, and that was really it. It was a throwaway match, to be honest, and just filler that did nothing to advance any story. Shaw appears to be going crazy again, as he was too busy yelling on the apron to breakup the pin. So I guess that's something?
Bobby Roode def. Eric Young to become the No. 1 Contender
This was expected, and that's fine. You don't always have to swerve the audience.
The only flaw is that Roode and Young really weren't given a lot of time, but they did the best with what they were given. The last two minutes was back-and-forth and quite exciting. It was a match to determine the No. 1 contender for the World Title, and it lasted about eight minutes. That's it. The title needs to be more important than that. TNA runs a million promos, and they could have easily dropped one of them to give this match some more time.
Homicide def Low Ki, Tigre Uno, Manik, DJ Z and Crazy Steve to become No. Contender to the X-Division Title
Well, if you like crazy spotfests, then this match was for you. Just about everyone had at least one feature move as Homicide beat Manik to earn the title shot.
It seems like TNA does this week after week, though. They take a handful of X-Division guys and they throw them into a match, all together. It makes for a fast-paced environment, but when you're booking a multi-man X-Division match like this week after week, it just doesn't feel special.
They're not giving the audience anything to remember them by. That's not the wrestlers' fault, again, their time was short, but this type of booking isn't going to result in success of the division or anyone in it, in my mind. Homicide and Low Ki could have wrestled a singles match for the No. 1 contender, and it would have been much more entertaining, and made much more sense.
Another promo!
After the match, Sanada was out and he beat down Manik a bit more before laying him at James Storm's feet. That brought out Austin Aries – why wasn't he in the mix for the No. 1 contendership? – who battled on the mic with Storm for a bit. Aries brought out Tajiri, and a 2-on-2 brawl ensued for a few seconds before the heels scattered.
It's just so formulaic. The same thing has happened now three times on this episode alone. You have a promo. Someone comes out to rebut, and then you have a brawl. Rinse, repeat.
Chris Melendez Will Debut
TNA aired a vignette announcing that Sgt. Chris Melendez will make his TNA debut next week. I'll never get sick of seeing these Melendez videos, to be honest. Realizing it's a real story just gives me chills.
Rhino def. Rockstar Spud
EC3 looked on with a stone face as Rhino just demolished Rockstar Spud. Rhino kept taking looks back from time to time, but even when Spud got in a little offense, Rhino no-sold it and had his way with the much tinier Spud.
The finish came when Spud grabbed a trash can from under the ring. The fans chanted "ECW" – because, yeah – and Spud encouraged them to chant "EC3." When Spud turned around, Rhino delivered such a powerful spear, I think Spud's torso landed in the balcony. After the match, EC3 left Spud laying in the ring as he returned to the back
It just seemed like they were biding time, at this point.
Lashley def. Samoa Joe
Lashley wins with help from Kenny King, who broke up a sleeper attempt and distracted Lashley long enough for Joe to hit a spear for the win. This was a very good match. Lashley comes off looking stronger and even more dangerous than before, and Joe was protected well with the interference. There were points within this show that felt aimless and without much purpose, but the main event delivered.
Impact continues to be what it is every week: a show that for the most part, is very good. But, it's weighed down by a couple of segments that lack purpose and any real long-term vision.
Like us on Facebook and follow us on Twitter for all news updates related to the world of geek. And Google+, if that's your thing!