News
TNA Impact Wrestling Results: 7/17/14
TNA's reboot was official on Thursday's edition of Impact Wrestling, but far too much of the show was partying like it was 1999.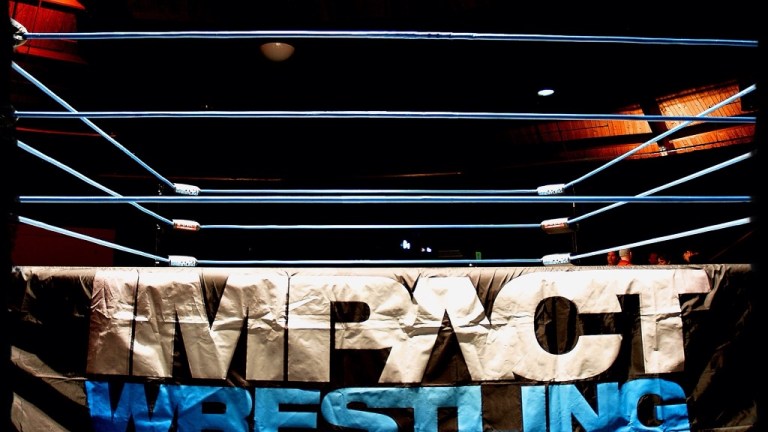 Things kicked off with Taz in the balcony of the Manhattan Center, where WWE taped Monday Night Raw's initial broadcasts in 1993. Taz was cutting a promo comparing TNA to ECW. The New York City crowd at the Manhattan Center loved it. Things picked up when Bully Ray and Tommy Dreamer hit the ring, and guess what? They compared TNA to ECW.
TNA has been in business for 12 years. That's more long enough for them to have built their own identity. But TNA has been enamored with living off the spotlight of other promotions since Panda Energy and the Carter family bought the company. When it's not recycling former WWE stars – two former WWE champions wrestled for their world title in their main event on the night the company rebooted itself – it's been infatuated with resurrecting ECW.
ECW, mind you, a company that went bankrupt … 13 YEARS AGO!
It's like building a brand new car, and aspiring to be the DeLorean (no offense Dr. Emmit Brown and Marty McFly).
TNA re-debuted its six-sided ring, which most of its talent seems to hate but from a presentation standpoint, it does give the program a unique look compared to WWE's Raw and Smackdown. That was good. But that opening segment would have worked just as well if it were only for the live crowd, to get the building pumped up before the television cameras started rolling.
From a pure talent standpoint, TNA is right there with WWE. In fact, I think you could make the argument that, top to bottom, TNA's roster is better than WWE's. The problem isn't the in-ring product, it's everything else. It doesn't matter how good the crew is when the captain of the ship is dazed and confused.
On the whole, it was an exciting show. I just wish the reboot didn't feel like a trip in a time machine.
When TNA announced a return to its six-sided ring a few weeks ago for these television tapings, its talent wasn't shy on Twitter with their disapproval. After listening to some former TNA talents discuss it, I can understand why. The complaints range from everything to its stiffness, to the corners making it hard to execute aerial moves all the way down to it being difficult to shoot with a camera on television due to its odd size.
But at least it differentiates TNA from WWE. When Hulk Hogan made his changes to the company in 2010, it essentially made TNA "WWE Lite."
TNA could have felt different tonight, but it didn't. It went back to its old tricks. The ECW references to open the show was a poor decision in 2014. TNA shouldn't be marketing itself to such a niche. The youngest members of the coveted 18-34 male demographic were five years old when ECW went out of business. The well has dried up.
It's discouraging to think that TNA's executives really believe that the best path to sustainable success as a television program is to throwback to a company that failed to get solid television ratings – on the same network, by the way – and folded after it bled away all of its money. Just like TNA, ECW was loaded with talent. Maybe not so much in its final days, but the roster was capable of putting together a better-than-good show. The company was just mismanaged.
TNA shouldn't strive to be ECW. It should have learned from its mistakes.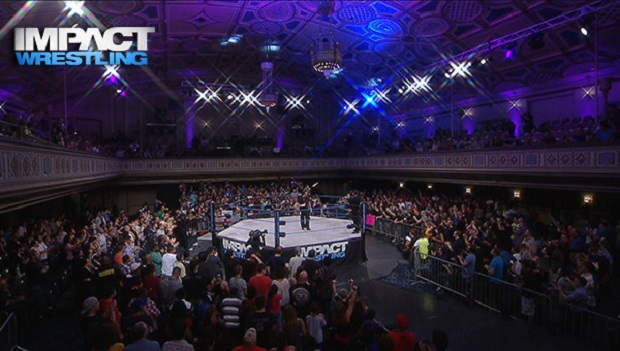 Quick Strikes
– Madison Rayne and Brittany really had a terrific No DQ match. It suffered from the live crowd and often the ladies don't get the respect they deserve, but these two really put on a heck of a show and really put on a hard-hitting match with plenty of action.
-Kurt Angle continues to be a strong presence, and a fresh idea, as a babyface authority figure. The heel in charge gimmick has been a pro wrestling constant since 1998, and it's tired. What it's starting to result in is more clean finishes. Bobby Lashley beat Jeff Hardy, clean, to retain the world title. There was no overlooked interference because the man in charge was in Lashley's back pocket. The rules are straightforward and down the middle.
– Jeff Hardy continues to astonish me with what he's able to still do in the ring, at his age, with all his body has been through. The bumps he took in his title match against Lashley were unbelievable. The missed swanton bomb to the outside, landing on the steel steps, made my back hurt.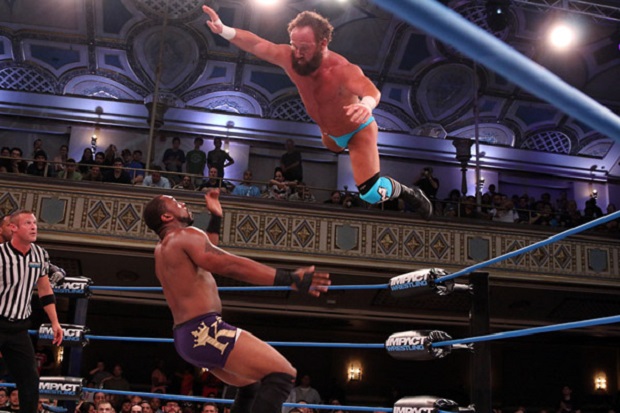 The Finish
Aside from the opening segment, it was a good show. It wasn't perfect, and the reboot didn't feel like much of a new beginning, but the New York atmosphere, similar to when TNA is in London, gave the show a shot of adrenaline.
Ring Results
Tag Team Match: ECIII & Rhino def. Bully Ray & Tommy Dreamer
X-Division Title Gauntlet: Austin Aries retained his X-Division Championship
Tag Team Match: Bobby Roode & Eric Young def. MVP & Kenny King via DQ
No DQ Match: Madison Rayne def. Brittany
World Heavyweight Title: Bobby Lashley [c] def. Jeffy Hardy
Like us on Facebook and follow us on Twitter for all news updates related to the world of geek. And Google+, if that's your thing!