News
TNA Impact Wrestling: No Surrender results
Here are the complete results from the 9/17/14 edition of TNA Impact Wrestling.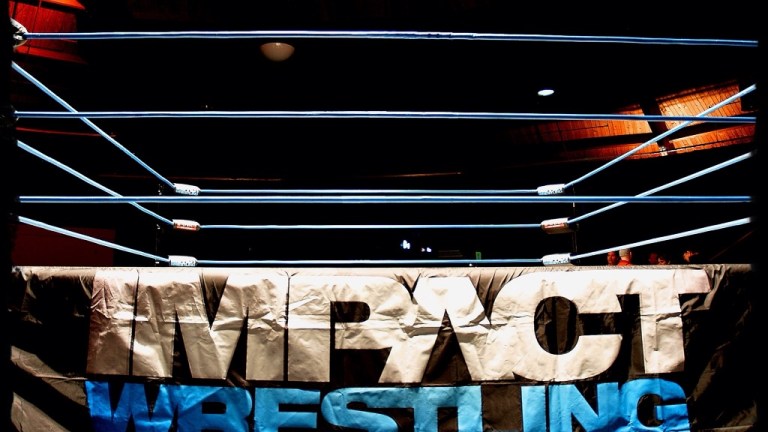 Wednesday's Impact Wrestling was a pay-per-view themed show titled "No Surrender," but like most TNA specials, it was nothing more than just your typical episode. Still, while some areas of the program lacked coordination, the main event title match was really good, and probably one of the best television matches TNA has produced all year.
Here's everything that happened on Impact:
Havok Wins Knockouts Battle Royal
The battle royal opened the show, as all competitors were in the ring once it hit the airwaves. Havok was treated as a monster in this match, which was great to see. She's being booked really strong as the next contender for Gail Kim's Knockouts Championship. So, it should come as no surprise that Havok won the match. She was dominant here, and it really makes Kim look like an underdog once they finally meet for the title.
MVP and Kenny King Beatdown Melendez
MVP and Kenny King were out next for  the promo segment that usually starts the show. They ran down Lashley's accomplishments, and said that Bobby Roode would have no chance in his title shot later in the show.
MVP then quickly transitioned to Chris Melendez, calling him out to the ring. MVP and King told Melendez to join them, and he could carry their bags. King then clumsily pointed out that Melendez isn't a star (King is?) and then he made a really sour boot camp joke.
All of a sudden, a referee appeared in the ring. These three guys were just talking, but apparently the script said to go to a match, even if there wasn't much explanation as to how it happened or why. MVP went to get out of the ring and kicked Melendez in the leg, allowing King to gain the upper hand, which set up …
Chris Melendez def. Kenny King
King was dominating Melendez but got cocky making military salutes and mocking his opponent. That allowed Melendez to score a quick pinfall victory.
King was infuriated, and continued to assault Melendez. He kept reiterating that he wasn't a "star" and even tried to pull off his prosthetic leg. That brought out Mr. Anderson from the back, who ran King back to the ramp. As Anderson checked on Melendez in the ring, King continued to say Melendez wasn't a "star."
The match made a lot of sense. It's good to see Melendez get the win, but realistically he's someone in a position – as a rookie – that should be beaten relatively easily by a more-seasoned King. The taunting was a big over the top, and unoriginal, but if they're moving into a MVP-King vs. Anderson-Melendez program, it should do some good things. King and MVP are good together as a tandem and Melendez, who is a great story but still green in the ring, can hide his flaws in a tag-team match.
Samoa Joe def. Homicide to retain the X-Division Championship
Short match that had no build whatsoever. The X-Division can be one of the most unique things in pro wrestling, but not if TNA continues to treat it the way that they do. After the match, James Storm and Sanada ran down and attacked Joe and Homicide.
Manik then appeared on the stage, hitting a frogsplash on Homicide and posing with Storm and Sanada. It's a pet-peeve of mine, but if they're going to bring Manik into the fold like that, I'm not a fan of doing it like this. The heels already had the upper hand in the situation, so Manik had no real reason to come out to the ring. It was a common way to turn wrestlers heel in the '90s. You'd see a heel group – the nWo for example – gang up someone in the ring. Here would come a babyface to apparently make the save, but instead he'd join on the attack. That line of thinking never made sense to me.
The Hogan turn in 1996 was perfect. It looked like he was coming to even the score in a brawl, but instead he really tipped the scales the way of Hall and Nash. That made sense. Hogan's real partners were in trouble, and he was coming to help. If Hall and Nash were beating the snot out of Macho Man, and Hogan just came in to hit the leg drop, it would have been far less effective.
The Wolves def. The Hardys & Team 3D in a ladder match to even the series 1-1-1
This is going to come across as redundant, but we get it. The match itself was good, but it lacked that special quality. In 1998 this match would have been outstanding, because no one had ever seen it done before. But in 2014, it's TNA trying to travel back to a moment in time that cannot be replicated.
These matches shorten careers. You don't think so? Ask Edge. Ask every ECW guy who can't walk downstairs when they wake up in the morning.
The biggest problem is that the audience – you and me – we've become so desensitized to the actual danger, that watching Jeff Hardy land on a ladder, from 10 feet in the air, on the back of his neck, does nothing but draw a "this is awesome" chant and some phony praise on Twitter.
Bram def. Gunner
A decent match, but from the tone of the announcers to the reaction in the crowd, it was clear that this was just some filler to allow the audience to catch their collective breaths between the two main events.
Bobby Lashley def. Bobby Roode to retain the TNA World Title
This was a really great main event. Roode was selling his back for a large majority as Lashley worked him over as a dominant heel champion. TNA was doing a nice job capitalizing on Lashley's Bellator win (who cares if it was against a tomato can). Roode started to get some offense in around the 10-minute mark, and they worked in some well-placed hope spots, particularly where Roode tried to hit the Roode bomb but Lashley grabbed the top rope to block it.
Lashley tried to hit a spear towards the finish, but Roode leapfrogged it. He sold an injury the landing though, and couldn't get Lashley up for the Roode Bomb. Lashley was then able to capitalize with with a spear for the win.
Overall, they told a great story, and it makes perfect booking sense for a rematch. Roode was one bad landing away from the TNA Title, is the story they told, and gave Lashley everything he could possibly handle.
Like us on Facebook and follow us on Twitter for all news updates related to the world of geek. And Google+, if that's your thing!