News
TNA Impact Wrestling Needs to Lose the Reality TV Angle
TNA kept its momentum on Destination America with another solid show Friday, but needs to start keeping the action in the ring …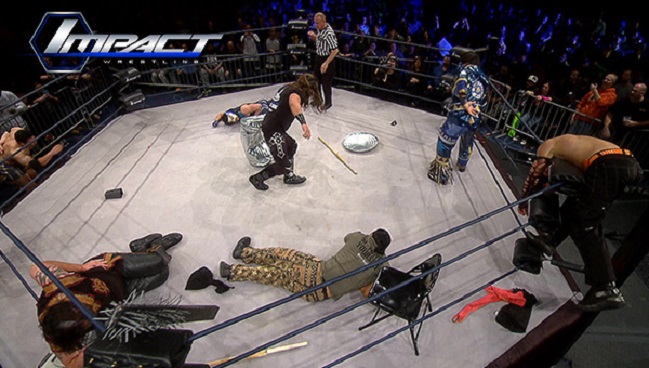 TNA's Impact Wrestling has had some refreshing changes since it returned to television on Destination America earlier this month. The lighting in the building in the Manhattan Center, which some criticized for making the show seem low budget, put the spotlight on the ring, which for a wrestling show is where it belongs.
Impact fell into a weird trap this past Friday, however. Magnus and Bram brawled in a bar, somewhere not in the building. Jeff Hardy and Abyss brawled backstage, prior to beginning their Monster's Ball match in the actual arena.
It's OK to have something like this once in a while, but TNA sometimes takes it too far. The backstage shenanigans and segments have purpose. TNA did a good job explaining why the cameras are in the backstage area. From the very beginning, the narrative has been that there are cameras everywhere, all the time.
But there are inherent risks when you do that. First, the show sometimes takes on the life of a reality show, which might have worked 10 years ago but the reality television phase is starting to die off. They're still part of American television, but not nearly as prevalent as they were in the mid-2000s. Wrestling's storylines need to be based in reality, but the actual show can't feel like reality television. There's a big difference there.
When MVP's Beatdown Club are shown backstage discussing strategy on television, and they execute their plan in the ring later in the show without the babyface they're attacking having the slightly clue, it takes the audience out of this world where they can suspend their disbelief.
If the television audience knew the heels were going to execute a plan, why does no one else? It was on television. Why aren't authority figures actively trying to prevent those things? It's not just a TNA problem, WWE does it as well. It's a problem across wrestling. The idea that the wrestling product needs to be real is different than making it reality TV.
New Venues Upcoming
TNA is taping more episodes of Impact this week in the U.K., and they also announced a huge round of tapings in Orlando, Florida at Universal Studios. That should make the product look different than the Manhattan Center. The U.K. crowds will be larger, and TNA might want to light up the crowd a bit more than they did in New York, if for no other reason than to show they are a big deal.
In Orlando, TNA will have the luxury of using top-level production equipment, including lighting. Taking the show on the road is nice, but if it was better for TNA, budgetarily, to tape at Universal Studios, in a controlled environment, it could be what's best for the product. It would also make special tapings in New York, or overseas, seem like more of a big deal.
Quick Strikes
1) Kurt Angle assembled a team to take on the BDC next week, when Impact is a special Lockdown episode. Angle and Gunner helped save Bobby Lashley from a beatdown following his win in a Four-Way Match to end the night, but Lashley refused to join Angle's team for next week's show.
2) Jeff Hardy seems to be lost in the shuffle. He's had points in his career where he's been recluse, and substances were certainly involved, but Hardy has shown to be a very reliable performer the past two years. Around 2010, Hardy went through a movement similar to Daniel Bryan in WWE, where he was the smaller underdog that the audience pushed to the top of the card. Albeit some of this has been Hardy's own fault, I don't feel like TNA ever capitalized on his value.
Match Results
1) Taryn Terrell def. Gail Kim & Madison Rayne in a Triple Threat
2) Jeffy Hardy def. Abyss in a Monster's Ball Match
3) Mandrews & Rockstar Spud def. The Bro Mans
4) Bobby Lashley def. Austin Aries, Bobby Roode & Eric Young in a Four-Way
The Finish
This felt like a go-home show for a pay-per-view next week, only the pay-per-view is going to be a free television show on Impact. It promoted Lockdown well, and that seemed to be the general purpose. It was a maintenance show, getting the stage set for next week. It's OK to let the product breathe like that once in a while.