News
TNA Impact Wrestling Makes Their World Title Scene Matter
TNA brought Impact Wrestling overseas to the United Kingdom this week, with a renewed focus on the World Heavyweight Title …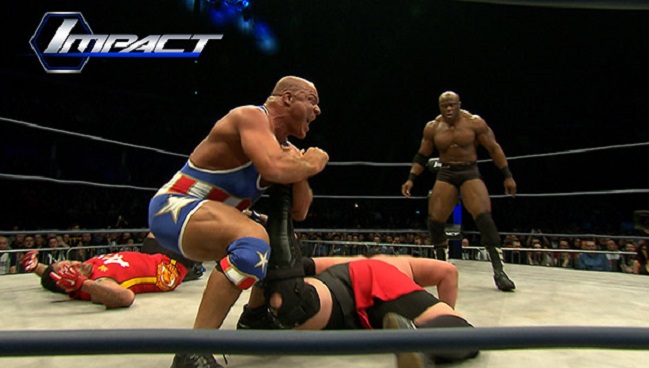 Good pro wrestling programs have always been built around the notion that the World Title is the most important thing in the company. Mainstream wrestling goes away from that philosophy at times – just look at CM Punk's one-year run as world champion in WWE.
TNA has had its focus solely on the TNA World Title for some time. It's even a sharper focus now. Friday's episode of Impact featured Kurt Angle and Bobby Roode both making legitimate claims at the World Title. MVP and his Beatdown Clan also wants the belt. Austin Aries has tried to get back to a World Title contender. There is an entire core of the roster that is all focused on winning the TNA World Title.
Some – like James Storm – are sidetracked with personal issues, and that's alright as well. It's a change of pace. But the focus of the show should be the World Title.
Down the dial on Raw, WWE is doing a better job getting back to that practice. As long as the Roman Reigns, Daniel Bryan, and Brock Lesnar story stays as the headliner, it's a step in the right direction. If John Cena's feud with Rusev or Triple H's befuddling issue with Sting suddenly becomes the focal point, it's a step back.
For now, TNA is doing it right.
TNA seems to be setting Angle and Lashley on a collision course for the title. That may or may not be a smart move. Kurt Angle is still the most recognizable name in TNA, and it's been four years since he held the TNA World Heavyweight Title. In fact, he hasn't even contended for the belt since 2012.
He's a fresh face to the World Title, which seems like a strange comment to make, but it's true.
Quick Strikes
1) Eric Young as a heel has been great. I always had a hard time taking him seriously as a babyface, and wasn't a fan at all of his World Title run. He was too much of a comedy character to ever really be taken seriously as a babyface. His heel turn has given his character new life. It's also easier to take Young seriously as a wrestler when his attitude is completely different than it was just one year ago. As World Champion, Young was still the goofy babyface he was when he was trying to convince Abyss that he was Abyss. This is a new Eric Young, a more serious Eric Young, and it's easier to take him seriously as a result.
2) Personal feuds are vital in pro wrestling, and TNA is doing two of them really well. The angle between Al Snow and Grado was was getting a good reaction live, and it's a simple story to be told. It's easy to feel sympathy for Grado. Snow pushing Grado's mother at ringside reminded me of Chris Jericho punching Shawn Michaels' wife in 2008. The other feud that has a personal foundation is Matt Hardy and James Storm, and again it's very well constructed. TNA isn't afraid to acknowledge wrestler pasts, even if its from WWE, which is smart.
3) Impact's move to the United Kingdom for its television these next few weeks is a positive one. The presentation is better than the Manhattan Center, which was great when it started but after being stripped down, and with the audience becoming a bit more jaded, made the product feel more low-budget than it should. The U.K. crowds have always been great for TNA, and with the television product only coming their way once per year, it's not over-exposed to the live audience.
Match Results
1) Bobby Roode def. Austin Aries via submission
2) Bram def. Crazy Steve via pinfall
3) ECIII & Tyrus def. Rockstar Spud, Mandrews and Jeremy Borash
4) Awesome Kong def. Madison Rayne via pinfall
5) MVP & Samoa Joe def. Kurt Angle & Bobby Lashley
The Finish
Another solid showing from TNA. The week-to-week progression of the program has been strong and it's becoming a really effective episodic television program.
Mike McMahon covers pro wrestling for Den of Geek. You can get a glimpse inside his warped wrestling mind on Twitter.