News
TNA Impact Wrestling is Better Than Ratings Indicate
TNA ran its first "pay-per-view" edition of Impact on Destination America with a solid main event …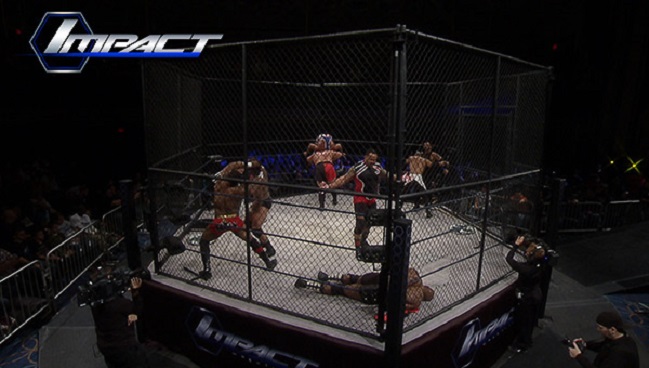 The raw numbers are discouraging, but the news isn't all that bleak for TNA since it moved Impact Wrestling to Destination America earlier this year. Impact has been averaging about 600,000 viewers, if you include the west coast feed that runs late on Friday night. That's a significant drops from the 1 million viewers they were attracting on Spike TV, but theoretically still means they retained a large chunk, if not all, of their existing audience.
TNA's viewership decline isn't due to a dwindling product. The shows on Destination America have been quite good, and the Lockdown episode of Impact on Friday was another solid show. Instead, we must remember that Destination America's clearance is far less than Spike, reaching only about 60 percent of American households as compared to Spike, which is available in about 95 percent of households.
The raw data shows that TNA has lost 40 percent of its viewers since the move. That's a startling number when looked at alone and without context. But when you consider that, theoretically, about 35 percent of TNA's audience could no longer watch the show even if they wanted to, it means that TNA has only lost about five percent of its audience from Spike, which for a show that not only moved networks, but moved nights, that's an incredibly impressive retention rate.
Impact is the top-rated show on Destination America. In fact, it's blowing away most other shows on the network in first-run programming. When you consider that Destination America made the head-scratching decision to take Impact off Wednesday nights – usually a good television night – and moved it to Friday – historically a poor television night – the fact that TNA hasn't really declined in viewership is even more impressive.
That's not going to help their advertising rates, but it should tell TNA that it has a core audience. The 400,000 viewer decline isn't good news, and I hope Destination America works with TNA to find ways to get more eyeballs on the show, even if they go to an online outlet in re-run for fans who don't have access to the channel.
Quick Strikes
1) I'm genuinely surprised that TNA went to Kong-Havok right away. That seems like an angle that might be able to draw some ratings for TNA down the road. TNA isn't as much focused on pay-per-view, so saving the match doesn't make any sense. That said, if they continued to build Havok to the point where she's an unbeatable monster, then having Kong-Havok could have been an Impact Wrestling main event.
2) Bobby Lashley joined Team Angle for the main event, which was a very entertaining Lethal Lockdown Match. In fact, all the matches on this show were really good, I thought, even the filler match with Tyrus winning a handicap match.
3) There were reports that TNA would adopt a no-blood policy once it moved to Destination America, but if these first few weeks are any indication, those reports were exaggerated. There has been blood on at least three of these first three of these first five shows I can remember.
4) It's not perfect, but TNA has done a good job trying to distinguish itself as an alternative product to WWE since its re-launch. It's much better in that area than it was during the last few episodes on Spike, where it felt more like WWE-lite than a true alternative product. It's still wrestling, so there's only so much you can do, but the presentation has been stripped down (probably for budgetary reasons) but that's giving it a unique feel.
Match Results
1) James Storm & Abyss [c] def the Hardy's to retain the TNA Tag Team Titles
2) Awesome Kong def. Havok
3) Bobby Roode def. Eric Young
4) Tyrus def. Rockstar Spud and Mandrews
5) Team Angle def. Team BDC in a Lethal Lockdown Match
The Finish
TNA has been running these "pay-per-view specials" for almost a year, since it scaled back its first-run pay-per-view programming. They've been a nice way to give the show a something to build to. I liked the idea of TNA scaling back its PPV offerings, but was worried the product would seem directionless without a crescendo point. That hasn't been the case at all, and this was another solid offering from TNA.