News
TNA Enters Knockout Stage of World Title Series
TNA would be smart to learn some lessons from the World Title Series presentation ...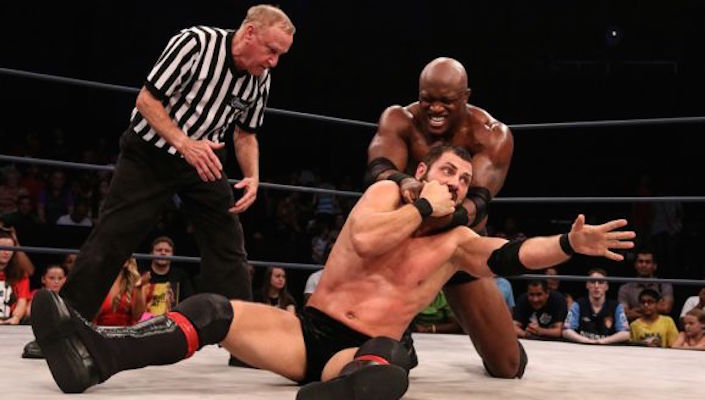 TNA wrapped up the round-robin portion of its World Title Series on Wednesday, with the tournament now advancing to the knockout stage next week on Impact Wrestling.
TNA has done the best job it can with the World Title Series, considering these matches were taped months ago. First, you would never really be able to tell that they were. All of the commentary was kept current, obviously. Considering they had just hours of matches, without any storyline, this came together quite well.
There are some concepts here that, moving forward, TNA should continue to use. The roundtables were great. Even later in the series, when TNA went away from the roundtables and started airing some backstage and pre-taped interviews, it was working. The show had a much better flow to it than during the GFW invasion angle. The more wrestling, the better, and the last several weeks have been filled with nothing but wrestling.
Even at the end of tonight's show, TNA simply had the wrestlers send in 10-15 second clips talking about their matches next week. You could tell some guys were doing the videos on their phones or on an iPad, but it worked. It's not rocket science.
As for who is advancing, most of the groups played out the way it should have. I would have liked to see Mr. Anderson go through, but that would have had to mean he was in a different group. ECIII and Lashley were the two that should have advanced out of Group Champions.
The Aidan O'Shea character has a future in TNA, and given how they've misused Kenny King over the last year, maybe you could make the argument that he could have advanced in Group Wildcard.
Finally, this tournament really helped elevate Robbie E. His push throughout this tournament didn't feel forced whatsoever. It felt like a guy who was pushed up the card not in some silly angle, but by winning a big match and also hanging in there against the likes of Matt Hardy and Davey Richards in very competitive matches. He went 1-2 in his three group matches, but it definitely feels as though he was advanced considerably in this tournament.
Match Results
1. D.J. Z and Tigre Uno advance in a three-way tiebreaker
2. Drew Galloway beat Rockstar Spud
3. Bram beat Grado
4. Jessie Godderz beat Micah
5. Davey Richards beat Robbie E.
6. Kenny King beat Crazzy Steve
7. Bobby Lashley beat Austin Aries
Quick Strikes
1. Pretty good opening match in the X Division. It wasn't too long, and, as you would expect, offered some clear athleticism. The right two also went through. The only problem was that it was almost too fast, and at times felt hard to follow with such a high-paced speed.
2. Very good match between Galloway and Spud, where the announcers did a nice job highlighting that Spud needed to take chances in order to win. Very interesting spot where Galloway hesitated powerbombing Spud on the ring apron. Could just be a throwaway thing to show he's a babyface, but it felt like there might be something more to that down the road.
3. Kurt Angle was shown in interviews in the U.K., but the message seemed a bit cloudy. It was tough to tell if Angle meant this was just his final U.K. tour, or if he was ending his career altogether after the U.K. tour this January.
4. Another very good match for Robbie E. in this tournament. He's not moving on, but he showed a lot during this tournament. Once TNA makes the move to Pop TV, with a much thinner roster, Robbie E. could be a guy that TNA pushes as an upper midcarder and he showed enough in this tournament that the fans should take him seriously in that role. He could absolutely be a guy TNA pushes in that tier just below the World Title.
5. Excellent main-event match between Lashley and Aries. If TNA is smart, now that they've secured a new television deal, if Aries is not locked up by Ring of Honor, he should be a guy on TNA's radar to re-sign. He's so good and can carry absolutely anyone on the TNA roster to a very good match at the very least, and in most cases, an excellent match. Lashley looked good here as well. There were some innovative counters and reversals in this match. Aries countering the spear into the Last Chancery was a bit clunky — it looked like Lashley just fell — but we haven't seen that before. Aries using knees in an attempt to get out from the vertical suplex looked great.