News
TNA Doesn't Care About Pay-Per-View and That's a Good Thing
TNA sending a clear message that it's a TV company with its Impact Wrestling approach on Destination America.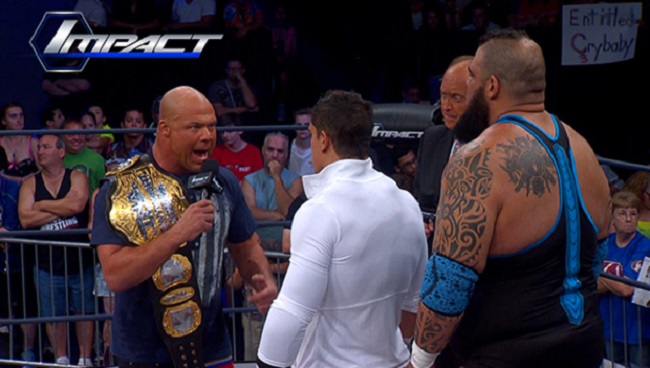 For TNA, pay-per-views don't matter. Period. End of story.
Honestly, that's the way it should be for TNA, and it's clear in the company's booking that is their mindset.
The Slammiversary pay-per-view on June 28 seems almost like an afterthought, and I wonder if it's only happening for TNA to fill its previously-signed pay-per-view deal with the distribution companies. They're holding the World Title match between EC3 and Kurt Angle to an episode of Impact on July 1, and right now that's the biggest match TNA has to push at the moment.
This is smart. TNA's making its money on the television deal with Destination America, and that needs to be its top priority. Building that show, and building that show's ratings needs to be at the top of TNA's mind. Especially if the show is marked for cancellation, per reports, and TNA has to sell the program again this fall.
TNA's PPV revenue was down even when they were running 12 live pay-per-views per year. Overall, the show has taken on a more episodic approach since the focus has been placed on Impact, and they've been able to give some feuds a longer build.
Angle-EC3 needs a shot in the arm, though. It's the biggest "new" match TNA probably has at this point. TNA has one more week to really make this match feel like it's a must-see attraction, and that includes any angle they run at Slammiversary.
Match Results
1. Eddie Edwards def. Bobby Roode: With the win, Edwards now gets to pick the stipulation for the fourth match in the Wolves series with the Dirty Heels for the TNA World Tag Titles, and Edwards picked Full Metal Mayhem. That type of match would normally be reserved for the final, so I'm interested to see where they go with the fourth match. The only thing I don't typically like with "series" is that they're almost guaranteed to go to the final match, because in pro wrestling you can create your own drama. I wonder if, to be different, TNA ends this series in four matches. I'd be all for it. The more real the better, and we see series end before Game 7 in pro sports all the time.
2. Bram def. Joseph Park: Park becomes the latest "former TNA wrestler" that Bram beats up. I like this gimmick. It's reminding me a lot of Heath Slater's deal near Raw 1000 a few years ago, only Bram is winning. He's not only winning, actually, he's annihilating these former stars, at least for now. I'm not sure how many "former wrestlers" TNA has that would be willing to take a payday to come in and get beat by Bram, though, so it might be short-lived.
3. Awesome Kong & Brooke def. Marti & Jade: It's nothing earth-shattering, but I wish WWE would learn from TNA in the way it handles its ladies. A straightforward match but they had good time for modern-era TV. They went a little more than six minutes, which is less than WWE usually gives its ladies on a three-hour show, and they commentators played up a good story within the match, trying to see if Kong and Brooke could work together.
4. Jessie Godderz def. DJ Z: This setup is interesting. I'm OK with DJ Z still using this character while the BroMans feud is ongoing, but I'd really prefer to see him go back to the Zema Ion gimmick, which I thought fit him more and he also seemed more comfortable with. He's a heck of a performer and someone that TNA should really build its X Division around, if they can build him back up as a legitimate threat in that division.
5. EC3 def. Bobby Lashley: I liked this match. They needed to give EC3 the win, because it would be catastrophic to have him lose clean to Lashley while supposedly challenging for the World Title. I wasn't a huge fan of the finish, but I thought there wasn't much they could have done here. Having Lashley lose clean two nights before he's fighting for Bellator wouldn't be great, even though TNA no longer has a commitment to Bellator and Spike TV, and they still should want to keep Lashley strong for future feuds and matches.
The one criticism is probably they should have gone with a different match, giving EC3 someone he can beat cleanly. Overall, the booking of Angle-EC3 has been lackluster at best, and I'm not sure anyone is really clamoring to see that match.
The Finish
Solid show for TNA. There were some elements missing, such as Rockstar Spud, but overall TNA is keeping on its track of making the television show the top priority.