News
TNA Debuts Cody Rhodes, Builds Nicely Towards Bound for Glory
Cody Rhodes is officially part of TNA, and a lot more news heading into Bound for Glory in two weeks ...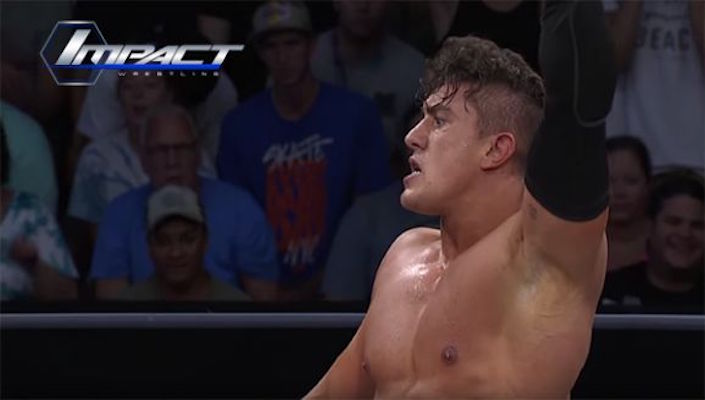 TNA main-evented Impact with a tag-team match, featuring ECIII and Moose against Lashley and Mike Bennett. In the end, the show drew the most first-run viewers since Impact moved to Pop TV earlier this year.
It was an interesting decision to have ECIII get the heat in this match and then have Moose come in with the hot tag, although in the end, ECIII did end up getting the actual victory when he scored a pin on Bennett with a sunet flip.
There wasn't as much Billy Corgan or authority figures on this show. In fact, Corgan didn't show up until the final segment making the announcement for next week's main event, where Team ECIII and Team Lashley will fight in lethal lockdown, with the winner choosing the Bound for Glory stipulation.
TNA doesn't have many big pay-per-views to build to. There's two per year. In June, they did a nice job building to a crescendo at Slammiversary and the build here has been similar.
It feels as though many of these big feuds are coming to a boiling point. Aron Rex-Drew Galloway could just be starting, but Lashley-ECIII and Hardys-Decay definitely feels like there is some finality there, with everyone moving on to new things after Bound for Glory.
Moose is clearly being positioned as the next challenger for the World Title. Things could change, but that would lead me to believe they're inclined to keep the World Title on Lashley at Bound for Glory, maybe with someone costing ECIII the title and allowing him to spin off into a grudge feud, which takes him out of the title picture.
Cody Rhodes, who made his debut in a video, or Cody, as he's being called in TNA, has a unique contract that will allow him to also make other televised appearances for ROH, among others. He's going to be someone that TNA should use moving forward, because he has a lot of steam right now, but they also probably need to be careful.
I wouldn't be surprised to see TNA book Cody's story arcs to have a beginning and ending with each set of television tapings, therefore guaranteeing he doesn't leave in the middle of a storyline to sign an exclusive deal somewhere else. It also protects TNA from any tapings Cody may miss due to previous commitments or just other commitments to other promotions.
Still, Cody could be a real needle-mover for TNA. He's not going to bring the show from 400,000 viewers to one million, but he gets them some attention. He'll get them even more attention if he's booked correctly and doesn't just blend in with the rest of the roster.
TNA has often been criticized as being a "lite" version of WWE, and if you look at their main storylines right now, they're made up almost exclusively of former WWE talent — Moose and Mike Bennett being the real exceptions.
Despite that, guys like Drew Galloway and ECIII have a TNA homegrown feel to them. Even Aron Rex, in his limited time on the show. Rex is a good example of how this is working, with his character being vastly different than what we saw in WWE. He's not a character at all, really. He's himself, with a different name.
That needs to be the route TNA takes with Cody. It's going to feel new no matter what they do, as long as if what they do isn't Stardust. Cody hasn't been Cody in a wrestling ring for a very long time.
The vignette introducing him was well done and gave us some insight into his character. He was wearing a designer suit and jumping in a fancy sports car. In some ways, it's what Ric Flair's character would be doing if he were in his 30's in 2016. That could be the road they take.
1. Drew Galloway beat Eddie Edwards via split decision to earn a spot in the Grand Championship final
This was the first match to go to a decision in the tournament. Last week, I sort of criticized not using more decisions when that's part of the gimmick of the title, but after some more reflection, I'll back off on that. Most TV matches in TNA are under nine minutes, so why would matches, logically, start going more than nine minutes just for the sake of a decision? I wasn't thinking. Kudos to TNA for sticking to some continuity, and saving that first decision win.
2. Aron Rex beat Eli Drake via pin in the third round to earn a spot in the Grand Championship final
For my taste, Drake got too much offense here, especially in the second round. I'd rather see Rex get to the final relatively unscathed before meeting Galloway. He shouldn't really sella t all.
3. D.J. Z beat Trevor Lee to retain the X Title
After the match, D.J. Z agreed to fight Eddie Edwards for the X Title next week.
Really good match between Lee and D.J. Z. I'm a fan of Lee, especially how his style isn't just all flips and somersaults. He brings a different dynamic to the very athletic X Division. The announce team did a nice job getting over his strength, too. Edwards vs. D.J. Z is an intriguing match next week. It seems like a match that might be better saved for Bound for Glory.
4. ECIII & Moose beat Mike Bennett & Lashley
Solid main event. I get that he's injured, but it was an interesting decision to see TNA put the heat on ECIII during the match and have Moose come in for the save. It seems to be setting the stones Moose perhaps challenging for the TNA World Title after Bound for Glory.