News
TNA Continues Building Its New Image on Pop
One Hardy returns, another gets a title shot on the most recent Impact Wrestling ...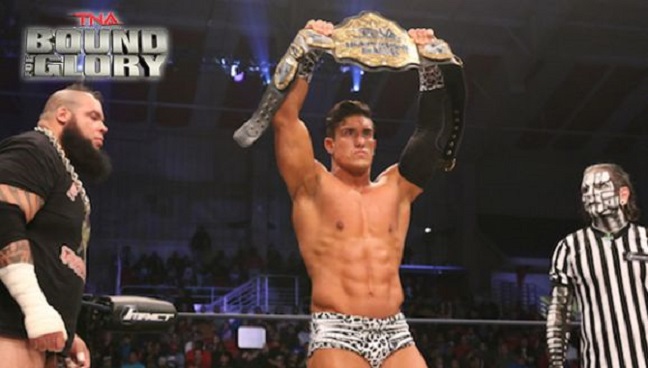 There were elements of this show that were excellent, including basically a squash match to start things off, allowing Jeff Hardy to showcase his stuff in his return without really being in trouble.
Connecting the shows is also important. It's one element that TNA does much better than WWE. Last week TNA advertised Angle-Galloway before going off the air, and this week TNA has set up ECIII-Hardy in another re-match.
It looked like last week might have been the last meeting between Hardy and ECIII, but we'll get one more next week. The "win or retire" match usually is a downer, because the retirement stipulation hardly ever sticks, but this was more to let the crowd know that this is supposed to be the final time ECIII and Hardy meet. Considering the feud has been ongoing since the summer, it's fine here. When it's done too early is when it's the worst.
TNA's audience also grew this week, by about 20,000, as it's now performing even slightly better than it was on Destination America. That's good news for TNA, but it will be a slow build, for sure.
One criticism is that TNA fell right back into the trap of long, drawn out talking segments. The Beer Money bash, the opening promo, the Hardy-ECIII promo near the end of the show and the Anderson interview of Matt Hardy. That's four length promo segments in a two-hour show. TNA seemed to find a groove with the wrestling-heavy World Title Series episode, and I hoped it would spark a change with the way they presented the product, but it hasn't yet.
Instead, TNA has gone back to, at times, feeling like a lite version of WWE.
That said, at least they are building around the right people. They kept Awesome Kong strong on this episode after her turn last week. Jeff Hardy was given a squash match, which essentially opened the show, to re-establish himself and the Wolves, Beer Money, Angle and Galloway were all prominently featured.
TNA is doing a good job of keeping certain guys feel special, too. Last week we didn't see the Wolves, but we did this week. This week, we didn't see Bobby Lashley, for example. What's the saying? "Time away makes the heart grow fonder?"
It makes sense. Back in the 80s and 90s, you never saw the World Champion wrestle on TV, for example. Until Monday Night Raw really hit its stride in the mid-90s, seeing Bret Hart, Diesel, Hulk Hogan or anyone else who held the belt wrestle on free television was a rarity. It helped keep them special. TNA seems willing to do that with some talent.
Match Results
1. Jeff Hardy beat Shynron
2. Jade & Awesome Kong beat The Beautiful People
3. Eric Young beat Bobby Roode to win the KOTM Title
4. Tigre Uno & The Wolves beat Eli Drake, Jessie Godderz & D.J. Z
5. Kurt Angle beat Drew Galloway
Quick Strikes
1. Good match and also good to see the heels go over in the knockouts tag match. They just put Kong with the Dollhouse last week, and having them lose here, where they outnumber the Beautiful People, would have been a big mistake. The only thing they didn't explain is why Gail Kim wasn't there to help out the Beautiful People, after she was last week and she has issues with Kong.
2. Seeing the Beer Money reunion was fun. Storm and Roode definitely seem natural with each other. The best line of the segment was when E.Y. said, "I don't even like Bram." E.Y. and Bram could have something as a crazy, unpredictable, savage tag team. They are similar.
3. Did they make the KOTM title match a No DQ match and I missed it? Good match, as most of the matches between Roode and Young have been. TNA still needs to give the KOTM Title some more meaning. Mathews did a good job of trying to explain it last week, but what does it represent?
4. What an awkward segment when Anderson interviewed Matt Hardy. Anderson is entertaining on the mic, but this interview with Hardy came across as clunky and uncomfortable. They're beginning to tease Reby, Hardy's wife, as a heel. Last week she also gave an evil look at the top of the ramp following the title match.
5. There was no follow-up with D.J. Z, who cost his team the match by turning on Godderz. D.J. Z elevated himself in the World Title Series, as did Robbie E, I thought. It was good follow-up with D.J. Z here, having him be a central focus of the match, but I wish there was some follow-up after the angle itself, where D.J. Z kicked Godderz to cost him the match. He wasn't even shown on-camera, only The Wolves with Tigre Uno celebrating.
6. Very good main event between Angle and Galloway. It would be nice if, at some point, matches didn't need to rely on multiple finishers being kicked out of, though.