News
TNA Began Its Bound For Glory Playoff Series on Impact Wrestling
Jeff Hardy, Bram, Eli Drake and James Storm were eliminated on the first night of the playoff series ...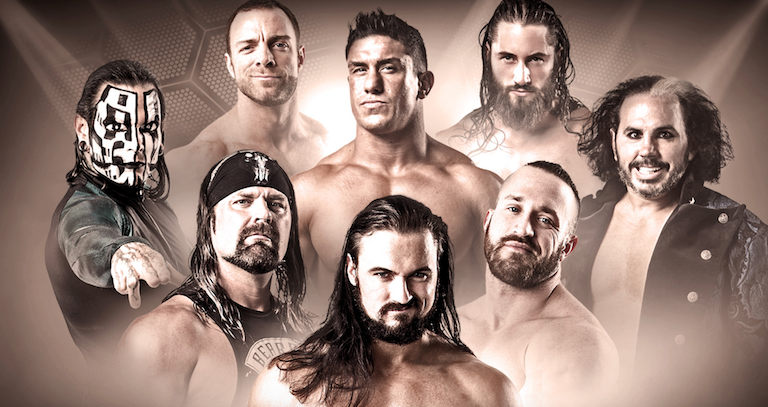 TNA's Impact Wrestling returning "home" to Thursday nights with its new time on PopTV. After the move of SmackDown to Tuesday nights from WWE, TNA made the smart business decision to move its program, and it makes sense to move it back to the night the company owned on Spike TV for the best years it had as far as television viewership.
This episode had less talking and more wrestling, which seems to vary week-to-week with TNA. The formula is somewhat predictable at this point, with a wrestling match followed by a promo segment and so forth, but the matches on this episode were really strong and all had consequences to them, either in regards to the Bound For Glory Playoffs or the title vs. title match.
It was a little interesting to see two feuds developing. You have two heels between Lashley and Moose and then two babyfaces between ECIII and Galloway.
It's OK to book matches like this once in a while. If TNA is going for a feel that's more like pro sport, sometimes you'll have two guys fight that you want to see both lose. That happens in MMA, and that certainly happens in team sports.
It's not wise to book matches like that all the time, but a heel-heel Lashley vs. Moose match is intriguing. Bringing Moose in purely as Bennett's muscle seems like a waste.
TNA has planted seeds for a Galloway-ECIII final in the BFG Playoff, which means they'll need to find ways to give Matt Hardy and Bennett losses next week that don't hurt them too much. My fear is that both guys lose through interference, with Lashley costing Bennett to further that feud with Moose and then Jeff Hardy probably costing Matt.
Jeff interfering in Matt's match makes sense but at least one of those semifinal matches needs to have a clean finish.
Then again, it could be that both ECIII and Galloway lose, which sets up the story for them to continue their feud outside of the BFG Playoffs. Or one of them wins the BFG Playoffs and then the World Title, and they feud over the belt.
There are a lot of possibilities, and it's going to be interesting to see where TNA goes because almost all of these guys — the four remaining in the playoffs and Lashley — are talent TNA should be focusing and building around.
1. Mike Bennett beat Jeff Hardy in a BFG Playoff Match
There's a good story here that's transitioning from the Hardy's backyard to the arena and inside the ring. Prior to the match, Matt showed a video of Jeff injuring himself trying a jump on a dirt bike after Matt taunted him into trying it. Matt also boasted that he owned the Jeff Hardy name, and TNA needs to call him Brother Nero, or he'll charge them $5,000 for every use that wasn't granted with permission. Jeff really sold his injuries from the dirt bike crash well and it was the story of the match. Jeff was never competitive because of those injuries. I can't tell if Matt Hardy wanting to charge TNA for using Jeff's name, as it's his intellectual property, is a jab at WWE or not, but it could be.
2. Matt Hardy beat James Storm in a BFG Playoff Match
This was one of Storm's better showings on Impact since Bobby Roode jumped to NXT. Since Beer Money dissolved, Storm has been lost in the shuffle but he looked great here and was about to get a legitimate win over a strong character in Hardy before Reby cost him the match. Given his role as a true TNA original, there is more that TNA should be doing with Storm in a singles role. He's a fun-loving babyface, but within the match itself, he showed a good serious side.
3. Ethan Carter III beat Eli Drake in a BFG Playoff Match
The match was slow to develop but showcased Drake really well. ECIII has been built as a true main eventer for TNA and Drake went toe-to-toe with him in this match. It was interesting that they didn't have Drake lose to ECIII's finisher.
4. Drew Galloway beat Bram in a BFG Playoff Match
No appearance from Rosemary, which is a bit odd considering the pre-match segment in the backstage area where she asked Bram if he wanted her help. It could lead to a storyline in future episodes, however. The futureshock DDT from Galloway off the top rope was really impressive. It will be interesting to see how they get through the semifinal matches next week if they are actually going to go with Galloway and ECIII in the finals. It would require giving two strong characters — Mike Bennett and Matt Hardy — losses.
5. TNA World Hvt. Champion Lashley (c) beat TNA X Division Champion Eddie Edwards (c) to win the X Division Title and retain the TNA World Hvt. Title
Title and win the TNA X Division Title. Great match and Edwards looks like a bonafide main-eventer coming out of this, even in the loss. He was close to beating Lashley twice in this match and came back from an incredible beating early on while Lashley was getting heat. The hot start to the match really hammered home the point that Edwards was willing to sacrifice anything to win the World Title. The superplex off the top of the cage was crazy.
After the match, Lashley looks exhausted as Edwards doesn't move on the mat. Lashley grabs both titles and raises them in the middle of the ring.
After the match, Lashley walks over to Edwards and tells the referee to back off. He lifts up Edwards and gets him to his feet. He shoves Edwards into the corner and tries to hit another spear but ECIII runs to the ring and cuts him off.
ECIII and Lashley brawl in the corner. Matt Hardy hits the ring next and jumps ECIII from behind. Then comes Drew Galloway, Mike Benett and Moose and it's a full-fledged slobberknocker in the middle of the ring as the show goes off the air.