News
TJ Miller Arrested for Fake Bomb Threat
Silicon Valley's TJ Miller allegedly drunk dialed a bomb threat against a woman on a train.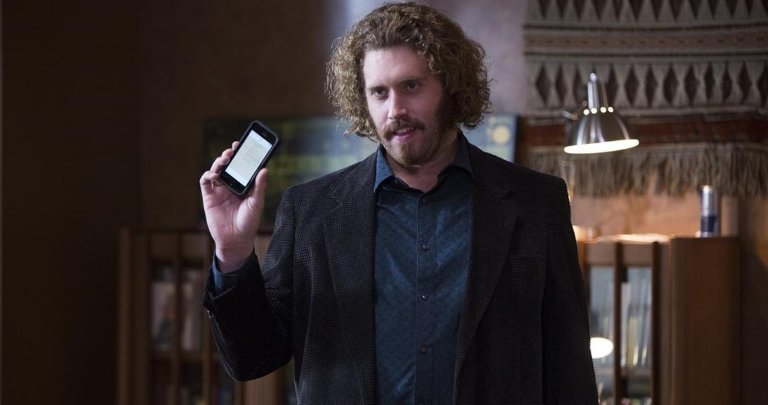 Actor T.J. Miller, best known for his work on HBO's Silicon Valley, was arrested on federal charges intentionally conveying false information about an explosive device on a train to law enforcement, according to the Justice Department's website.
Miller, who also appeared in the films Ready Player One, Cloverfield, She's Out of My League, Deadpool, and Office Christmas Party, was arrested Monday night at LaGuardia Airport in Queens, N.Y. He was released on $100,000 bail after his appearance Tuesday in U.S. District Court in New Haven. If convicted, the charge carries a maximum term of five years in prison.
On March 18, the DOJ alleges Miller called a 911 dispatcher in New Jersey and reported a female passenger with brown hair and a scarf on Amtrak Train 2256 traveling from Washington, D.C., toward Penn Station in New York City, "has a bomb in her bag." Amtrak investigators stopped the train at Green's Farms Station in Westport, Conn.
The train was cleared of passengers while a bomb squad boarded and searched the train. They found no evidence of any explosive device or materials. According to the reports, it was the wrong train. Amtrak police stopped a second train, Amtrak 2258, which officers said was the train Miller actually was riding. The train was cleared and searched but no bomb or explosive materials were found.
According to the Justice Department, Miller had been removed from the car in New York because he was allegedly intoxicated. A train attendant also told investigators the actor engaged in hostile exchanges with a woman sitting in a different row from him in the first class car.
The officers identified and interviewed the passenger and determined she was not carrying any explosives. They also determined her seat was not directly in Miller's sight path from his seat. The DOJ complaint alleges Miller was "motivated by a grudge against the subject female." Miller "continued to convey false information to investigators while the public safety response was ongoing,"  after an officer called Miller by phone in New York. The actor insisted the woman's bag needed to be checked. The investigator alleged Miller was slurring and claimed he only had one glass of wine, according to the DOJ.
Amtrak police interviewed the first class attendant, who said Miller appeared to be drunk when he boarded the train in Washington and had multiple drinks on the train, according to the DOJ allegations.
Miller appeared before a judge in New Haven on Tuesday and was released on a $100,000 bond.