News
Titans TV Show Reveals Jason Todd Robin
Dick Grayson won't be the only Robin on the DC Universe Titans TV series! Get ready to meet Jason Todd!
While Titans, the first original series landing on the DC Universe streaming service, is the first live action incarnation of the Teen Titans franchise, it also has deep ties to Batman mythology. Dick Grayson (Brenton Thwaites) is the central figure of the series, assembling a team of young heroes as he tries to find his way in the world after having some kind of falling out with his mentor, Batman. The first trailer for the series reveals a Robin who fights hard, pulls no punches, and has a less than charitable view of his former partner.
And as comics fans know, when one Robin leaves the Batcave, another is usually waiting to take his place. The first replacement Robin was Jason Todd, a troubled young orphan who Batman first encountered trying to vandalize the Batmobile. As he did with Dick Grayson, Bruce Wayne took Jason in as his ward and trained him in the ways of crimefighting. The hope was that he could help channel the young man's anger and antisocial tendencies into something a little more productive. It didn't exactly work out.
But nevertheless, Jason did have his time as Robin, and we'll meet the first ever live action version of Jason Todd on Titans, where he'll be played by Curran Walters.
"He's completely seemingly unaffected by darkness," Titans showrunner Greg Walker told IGN. "He kind of embraces it or walks right through it. He's a breath of fresh air and that's what I love about him, he's got a punk rock, no-holds-barred attitude that's massively unburdened. There's a lot of energy that comes with that."
IGN revealed the first look at Curran Walters as Jason Todd, as he has an apparently contentious meeting with Dick Grayson. Check out the photos…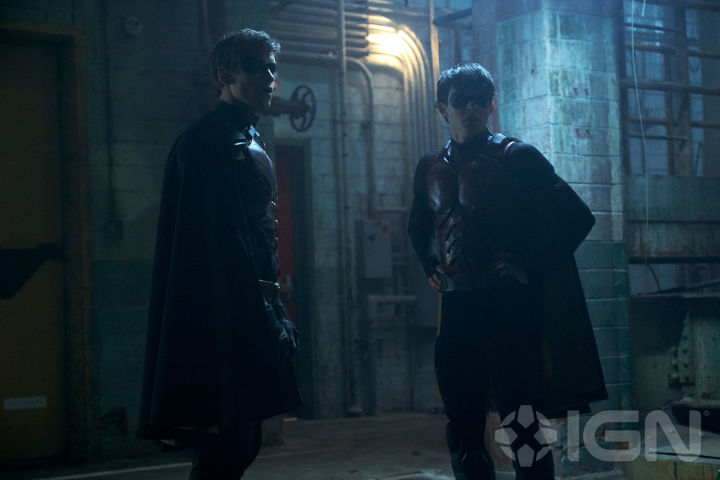 While there's nothing to indicate this is the case, I really hope this story pulls a little from Batman #416 by Jim Starlin and Jim Aparo. That story saw Dick Grayson (already Nightwing at that point) give Jason Todd some crimefighting and general life advice. It's a great standalone story from one of my favorite eras in Batman history, and it would make a lot of sense to see it reflected in some form on Titans.
Titans arrives on the DC Universe streaming service on October 12. Jason Todd will likely arrive midseason. We have more details on the Titans TV series right here.
Mike Cecchini is the Editor in Chief of Den of Geek. You can read more of his work here. Follow him on Twitter @wayoutstuff.