News
Timon and Pumbaa Celebrate Christmas On The Lion Guard
The fan favorite characters make a welcome appearance on the Disney Christmas special.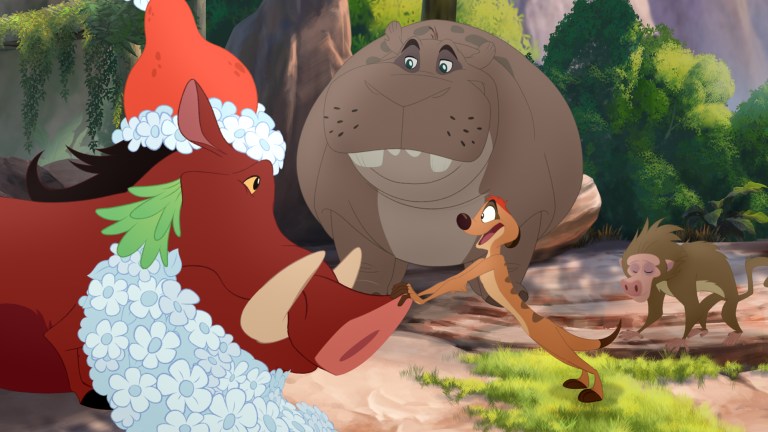 Did you know The Lion King basically has an expanded universe? Yeah, and it's not just the sequel movies! The Lion Guard is a TV series that takes place between the first and second act of Lion King 2 and sometimes features returning characters from the films, including Timon and Pumbaa!
This time around the two are appearing in The Lion Guard Christmas special! Unlike the other episodes of the series which are more action based, this episode is more of a celebration according to executive producer Ford Riley.
"In this particular episode Kion and his team decide to help Timon and Pumbaa have the best Christmas celebration ever. Timon is of course interested in getting gifts and Pumbaa is interested in giving gifts."
So you might be wondering just how these animals even know what the hell Christmas is. Riley thankfully explains it all,
"Christmas is a foreign concept in the world of the Pride Lands. It's been brought to them by Timon and Pumbaa who've heard about it from an ox who heard it from a yellow wagtail who heard it from a flying reindeer."
The episode will also include two original song numbers, one which you can watch below. Pay very close attention to one of the characters pulling off the somewhat infamous dab move.
"In the Pride Lands gifts are bugs to eat and celebrating with friends  A really basic low economy hunter gather style Christmas," jokes Riley.
Even though the gifts might be a little squirmy Riley feels the episode will be really relatable to kids.
"It's just this raw excitement. This fundamental knowledge that Christmas is a time to celebrate and gather with friends and family and to be grateful. We kind of sum it up in saying that Christmas is the essence of the Circle of Life."
The Lion Guard Christmas special drops on Friday, December 8th at 11:30AM EDT on Disney Channel.