News
Time Bandits TV Series Taps Taika Waititi to Write and Direct
Apple will show what an invisible barrier looks like in a Time Bandits TV series, which is now in the works.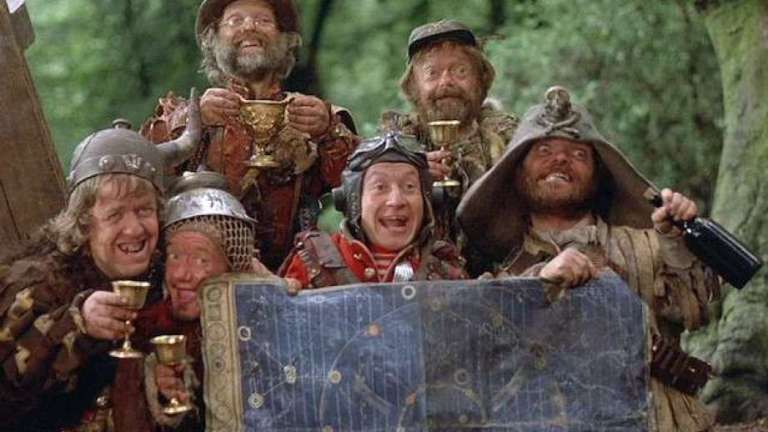 "God isn't interested in technology," Evil observed in Terry Gilliam's cult film Time Bandits. "He knows nothing of the potential of the microchip or the silicon revolution. If I were creating a world, I wouldn't mess about with butterflies and daffodils. I would have started with lasers, eight o'clock, day one!" Nearly 40 years after George Harrison's Handmade Films released Time Bandits to big screens, Apple announced (via Deadline,) last summer that it will adapt it into a television series!
Released in 1981, Time Bandits was the first film in Gilliam's "Trilogy of Imagination," which included Brazil in 1985 and The Adventures of Baron Munchausen, which came out in 1988." The fantasy was co-written and directed by Gilliam, the former animator of Monty Python who also made Meaning of Life, 12 Monkeys, the underappreciated Tideland, The Fisher King and his latest film, the beleaguered The Man Who Killed Don Quixote. Gilliam will not direct the series, but will be a non-writing executive producer.
In the latest news on the Time Bandits TV project, Taika Waititi is now set to direct and co-write the pilot, according to Deadline. It's quite the coup for the would-be series, with Waititi currently riding a lot of momentum, having recently directed 2017's outlandishly action-packed interplanetary Marvel sequel, Thor: Ragnarok; a gig that he procured after successes behind and in front of cameras for 2016 adventure-comedy Hunt for the Wilderpeople and 2014 vampire quasi-documentary comedy What We Do in the Shadows, which is about to debut a promising-looking small screen serial adaptation on FX later this month. Waititi's TV backlog notably includes director's chair time for the Star Wars Disney+ streaming series, The Mandalorian.
Waititi will also serve as executive producer on the project alongside Terry Gilliam, joined by producer Dan Halsted (People of Earth) and co-producers in Anonymous Content, Paramount Television and Media Rights Capital.
1981's Time Bandits movie follows an 11-year-old boy named Kevin, played by Craig Warnock, as he's chased by the Supreme Being for unwittingly help a group of six time-traveling dwarves who are ripping off historical luminaries. The film co-starred John Cleese as Robin Hood, Ian Holm as Napoleon Bonaparte, Sean Connery as King Agamemnon, Shelly Duvall, Ralph Richardson, Katherine Helmond, Ian Holm, Michael Palin, Peter Vaughn and David Warner. Made for $5 million, it pulled in $42 million at the box office.
Handmade Films was a small production company former Beatles guitarist Harrison formed with Denis O'Brien to fund the 1979 Monty Python film Life of Brian, which was directed by Gilliam. The company also made Mona Lisa, Track 29, Withnail & I, Shanghai Surprise, which starred Madonna and Sean Penn,  and Lock, Stock and Two Smoking Barrels, before it was disbanded under heavy debts.
Apple, not to be confused with The Beatles' Apple Corps, or their Apple Computer or Apple Film companies, will also stream an original TV series based on Isaac Asimov's Foundation trilogy, relaunch Steven Spielberg's 1980s sci-fi anthology series Amazing Stories, and develop the sci-fi series See with Battlestar Galactica's Ronald D. Moore.
Culture Editor Tony Sokol cut his teeth on the wire services and also wrote and produced New York City's Vampyr Theatre and the rock opera AssassiNation: We Killed JFK. Read more of his work here or find him on Twitter @tsokol.