News
Three Stooges To Return To The Big Screen? Coitainly
The Three Stooges will be reimagined as action heroes, nyuk nyuk nyuk.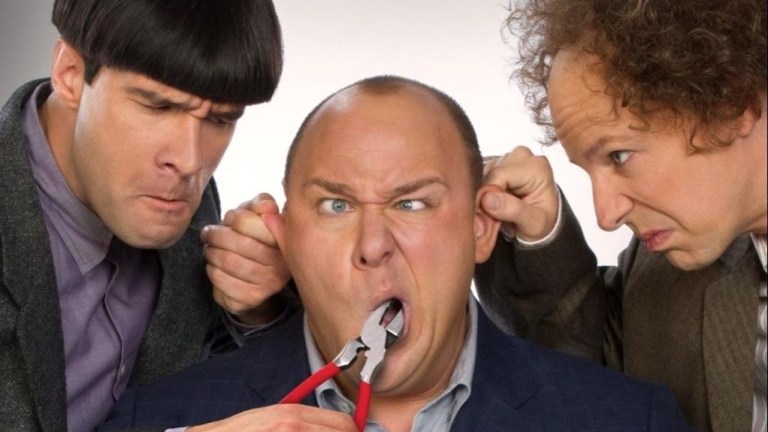 You can't keep a good stooge down, ask Iggy Pop. The Three Stooges are coming back to the movies and this time they're pissed. They might go right for your eyes in a new action comedy. Yes, an action comedy. Don't think they can't do it. The Three Stooges are well-versed in physical comedy, but don't try it at home. They are trained professionals.
C3 Entertainment CEO Earl Benjamin, Grand Peaks Entertainment CEO Alan Simpson and The Exchange CEO Brian O'Shea announced that the Brothers Stooge will be played by Sean Hayes as Larry, Chris Diamantopoulos as Moe and Will Sasso as Curly.
"With Sean, Chris and Will back as our Stooges and Cameron writing, this next film will be a truly unique blend of fast paced action with the hilarious mayhem of The Three Stooges," Benjamin said in a statement.
"The Three Stooges is an incredibly powerful brand, I am looking forward to give to the independent distributors the opportunity to participate in this commercial phenomenon," added the Exchange CEO Brian O'Shea, in a separate statement.
The studios will pay Cameron Fay, who recently wrote the upcoming comedy Brother in Laws starring Taran Killam, to write an action-comedy screenplay.
The producers want to add a major action star to the cast.
The Three Stooges were last brought to the screen in 2012 when the Farrelly brothers misdirected the stooges for Fox.
SOURCE: DEADLINE