News
There's Nothing Wrong With Sasha-Charlotte's Title Changes
Treating the title like a hot potato has actually provided a lot of excitement and intensity to the feud ...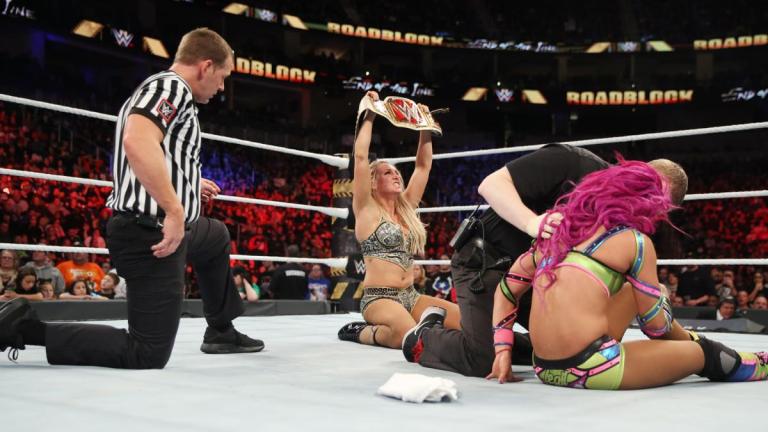 We're supposed to believe that pro wrestling is a fight. Two people enter, one person comes out the victor. It's the same in professional boxing and MMA.
That's why WWE flipping the Raw Women's Title from Charlotte to Sasha and back again over the last several months is actually really good. Last night, it was Charlotte beating Sasha in an ironman match to win the Raw Women's Title again at Roadblock.
If every champion is, by pro wrestling rule, supposed to carry that belt for several months, why would anyone ever invest in the first few title defenses of a new champion? You can't program your audience to know those first few defenses don't matter. Everything needs to feel important and somewhat spontaneous.
That's what WWE has accomplished since the summer with Sasha and Charlotte. The story here is that they are both so close as talents, so evenly-matched, that they are going back and forth with wins and in the process, the Women's Title has become a hot potato.
Sometimes, that happens.
It's against old-school wrestling ideology, but that doesn't mean it's not right for this era, and especially for this story. You need the right character development to pull something like this off, and Sasha and Charlotte have that. They have been booked as even rivals since their days in NXT. There's nothing wrong with providing some suspense and an anything-can-happen feeling to your television product.
The risk, of course, is over-saturating it. That's a risk with anything, though. You can't start doing this with all of your titles, but picking and choosing when you flip titles in quick succession like they have with Sasha and Charlotte only tells your audience that their skills are extremely close as wrestlers, and anything can happen in any given match. That's something you should be trying to build.
1. Sheamus & Cesaro beat New Day to become the new Raw Tag Team Champions
It wasn't totally unexpected for WWE to remove the titles off New Day right after they broke Demolition's record. I think everyone knew that they were going to break the record, though. It had been talked about for months. Therefore, some of New Day's title matches over the last several months have lacked any mystery, and I think New Day ended up getting stale as a result. It would have been nice for them to stretch out the change a bit, and allow New Day to hold on to the titles just a little longer, but WWE was clearly going for a big moment here, and honestly, this felt like a big moment. Good match.
2. Sami Zayn lasted 10 minutes with Braun Strowman
They actually announced this as a win for Zayn, which I thought was odd. Essentially, they gave the match a 10-minute time limit and Zayn lasted 10 minutes, so it should have at least been booked as a draw. Zayn had some offense at the end of the match and had the people believing for a second that he might actually steal the win. They protected a very-limited Strowman well, and all indications are that this feud isn't over.
3. Seth Rollins beat Chris Jericho
Really good match with two guys who have really good chemistry. Same as the main event, which we'll get to later, I thought this match was hurt a bit while people were clearly waiting to see when Kevin Owens would interfere. Everyone knew it was coming, and no one really believed anything that was a near finish until they saw Owens.
4. Rich Swann beat Brian Kendrick and TJ Perkins to retain the Cruiserweight Title in a triple threat match
I thought this was a Cruiserweight match that was fought in a very heavyweight style, which isn't going to do anything for the division itself.
After the match, Neville returned and turned heel, attacking Swann. This return and turn by Neville was one of the best things on the show and could be a catalyst to something really big for him and the division.
Neville showed an aggressiveness as a heel that he never really showed as a babyface. He had a new look, sporting a full beard, and he came across as a legitimate butt-kicker. There was some serious fire.
Neville can really help boost this division and become an immediate main-event player opposite Swann in title matches.
5. Charlotte beat Sasha Banks in a 30-minute Ironman Match to become the new Raw Women's Champion
Incredible match, especially the last 10 minutes. The problem with these ironman matches is that they start so slow, and you know that there isn't a finish coming for at least 30 minutes. They tend to be hard to pay attention to for the first several minutes.
Sasha took a shot to the face sometime in the overtime and was gushing blood, which while unintentional, really made the match so much more dramatic at the end.
Charlotte forced Sasha to tap out with about three seconds left in regulation to force a tie (2-2) and then won in overtime. The commentary here was also very good, pointing out on replay that Sasha tapped late in regulation once Charlotte was able to bridge on the Figure Eight. They pointed out that the pressure is the at its highest at that point. Really good job all around.
While I hope these two find their way together again, because the matches have been great, it's time for them to separate for a while. This is a match you can always go back to and know you can get a hot feud out of it.
6. Kevin Owens beat Roman Reigns to retain the Universal Title
Chris Jericho appeared again, hit Kevin Owens to force a DQ and allow Owens to retain the Universal Title.
So Jericho and Owens are best friends again, and the finish of the show felt really flat. Reigns recovered to powerbomb Jericho and Owens through tables, along with Rollins who ran out for the save, but the damage was done.
This wasn't Reigns' fault, either. While he is absolutely better off as a heel, I liked the aggressiveness he showed in those powerbombs at the end of the night. The problem is that the crowd was already deflated with the cheap finish.