News
There Might be a Community Season 7?
Joel McHale confirms that Community Season 7 is not happening despite Yahoo having been interested in continuing.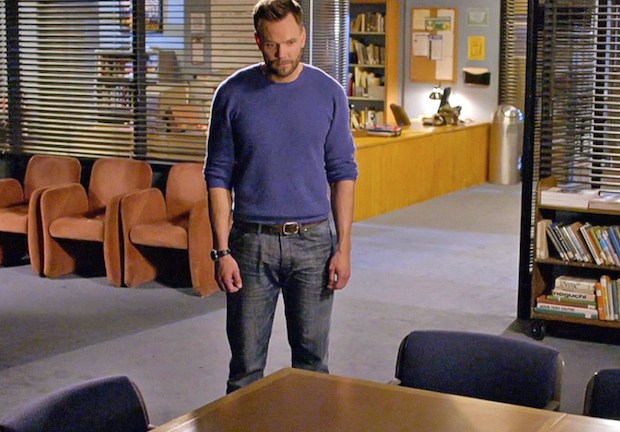 Update: All those ready to get up and dance to "Roxanne" like it's a Troy and Abed in the Morning wake might want to slow down before baking that cream cheese pizza, because Community is not quite all dead. Yet.
Compelled to release a statement via Deadline due to McHale's remarks that Community season seven is a no-go (which you can read below), Yahoo insists that talks with Sony Pictures Television about more Community are ongoing.
Says Yahoo, "We've seen tremendous value in our partnership with Sony and are continuing to discuss future opportunities for Community."
However, we remain a bit skeptical considering that McHale was pretty definitive in stating that Alison Brie and Gillian Jacobs have priced out of coming back for a full seventh season. Additionally, Ken Jeong has a series order at ABC that seemingly makes the return of Chang unlikely. To a paraphrase the character of Abed, when a series is "hemorrhaging" characters, it's future doesn't look too bright.
Then again, Yahoo seems to be clarifying that they're discussing future "opportunities" for the Greendale world. They never specifically stated "Community season seven." Might this just be one step closer to the movie?
We certainly hope so…as long as they bring Donald Glover and Yvvette Brown Nicole back. But in the meantime, Community fans are left in a certain limbo about the future of the series. But that's where they've been for the last three years, so there's little reason to panic.
Original story: One of the most amusing things about the Community season six finale was that it tried to have its cake and eat it too. Hedging its bets as both a season and series finale, the characters quite literally imagined what a potential season seven would look like (and it was never something great) while also going through the motions of the story ending for the Greendale gang once and for all.
Now, we have confirmation from Joel McHale that there will be no Community season seven at Yahoo, despite the streaming service having been interested in continuing the saga.
"They wanted to," McHale told Metro Weekly about doing another season. "But all of our contracts were up after six years. All the actors on the show, almost without exception—their stock has risen significantly, and it's out of the pay rate that is affordable to make the show. So, you're not going to be able to get Alison Brie or Gillian Jacobs at a normal television salary anymore. There is just not enough money to be able to pay for the show."
But honestly, it might have been for the best since season six ended by heavily hinting that the characters of Annie and Abed, played by Alison Brie and Danny Pudi, respectively, were leaving Greendale for good. Further, Ken Jeong, who plays Chang on Community, also appears to be moving on to a new sitcom at ABC with Dr. Ken.
Besides, the dream was always six seasons and a movie. So while the budget might not be there for a whole seventh season, perhaps a Community movie that brings back all of the beloved Greendale characters, including Donald Glover as Troy and Yvette Nicole Brown as Shirley would still be ideal.
Community season seven is not to be, but I suspect we have not seen the last of the Greendale Seven just yet…