News
The X-Files Exclusive Clip Has Scully at the Mercy of Technology
After three weeks off, The X-Files returns with an episode centering on the dangers of autonomous machines.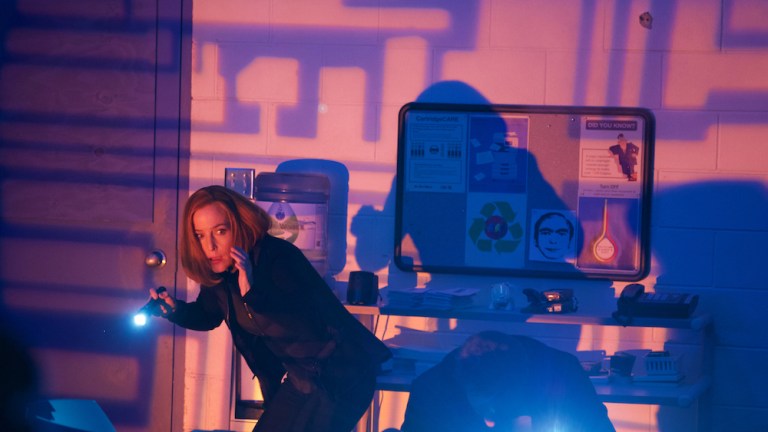 Although Mulder and Scully aren't exactly Luddites with technology, The X-Files likes to remind us of the simpler era in which our beloved FBI agents originate. As the series returns from its three-week hiatus, the enemy is the artificial intelligence that has already become intrusive in modern life, and the machines in the episode cryptically entitled "Rm9sbG93ZXJz" are particularly malevolent — or so it seems in the exclusive clip below.
Watch as Scully reluctantly gets into a self-driving car, separating from Mulder to head home. Although the car appears to offer entertainment benignly at first, it doesn't seem to want to take no for an answer. It's hard not to laugh a bit at Scully's frustration, but who among us would enjoy the slightly too pushy approach of an impersonal machine? Nevertheless, the emoji avatar gives a not-so-subtle hint that the car may have had its feelings hurt.
"Rm9sbG93ZXJz" is directed by The X-Files regular Glen Morgan and is written by Shannon Hamblin (who works with Morgan on Amazon's Lore) and Kristen Cloke, Morgan's wife who has appeared in both The X-Files and Lore. More trouble from drones and other robots appears in the full trailer for the upcoming episode, so it appears that the theme of dangerous technology will carry throughout the installment.
Be sure to catch this no doubt entertaining episode of The X-Files Wednesday night, February 28, 2018 at 8/7c on FOX.